According to the latest research, 2020 may be the year when companies finally embrace sustainability as an opportunity rather than a burden.
Saving the planet from climate change? Leave that for the protesters. How about satisfying your investors, your employees, and your customers?
"Companies really don't have a choice anymore, and some are starting to see the benefits and potential profits" from pursuing sustainability, said Andrew Winston, corporate sustainability advisor and best-selling author of books like "Green to Gold" and "The Big Pivot."
Companies are coming to recognize that reducing their carbon footprint can cut costs and wring out inefficiencies, he said. They are also finding that green energy sources like wind and solar have become competitively priced compared against traditional carbon-based sources.
But becoming sustainable means more than just clean energy. Environmentally friendly, socially conscious policies with strong corporate governance are known as ESG factors.
Harvard Management Company, which manages Harvard University's multibillion-dollar endowment, laid out some of the ESG factors it considers when looking to invest: "energy consumption, greenhouse gas emissions, climate change, resource scarcity, water use, waste management, health and safety, employee productivity, diversity and inclusion, supply chain risk management, human rights (including workers' rights), and effective board oversight."
Consumers and employee activists are succeeding in pushing companies into adopting ESG practices, as can investors, said Josh Zimmer, CEO of the Interfaith Center on Corporate Responsibility, a shareholder advocacy group.
"Smart companies understand that they are getting out ahead of risk, by focusing on the impact of their practices, especially on forward-facing brands," he said. "The risks of using forced labor, or dumping pesticides in the river, are problematic on a number of fronts. It's not only the legal risks, but the reputational risks."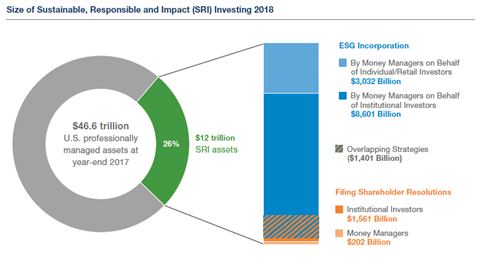 Large companies and investors are taking note. A few examples:
Amazon's Jeff Bezos recently pledged $10 billion to combat climate change.
Walmart's Project Gigaton has avoided creating 93 million metric tons of emissions in two years since it launched, as it works with its suppliers to avoid 1 billion metric tons—a gigaton—of emissions by 2030.
BlackRock chairman and CEO Larry Fink recently wrote in a letter to its clients that by the end of 2020, the world's largest asset manager will consider ESG risk "with the same rigor that it analyzes traditional measures such as credit and liquidity risk."
"There's plenty of companies that are using sustainability to reduce risk or build their brand, building loyalty among employees and investors in the process," Winston said. For many companies, the value of their brand, an intangible asset, is often more valuable than everything else put together. Pursuing sustainability in decision making makes good business sense if it also increases and protects the value of the brand, he said.
In fact, investments in ESG companies ballooned to nearly $12 trillion in 2018, according to the U.S. Forum for Sustainable and Responsible Investment.
And the reverse is happening with companies that can't or won't pursue an ESG initiative for a variety of reasons. Coal-related stocks have taken the biggest hit, with large European funds recently announcing the sale of their stakes in coal mining companies, according to a recent story in the Wall Street Journal. BlackRock indicated it will sell its shares in coal-producing companies by the end of the year. Indeed, the company has announced a number of climate change initiatives, according to a recent Compliance Week article.
Websites
We are not responsible for the content of external sites

Aaron Nicodemus covers regulatory policy and compliance trends for Compliance Week. He previously worked as a reporter for Bloomberg Law and as business editor at the Telegram & Gazette in Worcester, Mass.
View full Profile