Sustainability is as old as human existence, but it is only recently that it has been thrust into the limelight as an international issue of concern. The potentially catastrophic implications of climate change are among the reasons, particularly as most businesses know their customers will not accept poor environmental practice.
The International Compliance Association (ICA) is a professional membership and awarding body. ICA is the leading global provider of professional, certificated qualifications in anti-money laundering; governance, risk, and compliance; and financial crime prevention. ICA members are recognized globally for their commitment to best compliance practice and an enhanced professional reputation. To find out more, visit the ICA website.
Still, one area that has yet to fully confront the sustainability challenge is compliance. This is less due to negligence and more about discovering how it affects a firm and what compliance can do to support it within the organization.
A recent poll of International Compliance Association members and the wider compliance community explored the profession's appetite for expanding sustainability responsibilities.
First, let's start by defining sustainability. It is commonly made up of three pillars: the economy, society, and the environment. These principles are also informally called profit, people, and planet; each runs through every industry and business, and it is where we begin to encounter the challenge for compliance.
It all comes down to one key question: Is it the job of a compliance team to combat these issues?
Many countries have implemented targets linked to sustainability. Indeed, the United Nations has set 17 Sustainable Development Goals with the aim of ending poverty and protecting the planet. UN member states have drafted their own regulations to help ensure these goals are met; for example, the Climate Change Act 2008 made the United Kingdom the first country to have a legally binding long-term framework to cut carbon emissions.
It is very simple for a company to say it will be compliant and meet the targets. What is harder to ascertain is who exactly is responsible within a firm for getting it done. We asked poll participants their thoughts.
Out of 928 responses, 64 percent said compliance must tackle the issue. Another 24 percent said it was "important but not a priority," while 12 percent described sustainability as not a compliance issue.
Written responses included the following: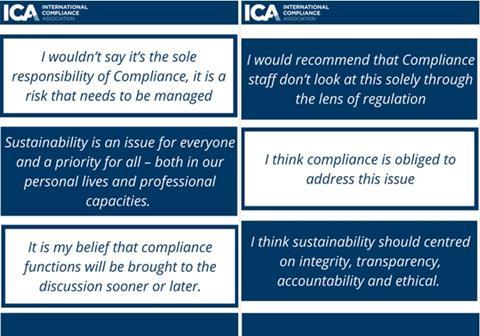 This feedback reveals a perhaps surprising desire within compliance for seizing the sustainability initiative. How it does will certainly vary from country to country—determined by the political importance attached to sustainability by governments—and company to company. It is also evident the compliance community is invested in this together, and it is this collaborative approach that will help to bring about change.
A final comment from the survey neatly captured the urgency sustainability is generating:
These issues represent the biggest risks for humanity but also the greatest opportunities. The sooner ethics & compliance get on board with tackling these, the better!
The challenge now is discerning what compliance must do if it is to lead the way on sustainability.
The International Compliance Association is a sister company to Compliance Week. Both organizations are under the umbrella of Wilmington plc.