A deluge of Securities and Exchange Commission (SEC) rulemaking regarding matters of environmental, social, and governance (ESG) could begin as early as next month, prompting the following central message from Betty Moy Huber to kick off Compliance Week's "Everything ESG in 2021" two-day virtual event Monday: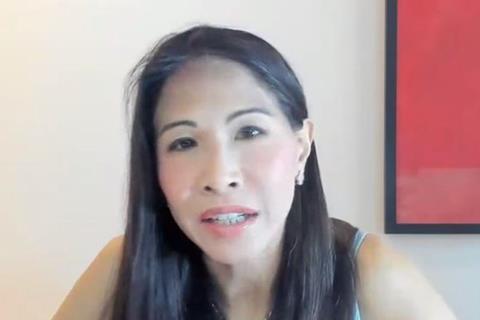 "It's not a question of what the SEC has done, but a question of what the SEC will do and how you will best prepare for that."
Huber serves as co-head of law firm Davis Polk's ESG Group. Over the course of an hourlong keynote, she shared her insight into the U.S. regulatory landscape regarding ESG and how she's seen public companies preparing for the potential of increased scrutiny related to disclosures.
The SEC in June released its spring 2021 rulemaking list brimming with proposed ESG regulations. Top among the agency's areas of interest, Huber said, is climate change, which could see rule amendments to enhance disclosures regarding issuers' climate-related risks and opportunities proposed as early as October.
In Huber's opinion, the proposal is more likely to come shortly after the Financial Stability Oversight Council issues its report on agency coordination regarding climate change disclosures due to President Joe Biden on Nov. 16. But the message remains: "Prepare now."
"What I've been advising companies and what I'm fully expecting is any time October or November to look out for a climate change rule," she said.
Other primary focuses for the SEC include board diversity and human capital disclosures, Huber said. Regarding board diversity, she opined the SEC could watch to see how Nasdaq's recently approved rule requiring listed companies to have at least two diverse directors or explain why not plays out. Also, human capital might soon be revisited under new Democratic leadership at the agency despite a final rule on the matter just taking effect in November 2020.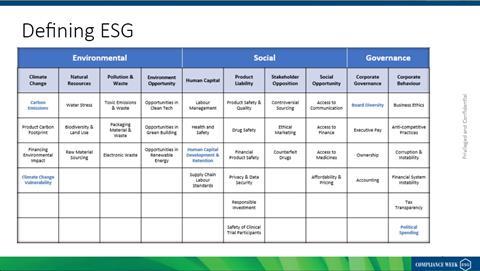 Alignment key to ESG disclosure preparation
Which department should take the lead on ESG disclosures at a company is a hot question with many different answers. Some feel compliance is perhaps best suited for the task.
Speaking from her background, Huber stumped for legal to lead the charge, though she mentioned marketing and investor relations as other groups commonly appointed the role. The decision tends to vary by industry—at financial institutions, for example, the chief risk officer is often significantly involved.
"It's a question of using resources most efficiently," she said. "Putting together ESG task forces and working groups I've seen quite a lot."
If a company chooses to approach ESG disclosures from the viewpoint of multiple departments, it's important one entity be acknowledged as the chief decision-maker. "You need to have a leader," Huber said. "Otherwise, everyone is running amok, and there's no time for that given how frequently reporting needs to happen. It's not a one-off event; it's like 'Groundhog Day.' It's cyclical—every quarter, every year, every month sometimes."
Huber said at some companies, the CEO takes the reins while others might turn to the CFO or general counsel. Regardless, cohesion is key to making progress on transformational change.
"I think the most important thing is that everyone is aligned," she said. "It's not necessarily who the person is that's in charge, but that there's alignment within the organization."

Kyle Brasseur is Editor in Chief of Compliance Week. His background includes expertise in user personalization with ESPN.com.
View full Profile