The common thread that ran throughout nearly every session of Compliance Week's first-ever Virtual Conference was how chief compliance officers can most effectively lead their organizations during a crisis.
It was this current crisis, of course—the coronavirus pandemic that's impacting almost every business on the planet—that forced the 15th annual Compliance Week National Conference to go virtual in the first place. So perhaps it's poetic that tips for leading in a crisis is the theme for our recap of an informative two days of best practices from more than 40 speakers in 15 sessions.
1. Don't let fear drive decisions
In brief recorded remarks to kick off Day 2 of the CW Virtual Conference, former FBI Director James Comey—who will speak live at a future Compliance Week event (potentially in 2020 … fingers crossed!)—told attendees that, "fear, like a virus, is contagious."
In the case of the novel coronavirus, the best weapon against that fear is for corporate leaders to arm themselves with as much information as possible and to communicate it openly and honestly (more on that in tip No. 2).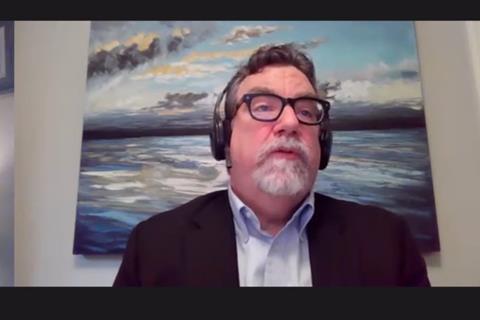 Take Carnival Corp., whose Diamond Princess ship was the first coronavirus hot spot outside of China in early February, for example. From the outset of that crisis, Carnival held leadership meetings twice daily to discuss real-time information as it was coming in fast and furious, according to the company's chief ethics and compliance officer, Peter Anderson.
"This was at a time when the information about the disease was still developing and was really an unknown and we had to respond accordingly," said Anderson, who was the keynote speaker on Day 2 of the Virtual Conference. He added: "We were really the canary in the coal mine."
Anderson said the meetings with senior leadership at Carnival during the early stages of the crisis would stretch on for 2-3 hours at a time. "Leaders have to lead through the fear and misinformation," he said.
2. Be relentlessly honest
In his message to CW delegates, Comey added that "leaders understand that if they're going to lead effectively through a crisis, they have to be strong, but be honest."
He continued: "[Leaders] have to relentlessly and constantly tell their people the truth. And when they make a mistake, correct it. Have their people know they can count on that leader to always give them the straight story. But they should be relentless and honest in another way, and that is, [to tell them] 'We're going to be OK in the long run. That I, as your leader, have a vision and a plan and we're going to execute on it.'"
Part of being an honest, transparent, and communicative leader is also to acknowledge when you don't have the answers.
"The first thing we have to be much more willing to say is, 'I don't know,'" said Edward Queen, director of the D. Abbott Turner Program in Ethics and Servant Leadership at Emory University's Center for Ethics, during one of the panel discussions. "In times of uncertainty, being able to acknowledge the uncertainty is key to really gaining trust."
3. Be ready to pivot from plans—quickly
Carnival CECO Anderson had enough on his plate before the coronavirus struck, namely rebuilding his company's ethics and compliance program under the watchful eye of a court-appointed monitor after years of chronic non-compliance with environmental regulations.
"It was very interesting to go from one storm, which was the risk of having a judge bar us from entering U.S. ports if we didn't shore up our ethics and compliance program, [to another storm, which was] the virus virtually doing the same thing but worldwide," Anderson said.
Anderson and the Carnival leadership team pivoted quickly, prioritizing the health of guests and crew members and getting their ships to shore over everything else. And in part because of the work he had already done—getting a voice of ethics and compliance onto the corporate leadership team—the new mantra of "doing the right things, in the right ways, for the right reasons" was lived out.
Suddenly, the plan Anderson so diligently laid out and was executing was temporarily shelved, and a new plan had to be written—and rewritten—on the fly.
"The key was, don't stick to the playbook when something major comes down the pike—you have to be nimble," he said. "You have to adjust your playbook when a new crisis emerges."
4. Lead with values
Throughout his keynote chat, Anderson kept repeating everything Carnival did during the crisis it tried to do while "living out the values," which essentially meant putting human capital (the health and safety of customers and employees) ahead of financial capital.
It was key, therefore, that he had a seat at the leadership table during this crisis period, to help ensure that the voice of ethics was baked into every decision that was made.
"The process in which these decisions were made … made our response stronger," he said.
For Carnival, "living out the values" meant sending the Princess Cruises CEO to Japan to help support staff trying to get quarantined passengers safely off of a ship on which the virus was spreading. It meant repatriating more than 100,000 crew members to far-flung places all over the world and using its own ships to do it.
There have been various media reports—including from this outlet—criticizing the cruise industry's initial response to the virus. Did Carnival make some mistakes along the way? Probably, but I was convinced by Anderson that the process by which the company made its decisions was a sound one, and one that certainly had ethics front and center.
"I think we've done a tremendous job, given the uncertainty," Anderson said when asked about the negative media coverage. "The media will always cover things in a certain way. It hasn't necessarily been the most accurate portrayal. The company in my opinion has done a remarkable job in responding and addressing the number of elements of the crisis, in terms of crew care, guest care, health response, protocol, shutting down voluntarily, and again figuring out how we're going to reenter."
5. Be 'the skunk at the lawn party'
Day 1 keynote Samantha Power, the U.S. ambassador to the United Nations under President Obama, had a message that I think resonated with compliance officers: Don't be afraid to be the "skunk at the lawn party."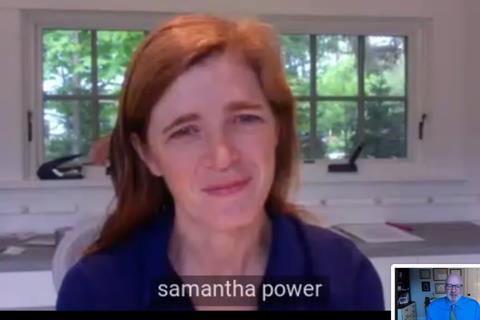 At a time when dissent is not appreciated (or even tolerated, one could argue) at the highest levels of the U.S. government, where loyalty is valued above all else (including truth, facts, and science), it's critical that leaders value dissent.
Leaders with humility will acknowledge they don't have all the answers and will welcome diverging viewpoints instead of muzzling them and driving them out of the inner circle of decision-makers.
6. 'Shrink the change'
Power also had advice for leaders who feel overwhelmed by the sheer size of this crisis, who "feel small next to the problems that are ailing us."
The strategy here is to focus your efforts on something less daunting, something within the scope of your control. In other words, "shrink the change."
"If you're feeling small, if you feel a lack of control or a lack of agency, [try to think,] 'What is that something that you can change?'" and focus on that, she said.
7. 'Celebrate checks and balances'
Power emphasized the value of the checks-and-balances role compliance can play at an organization. Compliance leaders need to make sure their voice is heard, even if they have an unpopular viewpoint to share.
She criticized the Trump administration's moves to fire inspectors general (whose job it is to make sure things are done the right way and for the right reasons) and to intimidate and criticize whistleblowers. A big part of what the compliance industry does is encourage and protect people who place a spotlight on wrongdoing, be it in government or business.
"One thing that can come out of this is to celebrate what you do," Power said to her audience of compliance practitioners. "At a time when these roles are besieged, it's incumbent on the rest of us to celebrate checks and balances. … Know you're in the right, especially when norm slippage is occurring in so many public ways."
8. Lead with humility
Power believes one of the reasons the United States' response to the coronavirus was slow was because of overconfidence—a sense that "this can't happen to us."
She said America's "optimism bias" likely led to a belief that because the country fared relatively well in the Ebola, MERS, and SARS health scares of recent years, it gave false confidence to leaders.
"Because we had dodged these three other bullets, it compounded our false sense of security," she said.
There's a simple remedy for optimism bias: Be aware of it and have the humility to see that just because things went your way previously doesn't mean you should plan on it breaking your way again. Prepare for the worst outcome, have a "willingness to change your mind," and acknowledge that your assumptions could be wrong.
9. Don't expect leniency just because this is a pandemic
Folks on the business side need to be reminded—by whom? Compliance leaders, of course!—that while they might be slow to react coming out of this crisis, regulators will not look the other way at violations just because of the extreme circumstances we're all dealing with.
"The DOJ [Department of Justice] is not going to use coronavirus as an excuse for any malfeasance or misconduct," said Will Simmons, head of global investigations and associate director of compliance for the pharmaceutical firm Lonza, during one of the panel discussions. "It's not going to be a defensible position."
The same goes with getting in the habit of making compliance "exceptions" in light of the pandemic.
"I would urge that making exceptions is not the right move," said Michael Ward, a partner at the law firm Vinson & Elkins who worked for over a decade as a federal prosecutor. "The exceptions you grant today will be judged in the harsh light of hindsight."
The pandemic may actually provide compliance officers a unique opportunity to uncover fraud within their organizations, said Ward. For example, in the 2008-09 recession, the economic downturn exposed Bernie Madoff's huge Ponzi scheme because too many investors wanted their money at the same time.
10. Set the tone with your actions
We'll finish off with something that's not a nugget of advice, but rather a word of appreciation for my colleagues at Compliance Week—in particular director of programming Barbara Boehler and her events staff—who demonstrated many of the leadership skills touted above in putting together this Virtual Conference on the fly.
As most of you know, we usually gather the week before Memorial Day at the Mayflower Hotel in Washington, D.C. for our National Conference. It's the highlight of our year. Around early March, we realized we weren't going to be able to gather in person this time around and we needed to make some quick decisions and take decisive action in order to turn our conference virtual.
After fitting about a year's worth of work into a month and a half to pivot to virtual, we pulled it off. Was it the same? No. The virtual environment can't deliver the same experience, and anyone who tells you it can hasn't been to one of our live events. But it was still a great success, chock-full of best-practices and honest advice from great speakers who also pivoted with us on the fly.
Thank you to those who attended. And to everyone, hang in there through these tough times. We're right there with you, and we hope to see you in D.C. again sooner than later.
Information from Compliance Week's Aaron Nicodemus, Jaclyn Jaeger, and Kyle Brasseur was used in this report.

Dave Lefort was Managing Director of Compliance Week. Before joining CW, he spent nearly two decades in digital leadership roles with ESPN and The Boston Globe.
View full Profile
CW2020 wrap-up: Tips for CCOs on leading in a crisis
1

Currently reading

CW2020 wrap-up: Ten tips for CCOs on leading in a crisis

2

3

4

5