The Department of Justice on Thursday unsealed indictments against Venezuelan President Nicolás Maduro and several high-ranking former and current members of his regime for alleged drug trafficking and money laundering crimes, as well as violations of the Foreign Corrupt Practices Act.
Attorney General William Barr announced charges against 14 current and former political and military leaders of Venezuela for narco-terrorism, drug trafficking, and weapons charges, including against Maduro himself; Diosdado Cabello Rondón, head of Venezuela's National Constituent Assembly; Hugo Armando Carvajal Barrios, former director of military intelligence; and Clíver Antonio Alcalá Cordones, a former general in the Venezuelan armed forces.
"The Venezuelan regime, once led by Nicolás Maduro Moros, remains plagued by criminality and corruption," Barr said. "Today's announcement is focused on rooting out the extensive corruption within the Venezuelan government—a system constructed and controlled to enrich those at the highest levels of the government."
The U.S. government further alleges that Maduro's regime allowed Colombians linked to the Revolutionary Armed Forces of Colombia—the People's Army (known as FARC)—to use its airspace to fly cocaine through Central America to North America. "The United States will not allow these corrupt Venezuelan officials to use the U.S. banking system to move their illicit proceeds from South America nor further their criminal schemes," Barr said.
Led by Maduro, these cartel members worked together "to facilitate cocaine shipments" and "now stand indicted for using their political and military power to promote narco-terrorism for their personal gain and to the great detriment of the Venezuelan people," said Geoffrey Berman, U.S. attorney for the Southern District of New York.
"As alleged, the Maduro regime is awash in corruption and criminality," said Brian Benczkowski, assistant attorney general for the Justice Department's Criminal Division.
Others in Maduro's regime have been charged with violations of the International Emergency Economic Powers Act (IEEPA) and the Foreign Narcotics Kingpin Designation Act (Kingpin Act), and a related conspiracy to defraud the U.S. Department of the Treasury's Office of Foreign Assets Control (OFAC). The charges are contained in separate Superseding Indictments unsealed Thursday in Manhattan federal court.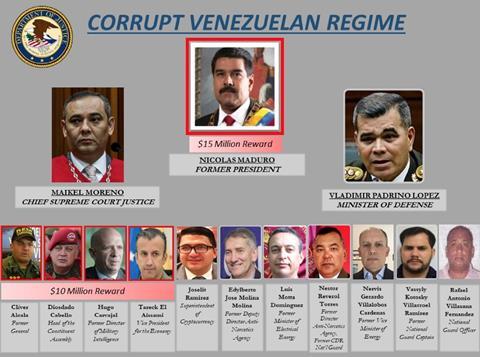 For example, in a criminal complaint unsealed in the Southern District of Florida, Maikel Jose Moreno Perez, current Chief Justice of the Venezuelan Supreme Court, was charged with money laundering for allegedly demanding tens of millions of dollars in bribes to illegally fix dozens of civil and criminal cases before his court. "Decisions in Venezuela are not decided on what is right and wrong," said Ariana Fajardo Orshan, U.S. Attorney for the Southern District of Florida. "Decisions are based on whether you bribe the right person."
In one case, Orshan said, the chief justice allowed the seizure of a General Motors auto plant, a company worth an estimated $100 million in Venezuela, "all in exchange for a personal percentage of those proceeds," she said. "This left thousands of Venezuelans without jobs." In another example, the complaint alleged, he has allowed people to steal millions of dollars from Venezuela's state-owned oil company.
Make no mistake: This corrupt activity directly impacts the United States. For example, Orshan said that her office in Miami has seized in excess of $450 million from bank accounts located in United States. "This directly impacts the Southern District of Florida," which has seen its real estate market skyrocket out of control on direct account of corrupt proceeds.
Other indictments mention violations of the Foreign Corrupt Practices Act (FCPA). For example, Luis Motta Dominguez, former Minister of Energy, was charged in the Southern District of Florida for his alleged role in laundering the proceeds of violations of the FCPA in connection with his alleged receipt of bribes to award Venezuela's state-owned and state-controlled electricity company, Corporación Eléctrica Nacional (Corpoelec), business to U.S.-based companies.
In another indictment, Nervis Gerardo Villalobos Cardenas, former Vice Minister of Energy of Venezuela, was charged in a 20-count indictment in the Southern District of Texas with conspiracy to commit money laundering, money laundering, and conspiracy to violate the FCPA for his alleged role in an international money laundering scheme involving bribes paid by the owners of U.S.-based companies to Venezuelan government officials to corruptly secure energy contracts and payment priority on outstanding invoices.
Alysa Erichs, ICE acting executive associate director for Homeland Security Investigations (HSI), said, "Today's announcement highlights HSI's global reach and commitment to aggressively identify, target and investigate individuals who violate U.S. laws, exploit financial systems, and hide behind cryptocurrency to further their illicit criminal activity."
"Each indictment speaks for itself," Barr said. "Some indictments are narco-trafficking. Some relate to drug trafficking, some to money laundering, some to other forms of corruption. The narco-trafficking charges allege that this is a regime that has deliberately targeted the United States."
Regarding the crimes involving corruption and money laundering, Maduro and his regime are using facilities in the United States to conduct criminal activity, Barr said. "It's our responsibility to ensure that this doesn't happen."
Websites
We are not responsible for the content of external sites

Jaclyn Jaeger is a freelance contributor to Compliance Week after working for the company for 15 years. She writes on a wide variety of topics, including ethics and compliance, risk management, legal, enforcement, technology, and more.
View full Profile