Gary Gensler, former chairman of the Commodity Futures Trading Commission (CFTC), has been picked to be the next chairman of the Securities and Exchange Commission (SEC) by President-elect Joe Biden.
The appointment was made official by the Biden transition team on Jan. 18 after being reported a week prior by multiple news outlets.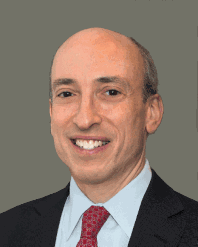 Gensler is a seasoned regulator whose mandate during his five years as CFTC chairman was to implement the Dodd-Frank Act of 2010 and rein in abuses in the swap derivatives market that, in part, were blamed for causing the financial crisis of 2008. During his time at the CFTC, Gensler was also instrumental in pursuing numerous large enforcement actions against big banks accused of manipulating the London Interbank Offered Rate (LIBOR).
A long-term bank executive himself at the Goldman Sachs Group, Gensler is currently a professor of economics and management at the Massachusetts Institute of Technology. Biden had already tapped Gensler to lead a group advising the transition team on regulatory policies, and that made Gensler the clear front-runner as Biden's choice to lead the SEC.
If his nomination is confirmed by the Senate, Gensler would replace former SEC Chairman Jay Clayton, who resigned at the end of 2020. Gensler would join with Democratic Commissioners Allison Herren Lee and Caroline Crenshaw to form a new 3-2 majority.
"He has a reputation as a very strong and vocal regulator who was very active in implementing the Dodd-Frank Act," said Carlo di Florio, a former Financial Industry Regulatory Authority (FINRA) and SEC regulator who now serves as global chief services officer with ACA Compliance Group.
Gensler's background as both a banker and an academic gives him a depth of experience in how the markets work and, paired with his intellectual curiosity, makes him less likely to overreact to new market patterns, said Nicolas Morgan, a partner at the law firm Paul Hastings.
"He has appreciation of the nuts and bolts of the capital market and how to tweak things to make them better," Morgan said.
As a regulator, Gensler has not shied away from controversy, particularly when he took on Wall Street at the CFTC.
Gensler "was very direct with the market and with policymakers about what he was trying to accomplish," said Matt Kulkin, partner with Steptoe & Johnson and a former CFTC division director. "That's not always easy and not a common trait in many chairmen."
If confirmed, Gensler's priorities at the SEC may include:
New rules for public companies on how to disclose the risks posed to their businesses by climate change.
Clarity for investment firms and broker-dealers on exactly what constitutes environmental, social, and governance (ESG) investments, along with rulemaking on how to demonstrate those investments meet the standard. "Climate change and ESG regulation reform is a top priority for Biden, and I think we will see that priority cascade across all of his appointees," di Florio said.
Rulemaking that promotes increased diversity in corporate governance. Gensler proposed a rule on this topic while he was with the CFTC, but it failed to win approval, Kulkin said. Promoting diversity is a core part of Biden's political platform.
Increased enforcement actions on insider trading violations. The number of such cases has continued a downward trend that began in the Obama administration, but that trend may reverse under Gensler, Morgan said.
Increased enforcement actions against companies "impeding" whistleblowers. "We didn't see many retaliation cases under Clayton, and I expect that to swing back to a more aggressive application" under Gensler, Morgan said.
For compliance departments, a shift in administration "is a great time to take a fresh look at your compliance functions," di Florio said. "Make sure your policy and procedures, and your monitoring and testing, are able to withstand increased scrutiny."
Editor's note: This story was updated Jan. 19 to reflect the official announcement of Gary Gensler's nomination to lead the SEC.

Aaron Nicodemus covers regulatory policy and compliance trends for Compliance Week. He previously worked as a reporter for Bloomberg Law and as business editor at the Telegram & Gazette in Worcester, Mass.
View full Profile