The chairman of the Federal Trade Commission (FTC) and a group of senior staff announced their resignations Tuesday, making way for new leadership to be appointed by President-elect Joe Biden.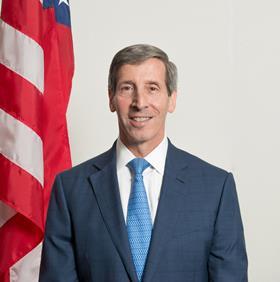 FTC Chairman Joseph Simons said in a statement he will step down Jan. 29. Sworn in at the position in May 2018, Simons called his time leading the agency "a great honor."
Other senior staff at the FTC announcing their resignations are General Counsel Alden Abbott, Bureau of Competition Director Ian Conner, Bureau of Competition Deputy Directors Gail Levine and Daniel Francis, Bureau of Consumer Protection Director Andrew Smith, Bureau of Economics Director Andrew Sweeting, Office of Public Affairs Director Cathy MacFarlane, and Office of Policy Planning Director Bilal Sayyed.
On Monday, Biden announced the nomination of FTC Commissioner Rohit Chopra to lead the Consumer Financial Protection Bureau, but he has not yet announced who will take over as chairman at the FTC.
The FTC's most notable enforcement action under Simons' leadership was the $5 billion penalty it levied against social media giant Facebook in 2019 for data privacy violations. Facebook's settlement order imposed significant structural reforms on how it must do business moving forward, including greater corporate accountability and more rigorous compliance monitoring.
Beyond Facebook, the FTC is expected to play a key role in the continuing conversation surrounding a federal privacy law in the United States. Several proposals by lawmakers over the last two years would empower the FTC to enforce such legislation, though others have promoted the creation of a new agency for that purpose.
The FTC under outgoing President Donald Trump was led by a 3-2 Republican majority. With Simons and Chopra both set to leave, Biden will have two commissioner positions to fill, each likely to go to a Democrat.
Experts predict the FTC under a Biden administration will be more aggressive in its enforcement of existing regulations.

Aaron Nicodemus covers regulatory policy and compliance trends for Compliance Week. He previously worked as a reporter for Bloomberg Law and as business editor at the Telegram & Gazette in Worcester, Mass.
View full Profile