New Securities and Exchange Commission Chairman Gary Gensler laid out some of his regulatory priorities during virtual testimony to Congress on Thursday. He discussed shortening the settlement period for trades and requiring new disclosures by broker-dealers.
In his opening statement before the House Committee on Financial Services, Gensler said he is asking SEC staff to produce a report on the "meme stocks" craze from earlier this year that led to wild fluctuations in several previously overlooked stocks like GameStop and AMC Entertainment Holdings. He said staff is examining who benefits from the "gamification" of stock trading, as well as payment for order flow, in which companies like Robinhood Financial derive revenue by delivering orders to other partners to execute. Gensler said he wants to understand whether those practices prey on inexperienced traders.
"While I cannot comment on ongoing examination and enforcement matters, SEC staff is vigorously reviewing these events for any violations," Gensler said in his statement. "I also have directed staff to consider whether expanded enforcement mechanisms are necessary."
Lost among the general media reaction to Gensler's statement were some significant regulatory policy announcements that could have serious ramifications for risk and compliance, if enacted.
"The longer it takes for a trade to settle, the more risk our markets assume. The good news is, though it will take a lot of work by many parties, we now have the technology to further shorten the settlement cycles."

SEC Chairman Gary Gensler
Gensler indicated he is in favor of reducing the standard settlement period, currently at two days (T+2), to one day (T+1) or even the same day (T+0)—as he called it, "T-evening."
"I believe shortening the standard settlement cycle could reduce costs and risks in our markets. I've directed the SEC staff to put together a draft proposal for the Commission's review on this topic," he stated.
In September 2017, the SEC reduced the settlement period from three days to two. At the time, Commissioner Kara Stein said the agency may consider further reduction. Although the SEC was scheduled to revisit its settlement cycle regulations three years after the change to two days, it never did.
Gensler appears keen to shorten the settlement period, noting it has fluctuated over the years from as many as five days to as few as one.
Regarding meme stocks, Gensler said, "These events have prompted questions about whether we can lower risk by shortening the time of our settlement cycles. … The longer it takes for a trade to settle, the more risk our markets assume. The good news is, though it will take a lot of work by many parties, we now have the technology to further shorten the settlement cycles."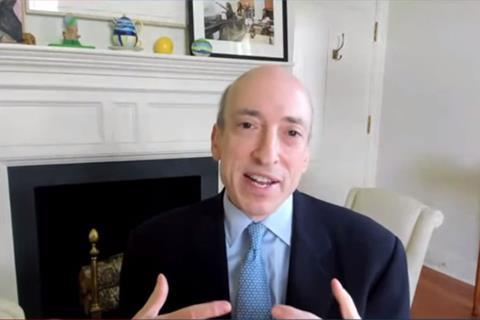 Reducing the settlement period might turn out to be one of the few things that Gensler and Robinhood Financial Co-Founder and Co-CEO Vladimir Tenev agree on. Tenev told Congress in February: "The industry, Congress, regulators, and other stakeholders need to come together to deploy our intellectual capital and engineering resources to move to real-time settlement of U.S. equities."
During the height of the meme stocks craze in February, Robinhood had to temporarily halt trading in GameStop and several other stocks because it could not meet margin requirements. The move infuriated Robinhood's customers and caused lawmakers and regulators to wonder whether rules needed updating to prevent a similar event from happening again.
Gensler indicated the SEC may address this issue.
"These decisions call into question whether broker-dealers are adequately disclosing their policies and procedures around potential trading restrictions; whether margin requirements and other payment requirements are sufficient; and whether broker-dealers have appropriate tools to manage their liquidity and risk," he stated. "I've asked staff to look at these issues carefully."
Gensler also addressed some of the fallout from the meltdown of Archegos Capital Management, a so-called "family office" hedge fund that is exempt from many reporting requirements because it does not accept funds from the public. The Archegos case caused several large banks, most prominently Credit Suisse, to rethink their risk management practices after losing billions of dollars.
Archegos made leveraged bets using total return swaps, in which it was able to purchase stakes in public companies with borrowed money but was not required to reveal its total ownership stake to regulators. Banks like Credit Suisse may have reassessed their involvement in Archegos had they fully understood their risk exposure.
On short selling and market transparency, Gensler said: "Among other things, I've asked staff to consider recommendations for the Commission about whether to include total return swaps and other security-based swaps under new disclosure requirements, and if so how."

Aaron Nicodemus covers regulatory policy and compliance trends for Compliance Week. He previously worked as a reporter for Bloomberg Law and as business editor at the Telegram & Gazette in Worcester, Mass.
View full Profile