Lina Khan's surprise elevation to chair of the Federal Trade Commission (FTC) on the same day her nomination was confirmed by the Senate signals the Biden administration's intention to aggressively address antitrust issues in Big Tech.
Khan, a 32-year-old associate professor of law at Yale, was confirmed to the FTC by the Senate on Tuesday in a bipartisan vote of 69-28. President Joe Biden's intention to name her as head of the agency was not publicly known prior to her swearing in later in the day.
Khan becomes the youngest person ever appointed to the FTC and its youngest chair. But it is her writings and opinions on how best to wield existing regulations to curb anti-competitive practices among the likes of Amazon, Apple, Google, and Facebook—not her age—that have garnered the most attention.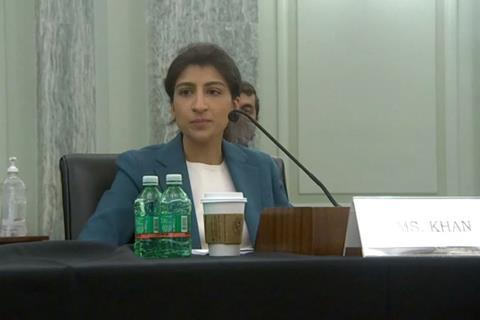 The FTC is already pursuing an antitrust probe of Amazon and a lawsuit against Facebook. Khan, an outspoken opponent of monopolies, has written extensively about the problem with the dominance of Big Tech. With fellow FTC Commissioner Rohit Chopra, she has written about how to use existing regulations to break up digital monopolies.
Khan said during her confirmation hearing she favors investigating how some Big Tech companies use their dominance in one area of the market as a springboard to dominate other sectors.
She declined to elaborate on whether she feels some social media companies are improperly using their clout to censor points of view with which they disagree and said she does not have any conflicts of interest that would prevent her from voting on issues involving Big Tech.
"Lina brings deep knowledge and expertise to this role and will be a fearless champion for consumers," said Sen. Elizabeth Warren (D-Mass.) in lauding her appointment. "… With Chair Khan at the helm, we have a huge opportunity to make big, structural change by reviving antitrust enforcement and fighting monopolies that threaten our economy, our society, and our democracy."
Khan assumes FTC leadership from Acting Chair Rebecca Kelly Slaughter. For now, the FTC has a 3-2 Democratic majority.
Khan's term expires in September 2024.
"It is a tremendous honor to have been selected by President Biden to lead the Federal Trade Commission," Khan stated in a press release. "I look forward to working with my colleagues to protect the public from corporate abuse. I'm very grateful to Acting Chairwoman Slaughter for her outstanding stewardship of the Commission."
Khan's appointment means the Senate can finally move forward with Chopra's nomination to lead the Consumer Financial Protection Bureau (CFPB), which had been stalled while Khan's nomination process played out.

Aaron Nicodemus covers regulatory policy and compliance trends for Compliance Week. He previously worked as a reporter for Bloomberg Law and as business editor at the Telegram & Gazette in Worcester, Mass.