It was an extraordinary Senate nomination hearing Thursday for Saule Omarova, the Cornell University law professor and attorney whom President Joe Biden has tapped to be the next Comptroller of the Currency.
Sen. Pat Toomey (R-Penn.) insisted she turn over a paper she wrote more than 30 years ago as an undergraduate at Moscow State University and criticized her when she said she could not produce it because she left it in Kazakhstan before she emigrated.
Sen. John Kennedy (R-La.) took things a step further, beginning his remarks by saying, "I don't know whether to call you 'professor' or 'comrade.'"
"Senator, I'm not a Communist," Omarova said. "I do not subscribe to that ideology. I could not choose where I was born."
She said her grandmother's parents died in a work camp in Siberia, sent there by Joseph Stalin for refusing to join the Communist Party. The repression she and her family experienced under Soviet rule in Kazakhstan is "seared in my brain," she said, and is the reason she emigrated to America in 1991 and became a U.S. citizen in 2005.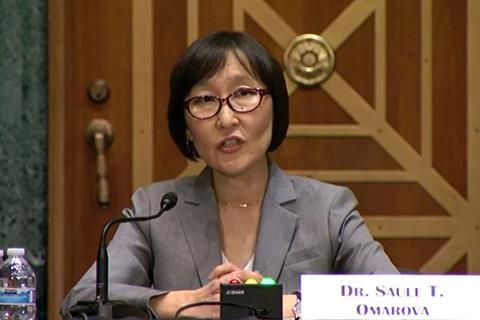 Democrats criticized Republicans for "red baiting" and "character assassination."
"They have a formula: Start with a passing and inaccurate reference to her academic work. Distort the substance beyond recognition. Mix in words like 'Marx,' and 'Lenin,' and 'Communism,'" said Senate Banking Committee Chair Sherrod Brown (D-Ohio) in his opening statement. "End with insinuations about Professor Omarova's loyalties to her chosen country. That's how Republicans turn a qualified woman into a Marxist boogeyman."
If the Senate approves Omarova's nomination, she would be the first woman, first person of color, and first immigrant to be chosen as Comptroller of the Currency, Brown said.
Beyond the heated rhetoric, Omarova's nomination is in peril, and not because of united Republican opposition in the Senate. She might not even get enough votes from the Senate Banking Committee, based on the line of questioning from two Democratic committee members: Jon Tester (Mont.) and Mark Warner (Va.). Both senators probed her opposition to S.2155, a bill they wrote that passed into law in 2018 that exempted banks from the Volcker Rule if they had less than $10 billion in total assets or less than 5 percent of their total assets in trading assets.
Tester said her criticism of the bill bothered him.
"Did it help big banks?" Tester asked her.
"Yes," she replied.
Later, responding to Warner's questions, she softened her stance, saying the bill also helped loosen regulatory obligations on community banks. She said it was a good thing, "because they don't engage in the same risks as big banks."
Omarova cannot afford to lose the support of even one Democratic senator. If Tester or Warner decide not to support advancing her nomination out of the Senate Banking Committee, it dies there.
Republicans found numerous substantive arguments on her regulatory policy positions, calling them "radical" and "socialist." As part of an essay on how the U.S. government should respond to threats posed to the market by digital currency called stablecoins, Omarova proposed to federalize all U.S. deposit accounts.
She also made public statements indicating she would prefer coal and natural gas companies go bankrupt to help reduce climate change. She insisted the comment was taken out of context, but Republicans harped on it as proof she would use her power as the banking industry's top regulator to limit credit to certain legal industries that Democrats found distasteful, be it gun manufacturers or coal-fired power plants.
"How can we be assured you won't seek to starve legitimate businesses from access to capital?" asked Sen. Mike Crapo (R-Idaho).
"I believe in the private allocation of capital, subject to regulatory requirements," she said. "I fully intend to follow the rules as written."
Tester also pressed Omarova on statements indicating she would favor certain types of businesses to go bankrupt. "Can't you see how dangerous that is?" he asked.
Toomey, in his opening statement, said Omarova has already shown what she intends to do if nominated to head up the Office of the Comptroller of the Currency.
"Taken in their totality, her ideas amount to a socialist manifesto for American financial services: nationalizing the banking system, putting in price controls, and creating a command-and-control economy where the government allocates resources instead of free men and women making their own decisions about the goods and services they want to buy and sell in an open market," he said. "In my view, Prof. Omarova's policy views are too radical, and preserving the prosperity that our free-market economy makes possible is too important, to make her our nation's top banking regulator."
Sen. Elizabeth Warren (D-Mass.) said the smears against Omarova regarding her background are smokescreens for the real reasons Republicans, urged on by the banking industry, are so vehemently opposing her nomination.
Omarova said she favors levying large fines—"they should have real bite," she said—against banks found to have acted improperly, and for punishing the bank executives who greenlighted such behavior.
"She will be an honest cop on the beat," Warren said. "This is a vicious smear campaign by big banks who want to keep buying up competitors and ripping off customers."

Aaron Nicodemus covers regulatory policy and compliance trends for Compliance Week. He previously worked as a reporter for Bloomberg Law and as business editor at the Telegram & Gazette in Worcester, Mass.
View full Profile