Janet Yellen, former chair of the Federal Reserve, takes over as leader of a Treasury Department with a lot on its plate.
She'll be expected to implement policies that help shore up a battered economy, sell President Joe Biden's $1.9 trillion COVID-19 stimulus package to Congress, refocus on the effects of climate change on the economy, unwind contradictory and overlapping sanctions imposed by the Trump administration, and revamp the Bank Secrecy Act's (BSA) anti-money laundering (AML) program. Yellen's Treasury Department faces increasingly complex questions on how to regulate cryptocurrency, as well as other digital banking innovations pushed by a robust financial technology (FinTech) sector.
Yellen's nomination to lead the Treasury was confirmed Monday by the Senate by a vote of 84-15. All 15 "no" votes came from Republican Senators. She will be the first woman to lead the Treasury Department in its 231-year history.
"She's an experienced, even-handed, pragmatic person who understands the big picture," said David Schwartz, president and CEO of the Florida International Bankers Association. "She did a fantastic job at the Fed, and that experience will be extremely helpful to her now."
Yellen "brings a wealth of experience in economics, regulation, and crisis management from her time at the Federal Reserve that will benefit the Treasury Department at this challenging time for the nation," said Rob Nichols, president and CEO of the American Bankers Association, in a press release.
In testimony at her Senate confirmation hearing Jan. 21, Yellen indicated a clear break with her predecessor, Steven Mnuchin, on the issue of how climate change can affect the economy. Yellen told the Senate she "supports effective carbon pricing" as well as "an enforcement mechanism that requires polluters to bear the full cost of the carbon pollution they are emitting." Yellen promised to appoint a "senior-level official" to lead the Treasury's climate change initiatives.
Ed Wilson Jr., partner at the D.C. firm Venable and a former acting general counsel at the Treasury Department, said Yellen will use her "bully pulpit" at the Treasury to promote "a broader set of policies on financial institutions that promote greater equity in our society."
She will encourage companies to think more critically about how climate change affects their business and provide urgency to their plans to reduce their carbon footprint, in addition to pushing corporations to increase the diversity of voices in management positions and on their boards of directors, Wilson said.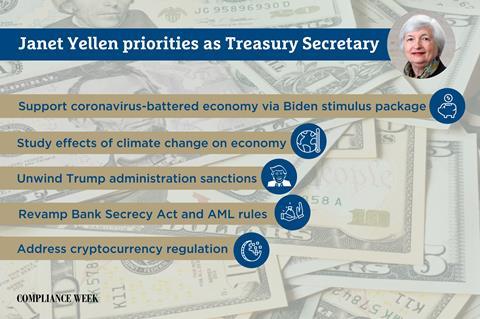 Sanctions on the front burner
One area in which the Treasury, under the Office of Foreign Assets Control (OFAC), may act quickly is on sanctions. Biden has indicated he favors tightening sanctions against Russia, and that may be among OFAC's first actions under his administration. OFAC will likely reassess former President Donald Trump's 300-plus sanctions against Iran, but may be less inclined to act quickly to unwind sanctions against China without first obtaining concessions, experts believe.
In her confirmation hearing, Yellen said the United States must "[hold] China accountable for its unfair and illegal practices and [make] sure that American technologies are not facilitating China's military buildup, human rights abuses, or other malign activities." She also promised to "use the full array of tools to counter China's abusive practices and hold Beijing accountable."
"One of the fascinating things to watch will be how the Treasury uses the power of the dollar to get China into the trading system in a fair way," Wilson said.
The Biden administration will have plenty of room to maneuver in its negotiations with China, because the Trump administration took so many actions, usually without the backing of traditional U.S. allies. "This will not be a go-it-alone administration," Wilson said.
Charlie Delingpole, CEO of financial data and AML technology company ComplyAdvantage, said changes in sanctions will require financial institutions to implement "an increased focus on monitoring the financial technologies to ensure security. For institutions operating outside of the U.S., it will be imperative that they prioritize reputable and clearly identified U.S. partners and personnel working for them and deliver additional tailored sanctions training given the extraterritorial nature of U.S. sanctions."
Schwartz said Florida's banking community is particularly keen to hear Yellen's positions on sanctions against Venezuela and Cuba, two countries in which his members have significant financial interests. Under Trump, sanctions against Venezuela became so onerous that some banks simply stopped doing business there, Schwartz said, worried that money flowing from their institutions might land in the hands of sanctioned individuals or businesses.
Cuba, to a lesser extent, was similarly a tough place to conduct business during the past four years. Biden is almost certain to ease sanctions on Cuba, mirroring the policies of the Obama administration.
Yellen suspicious of cryptocurrency
In her Senate testimony, Yellen indicated the Treasury under her direction will seek to implement new regulations on cryptocurrency and other digital assets.
"I think it important we consider the benefits of cryptocurrencies and other digital assets and the potential they have to improve the efficiency of the financial system. At the same time, we know they can be used to finance terrorism, facilitate money laundering, and support malign activities that threaten U.S. national security interests and the integrity of the U.S. and international financial systems," she said. "I think we need to look closely at how to encourage their use for legitimate activities while curtailing their use for malign and illegal activities. … I intend to work closely with the Federal Reserve Board and the other federal banking and securities regulators on how to implement an effective regulatory framework for these and other FinTech innovations."
Delingpole said Yellen's confirmation could be a "red flag" to the cryptocurrency industry, given her previous criticism, including a comment during the nomination hearing that cryptocurrency is "mainly used for illicit financing." She moderated those comments later in the hearing.
"Ultimately, her actions will belie her real intentions, which we hope will be favorable to crypto companies and related currencies," he said.
BSA AML reform
Yellen's Treasury Department will spend the next year studying the rules regarding suspicious activity reports (SARs) filed by banks and financial institutions as part of the AML provisions contained in the BSA.
Included in the National Defense Authorization Act (NDAA) for Fiscal Year 2021 (H.R.6395) is a "formal review" of BSA rules regarding the filing of SARs by financial institutions. Also included are separate AML provisions that pull back the veil on anonymous shell corporations and establish a BSA whistleblower program with financial rewards for tipsters whose information leads to a conviction.
The current BSA system is bogged down by the millions of SARs filed every year by banks and financial institutions, to the tune of more than 10,000 reports filed with the Treasury's Financial Crimes Enforcement Network (FinCEN) per business day in 2019. One clear goal in the revamp of the system that Congress has demanded is to reduce the number of SARs filed every year. Another goal is to focus the SARs that are filed on the investigatory priorities of law enforcement.
The NDAA orders the Treasury and FinCEN to submit the report on the AML program revamp to Congress within one year of the bill's passage into law, meaning the report will be due by Jan. 1, 2022.

Aaron Nicodemus covers regulatory policy and compliance trends for Compliance Week. He previously worked as a reporter for Bloomberg Law and as business editor at the Telegram & Gazette in Worcester, Mass.