Former U.S. ambassador to the United Nations Samantha Power encouraged an audience of more than 500 compliance and audit professionals Monday to stand up and oppose abuses of power that have accelerated during the coronavirus pandemic.
Speaking live from her Massachusetts home during the keynote address to the Compliance Week 2020 Virtual Conference, Power told her audience, "Don't be cowed. Don't be silenced."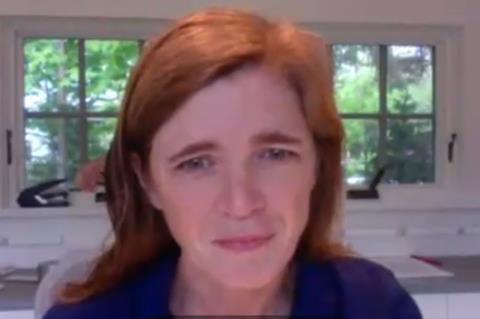 Compliance professionals need to say something when they see rules being broken and norms being violated, especially during a pandemic. She criticized the current administration's moves to fire inspectors general and harass and intimidate whistleblowers. A big part of what the compliance industry does is encourage and protect people who place a spotlight on wrongdoing, be it in government or business.
"One thing that can come out of this is to celebrate what you do," said Power, who is currently a Harvard professor of practice in human rights. "At a time when these roles are besieged, it's incumbent on the rest of us to celebrate checks and balances. … Know you're in the right, especially when norm slippage is occurring in so many public ways."
Power, a Pulitzer-prize winning author of several books including her most recent, The Education of an Idealist: A Memoir, discussed how previous success stories against contagious diseases—Ebola, MERS, SARS—may have led the United States to be complacent about the risks as the coronavirus spread from China to Iran to Italy and then New York City. South Korea and the United States recorded their first coronavirus case on the same day, Power noted, but the divergent responses have led to wildly different outcomes.
"Because we had dodged these three other bullets, it compounded our false sense of security," she said.
The United States' response, led by wishful thinking that the disease might just go away, was further weakened by policies driven by politics instead of science. Precious preparation time was wasted.
"Once you get behind, the virus just outpaces you, and it's very, very challenging to catch up," she said.
Compliance Week Managing Director Stephen Moylan, who conducted the Q&A session with Power, asked her about female leadership during the pandemic.
Calling the pandemic "a hinge in history," Power spoke to how many of the best examples of strong leadership in the face of the pandemic—New Zealand, Germany, Taiwan, Iceland, Norway—have come from countries led by women. That is probably not a coincidence, Power said.
"Hallelujah that young people will be seeing these strong women succeed in times of crisis," she said. "They've shown toughness, empathy, rigor, humanity, and transparency." These leaders also showed humility, setting aside their egos and following the advice of their scientific advisors. As a result, they modeled their country's response on science and data, rather than politics and emotion.
"So many female leaders showing how this can be licked is going to change the view of leadership," she said.
Power also touched on gender issues in the workplace, noting wryly, "the glaciers are melting faster than women are increasing their presence" in government and business.
Her former boss, President Barack Obama, said that in terms of women in the workforce, we are still "admiring the problem." Too often women are overlooked for lower-level promotions, leaving the pipeline of female prospects dry when an employer or politician is looking to fill a senior position.
"If it's not part of the bottom line, part of the policy process, if it's just seen as something we have to do," she said of hiring women, "it just doesn't have the 'stickiness.' It's about box-checking, rather than doing what it takes" to help the organization thrive.
In addition, women are often beset with self-doubt that can hold them back professionally. When she was part of Obama's cabinet, she found she kept being shut down as she tried to highlight certain issues. She thought, perhaps, she could not get traction because she was dealing with the often-thorny issue of human rights.
But when she and the other female members of the cabinet got together for a drink on Wednesdays—they dubbed themselves "The Wednesday Group"—they realized it was happening to each of them, regardless of their area of expertise.
Their collaboration proved invaluable to their success, she said. It also taught her how important it is to lean on other people, to find your group, and leverage your numbers to speak as one voice on issues like gender discrimination.
Compliance Week's 15th annual national conference—held for the first time completely virtually—was opened by Editor in Chief Dave Lefort, who acknowledged that everyone would probably rather be gathered, as originally planned, in Washington, D.C. The pandemic upended those plans, as it has all around the world.
"I want to acknowledge that this is weird," Lefort said, telling attendees that there may be some awkward moments. "We ask that you please grant us some grace and excuse any barking, ringing doorbells, or crying children in the background" as panelists logged in from their homes for one of 15 sessions during the two-day virtual event.
Compliance Week 2020: The Virtual Conference continues Tuesday, starting at 9 a.m. ET, with a conversation with Peter Anderson, Carnival Corp.'s Chief Ethics & Compliance Officer.
Prior to the conversation with Anderson on Tuesday morning, former FBI Director James Comey will make a brief appearance in a 2-minute video clip to dispense some words of wisdom to the compliance community. Comey had planned to speak at this event in person, but with the move to virtual he will instead deliver a keynote at Compliance Week's planned "CCO Summit" at a date to be determined in Washington, D.C. this fall.

Aaron Nicodemus covers regulatory policy and compliance trends for Compliance Week. He previously worked as a reporter for Bloomberg Law and as business editor at the Telegram & Gazette in Worcester, Mass.
CW2020 wrap-up: Tips for CCOs on leading in a crisis
1

2

3

4

5

Currently reading

Former UN ambassador Power's message to compliance: 'Don't be silenced'