Experts believe President-elect Joe Biden will likely take his time before making big moves to unwind the dizzying array of sanctions levied by his predecessor, President Donald Trump.
From 2017-2020, the Trump administration has issued more than 3,500 sanctions against countries, jurisdictions, individuals, trading activities, and sectors, according to the Center for a New American Security and additional research by the Wall Street Journal. The Obama administration, by contrast, issued about 4,300 sanctions—but over eight years.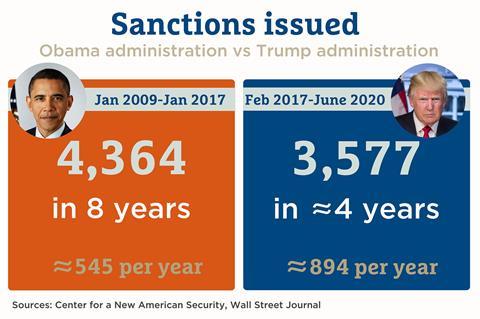 Trump has been much more willing to issue sanctions without the support of other countries, particularly against Iran. Since pulling out of the Iran nuclear deal in 2018, the Trump administration has issued more than 300 Iran-related sanctions, most of them without the backing of traditional American allies like the United Kingdom, the European Union, and Canada.
"Love him or hate him, Trump has used sanctions as a blunt force policy tool, and that's probably here to stay," said Bruce Paulsen, partner at the law firm Seward & Kissel. "These things have to be thoughtfully implemented and taken down."
Biden could move quickly to dismantle Trump's sanctions by issuing new executive orders. But instead, the Biden administration will likely take its time to assess them, using the incentive of unwinding them to pursue strategic objectives and gain concessions from U.S. adversaries.
Biden will also likely seek consensus from America's traditional allies before making any big moves on sanctions.
"I think you'll see much more coalition building and working with our allies under Biden. I think there will be much less daylight between the United States and the European Union on sanctions."

Judith Lee, Partner, Gibson Dunn
"I think you'll see much more coalition building and working with our allies under Biden," said Judith Lee, partner with Gibson Dunn and co-chair of the firm's international trade practice. "I think there will be much less daylight between the United States and the European Union on sanctions."
After four years of Trump mostly going it alone on sanctions, leaders in the United Kingdom and the European Union expect Biden to be a return to a semblance of normalcy, said Neil Whiley, director of sanctions for UK Finance, an industry trade group representing 250 banks and financial institutions.
"I think it will go back to that statesman-like behavior and engagement with the international community," Whiley said. "I would hope there's more openness and dialogue under Biden."
Here are some areas, grouped by country, where Biden's policy initiatives intersect with possible moves on sanctions.
China
Rather than risk being labeled as soft on China, Biden will likely wait before delisting many of Trump's sanctions against the country. While Trump views China as an adversary and threat, Biden will likely view China more as an economic competitor on the international stage, said Mario Mancuso, a partner at Kirkland & Ellis and a former senior member of President George W. Bush's national security team.
"Biden may not view China as the same threat that Trump does," Mancuso said during a conference call. There are some areas, like climate change and nuclear proliferation, "where Biden probably believes he can work with China," he said.
Others say Biden will be tougher on China than Trump was, at least as it relates to human rights abuses against democracy protestors in Hong Kong and in Xinjiang, where the Chinese government has rounded up an estimated one million Uyghur minorities into prison camps for "re-education." China has also provoked American allies Japan and South Korea with its construction of military bases on newly built islands in international waters.
"What's happening with human rights in China is getting more traction for sanctions internationally," Whiley said, particularly against members of the Chinese Communist Party.
Biden will also be pushed by the liberal wing of the Democratic Party to punish China for its human rights abuses, and sanctions are one way to send a message.
On the economic front, Biden may be reluctant to reverse sanctions against Huawei Technologies but more willing to reconsider action against Tik Tok and WeChat, Lee said.
Of course, Trump still has two months in office and is likely not done sanctioning China, having issued an executive order on Nov. 12 prohibiting investment in Chinese military companies. There are likely even more sanctions coming from the Trump administration against China before he leaves office, Lee said.
"This could further bind the Biden administration over the first weeks and months," Paulsen said.
Iran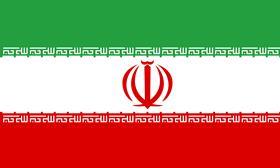 Biden will likely pivot from the Trump administration's stance on Iran, seeking to work with the international community to bring Iran to the negotiating table on limiting its nuclear arms program, rather than Trump's policy of squeezing Iran's economy with unilateral sanctions.
"The maximum pressure campaign on Iran is not going to continue" under Biden, Lee said.
As he unwinds each economic sanction against Iran, Biden should seek concessions from the government on its nuclear weapons program as steps toward having the United States rejoin the Iran nuclear arms agreement, said Andrew Jacobson, associate at Seward & Kissel.
Trump's sanctions could be used to benefit Biden at the negotiating table, Jacobson said. But any moves to ease sanctions on Iran will be viewed with suspicion by the international community until Biden can rebuild relationships damaged by Trump.
"Biden will struggle to unwind things in Iran to where we were under Obama. Too much damage has been done," said Whiley. European banks, in particular, will need to be reassured that any changes Biden makes won't be reversed by the next administration. "There's been a loss of trust, a bit of, 'We've been here before, and look what happened,'" he said.
Russia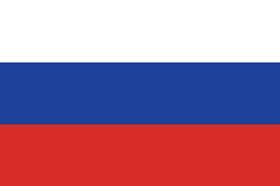 Has Trump been hard or easy on Russia?
By sheer numbers, Trump has been busy punishing Russia with sanctions, issuing 257 in his four years in office, more than any other country after Iran, Syria, and Venezuela, according to the Center for a New American Security.
But Trump has not singled out Russia, its agencies, or its citizens for punishment for some of Russia's most egregious violations against the United States, like the alleged bounties Russia offered to Afghan fighters for killing American soldiers or the cyber-warfare waged against the U.S. by Russian-backed groups. There has also been no punishment levied for Russia's attempted poisoning of opposition politician Alexei Navalny, an assassination attempt condemned by much of the Western world.
"We haven't seen what a full-throated condemnation" of some of these violations looks like, Lee said. Biden, pushed by the progressives in his party, may set to punish some of the Russian agencies and government officials who participated in these schemes.
"There is ample reason to believe that Russia policy will employ sharper sanctions tools," said Mancuso, the former national security team member under Bush. Biden, he said, will also be "more willing to use sanctions as a tool to address cyber-intrusions."
Other potential sanctions under Biden
The Biden administration may be more aggressive with sanctions against Turkey, particularly as Turkish forces continue rattling their sabres in Syria and in the conflict between Armenia and Azerbaijan. Turkey is also pushing its weight around in the international waters off Greece, an EU member, as well as on some Greek islands.
"It's possible that may escalate in terms of sanctions," Whiley said of Turkey.
Another potential hotspot is Myanmar, where reports of human rights abuses against the minority Rohingya people are growing, Jacobson said.
In addition, Biden may look to follow the EU's sanctions policy in places like Belarus, where longtime president Aleksandr Lukashenko has reasserted his grip on power despite a growing democratic movement.
There is agreement among experts Biden will likely ease travel and financial restrictions on Cuba, at least to where they were under Obama. Under Trump, travel to Cuba has been restricted, as has the payment of remittances to the island by U.S. citizens. U.S. investors have watched the see-saw sanctions imposed by the United States there with trepidation, and that has slowed economic activity between the two countries to a crawl.

Aaron Nicodemus covers regulatory policy and compliance trends for Compliance Week. He previously worked as a reporter for Bloomberg Law and as business editor at the Telegram & Gazette in Worcester, Mass.