A month has gone by since the Ever Given—the 1,300-foot cargo ship that ran aground and blocked for nearly a week one of the busiest waterways in the world—was freed. But for many industries, the ripple effects will continue to batter global supply chains for weeks to come, absent having in place a sound supply chain risk management program.
On March 23, the Ever Given became horizontally wedged in Egypt's Suez Canal before being dislodged six days later. According to tracking data from Lloyd's List Intelligence, 372 vessels were stalled waiting to transit the canal.
"The world relies on the shipping sector to keep all of us supplied, and the incident in the Suez Canal has shone a spotlight on the delicate nature of these global supply chains," said Guy Platten, secretary general of the International Chamber of Shipping, in a statement. "The literal 'pinch point' of Suez is a prime example of how an unexpected incident can disrupt the finely balanced system that we all rely on."
The canal's temporary blockage created a domino effect of global supply chain disruptions, exacerbating already congested ports, railyards, and distribution centers; further straining containership shortages; and delaying shipments, including the delivery of raw materials that will also impact downstream production and the manufacturing of all kinds of consumer goods.
"Companies that better weathered the storm of the past year were those that had better technology tools in place to help them understand in near real time what was going on across their supply chain."

Daniel Hartnett, Associate Managing Director, Kroll
"The Suez Canal incident has caused disruptions both across regions and industries," says Brian Alster, general manager of third-party risk and compliance at Dun & Bradstreet. According to shipping and supply chain data from Dun & Bradstreet and supply chain software provider E2open, the top impacted sectors in the United States and Europe include grocery stores and restaurant chains, clothing retailers, sporting goods retailers, surgical and medical equipment suppliers, hardware stores, and automotive repair services, among others.
Many major container-shipping companies tried to alleviate the logjam at the source by redirecting some of their ships around the Cape of Good Hope (at the southern tip of Africa). Maersk, for example, said it initially redirected 15 vessels before turning three of them around. "We still foresee limitations of both space and equipment in the weeks to come, so please continue to prioritize the most urgent/critical goods to be shipped first," Maersk said in an April 5 customer advisory.
Among recent earnings calls analyzed by Compliance Week, several executives said they're tracking the situation closely. "We believe that the port congestion delays, including the recent event in the Suez Canal, will be normalized by the summer," said Carlos Alberini, chief executive officer of clothing retailer Guess.
Jim Owens, CEO of adhesive manufacturing company H.B. Fuller, said on a March 25 call, "We're tracking exactly what materials that our suppliers have that might be on those ships." H.B. Fuller's task force—made up of a sourcing team, supply chain team, and commercial team—meet daily to discuss "issues across thousands of materials," Owens added. "So, they're well in the mode of managing those issues, and a ship stuck in the Suez is exactly what they're set up to do."
Levi Strauss Chief Financial Officer Harmit Singh expressed similar optimism. "We have experienced delays, but the good news for us—because geographically we have a portfolio, and we have a brand that's really strong—we've been able to offset the impact of the delay in Quarter 1, and we think we can offset that in Quarter 2," Singh said on an April 8 call.
Many other companies with global supply chains already stretched thin by the pandemic of the past year may not share that same optimism, especially those that lack a diversified and robust supply chain. Moreover, companies are having to contend not only with global disruptions but also drastic fluctuations in consumer demands.
"That is a really big challenge that we're hearing from clients," says Daniel Hartnett, associate managing director at Kroll. "All of this stuff is just adding more challenges and issues that companies need to confront—almost from a whack-a-mole perspective."
Charles Minutella, head of due diligence at Refinitiv, says, "It further validates the fact companies really need to think about supply chain resilience and de-risk themselves from sole source or geographical concentration."
Mitigation measures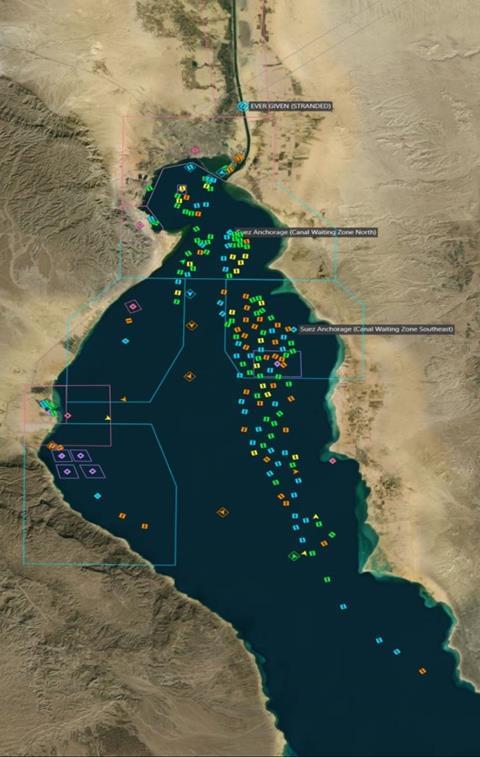 The good news: There are several measures supply chain teams can take—both in the short and long term—to reduce risks and better prepare for unanticipated incidents. "It is critical that procurement and supply chain leaders take action now to create a more agile and transparent network of suppliers that can withstand any future occurrences of unexpected events," Alster says.
The first step supply chain teams can take in the short term is to conduct an immediate assessment of all their suppliers to determine which ones have been impacted by the Suez Canal blockage and how urgently the company needs the goods that are currently backlogged, Alster says. From there, conduct a further assessment as to whether the company has alternative suppliers; how long it will take to onboard them; and how quickly it will take for those goods to reach its destination, whether it will be faster than waiting for the delayed goods.
Diversification of the supply chain can take many forms, like reshoring or nearshoring, Hartnett says. "The idea is to make sure you have redundancies built into the system," he says.
A multisourcing strategy is also an important part of diversifying the supply chain. Sometimes, the answer is not as simple as reshoring or nearshoring if the company's manufacturing processes depend upon precious metals or other natural resources, for example, that only certain parts of the world produce.
"How do you diversify your sourcing? Do you think about different sources in other countries? Are there different ways to leverage your intermediaries to find different sources of material?" Minutella says. These are all questions to think about.
As more companies diversify and expand their supply chain, this creates a significant amount of new risks, because "they don't have relationships with these suppliers," Minutella says. "The assessment process may not be as mature as it has been with their legacy supply chain."
Thus, conducting due diligence on new suppliers, as well as continuously monitoring current ones, is important. Many companies still have several blind spots relating to not only who all their suppliers are but where their operations are geographically and how that impacts their ability to deliver goods. So, having full transparency into where suppliers reside and what risks that presents is key.
Many companies' supply chain risk management practices are still in a maturation period. Minutella says he has noticed a "massive uptick in the last several months" in the amount of proactive dialogue Refinitiv's customers—for example, in the technology, pharmaceutical, and manufacturing space—are having with suppliers and in the way they are "doing more diligence on new suppliers, because they're looking to this expansion of the supply chain."
It also helps to develop a risk-based assessment process to identify and continuously monitor the many risks that could impact supply chain productivity. Alster advises taking the time to properly verify, review, and continuously monitor the financial health and credit worthiness of new and alternative partners, which allows companies "to create an agile, geographically dispersed supply chain that can quickly pivot under any circumstance," he says. "Transparency into your network of suppliers, as well as a diversified supply chain, will help mitigate risk in the short and long term."
Finally, truly robust supply chain due diligence cannot be done effectively without investing in data-driven technology. This enables teams to gain complete visibility across the global supply chain through risk mapping, easily and more efficiently identify the company's most critical suppliers from both a cost and operational standpoint, and track in real-time suppliers' inventory and production capabilities. "By investing in data-driven technology today, supply chain leaders can more easily evaluate and onboard new suppliers while also continuously monitoring their full global network," Alster says.
Specifically relevant to unanticipated events, like the Suez Canal blockage, supply chain teams that have automated their risk management processes—for example, by using blockchain technologies—are able to more easily and effectively track goods that are in transit, as well as the potential downstream impacts of delays, to make better informed business decisions in real time.
"Supply chains were already moving in that direction before the pandemic," Hartnett says. "Companies that better weathered the storm of the past year were those that had better technology tools in place to help them understand in near real time what was going on across their supply chain."

Jaclyn Jaeger is a freelance contributor to Compliance Week after working for the company for 15 years. She writes on a wide variety of topics, including ethics and compliance, risk management, legal, enforcement, technology, and more.
View full Profile