From more than 8,000 miles away and across a 12-hour time difference, Matthew Friedman pierced the hearts of attendees at Compliance Week's National Conference in Washington, D.C.
Friedman, chief executive officer of the Mekong Club in Hong Kong, shared the story of a 12-year-old girl in Nepal wooed by the money of a 20-year-old suitor. The two are hastily wed—the whole community attending, pictures and all—and the suitor promises to take the girl to the capital of Nepal: Kathmandu. Unbeknownst to her, the duo instead head to the red-light district in Mumbai, India, where the man sells his "bride" to a brothel. She is now trapped in this hellish situation until she is essentially disposed of, the wedding photos with her family used as a way to threaten her from trying to escape.
This is modern slavery, and the scenario above is not a one-time case. Friedman, an expert on international human trafficking with more than 30 years of experience, shared this story virtually as part of a fireside chat Tuesday on the human factor of environmental, social, and governance (ESG) to underscore what's at stake as firms confront the threat modern slavery poses as part of their social efforts.
The numbers Friedman shared were chilling:
Approximately 40 million victims of modern slavery: 15 million in forced marriage, 25 million in forced labor. Of that labor total, 16 million are associated with supply chains and 3.7 million in manufacturing (sweatshops).
About 25,200 people entering modern slavery each day—one every four seconds.
Profits generated of modern slavery estimated to reach $150 billion per year.
Efforts to thwart modern slavery totaling just $350 million per year.
"What we're talking about are people losing their freedom," Friedman said. "… Collectively, the world has the potential to be able to address this, but in order for them to address this, they have to understand it."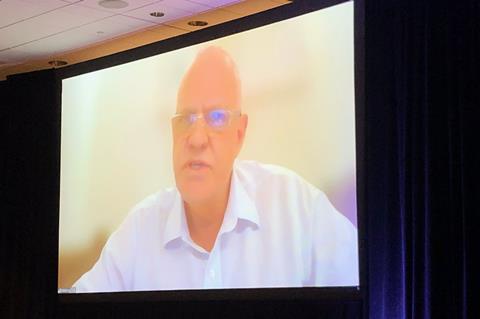 Friedman, calling in at 4:15 a.m. his time, was interviewed over video chat by Forrest Deegan, vice president of ethics and compliance for Victoria's Secret. Friedman's company consults businesses regarding sustainable practices they can implement to thwart modern slavery in their supply chains.
"If you are a manufacturer and you have many tiers in your supply chain, maybe you know Tier 1 very well, but you haven't gotten to Tier 2 or 3," Friedman said. "But the legislation says you have to look at your complete supply chain. That's the relevance there."
Friedman cited laws in California, the United Kingdom, Australia, and Germany that mandate certain companies to confront the risks of modern slavery in their supply chains. He noted the record fine of $1.3 billion Australian dollars (then-U.S. $912.6 million) levied against Australia-based financial institution Westpac in 2020 for anti-money laundering failures that included the facilitation of child exploitation in the Philippines and Southeast Asia as an example of the penalties companies can face for deficiencies in their programs.
The financial community, in particular, faces heightened risks associated with modern slavery, Friedman said. "Many of this gets into legitimate banking—it's money laundering, and the bank gets fined," he said.
For businesses to properly address modern slavery, leadership must be informed. "A lot of companies have C-suites or boards that have never really been exposed to this," Friedman said. "They hear about this and see it as a nuisance and toss it to the side. They have to be brought up to speed on this particular issue."
Above all, the most effective way to thwart modern slavery is to shine a light on it. Don't pretend it isn't an issue at your company. Ask questions, dig deeper on business partners, ensure your code of conduct extends to your suppliers, and remediate any issues upon discovery.
"Vulnerability exists in a lot of different places light isn't shining on now," Friedman said. "… Once the light goes on it, then the questions get asked. That's why companies have to be really proactive. You need to start thinking about these things prior to it becoming an issue because if you're on the receiving end of an article from an investigative journalist … you're going to face a certain amount of pain and suffering."

Kyle Brasseur is Editor in Chief of Compliance Week. His background includes expertise in user personalization with ESPN.com.
View full Profile