The road to a payout for whistleblowers is long, lonely, and full of obstacles.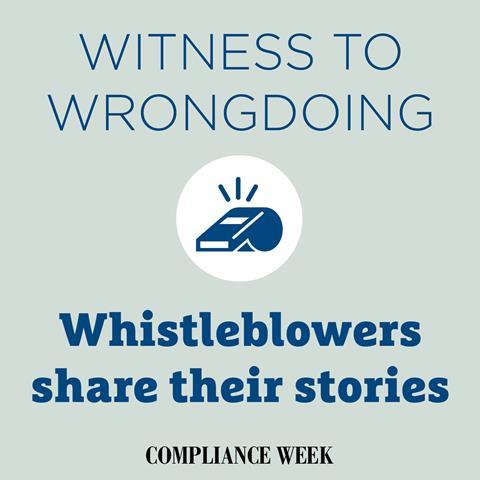 The process is naturally isolating—whistleblowers' identities are protected, but in exchange, they cannot talk about their case with anyone but their lawyer or risk jeopardizing the reward. Further, their employer or industry often shuns them, boxing them into a corner on the suspicion they are telling a truth likely to result in financial pain for whatever entity is accused of fraud or malfeasance.
"This is an extraordinary risk that people are taking—it could be career-altering or career-ending," said Sean McKessy, who led the Securities and Exchange Commission's Office of the Whistleblower from 2012-16. "A payout offers the opportunity to be financially rewarded, to compensate you for what you lost, or allow you to never have to work again," he said. The success of the SEC's whistleblower program, McKessy said, "underscores that the financial incentive is a very important piece of the puzzle."
But so are other facets. "At the end of the day, the kind of things that motivate whistleblowers and even the playing field are built into the program: confidentiality, payment, and anti-retaliation provisions," McKessy said.
Jeffrey Smith, the California software engineer who found a "hole" within contracts of the multi-billion-dollar wireless industry, filed his False Claims Act (FCA) lawsuit in 2012. The case involved the four major carriers of the wireless industry—Verizon, AT&T, T-Mobile, and Sprint—which all included clauses in their contracts with customers promising something called wireless rate optimization.
The contract clause pledged the carriers would review the customer's wireless plans periodically to determine if they were on the plans that would result in service at the lowest cost. But, Smith alleged, the companies never conducted the reviews and never adjusted the rate plans.
Smith's lawsuit, filed in federal court in California, alleged Verizon and AT&T defrauded taxpayers in California and Nevada when they failed to fulfill the rate plan optimization clauses of their wireless contracts with the two states. The carriers denied the allegations and fought hard. The cases dragged while Smith's business faltered.
"It's a lonely world," he said. "It's a very lonely world, and I suspect all whistleblowers have, in some regard, some knowledge or expertise about something. … They're not looking for a payday, just trying to right a wrong, initially."
For Smith, the wait to have the cases settled stretched out for eight years.
"You count the years, and it's a crapshoot," he said. "There are so many things that can come up to push your case sideways. It is scary and frightening. … Yeah, they (whistleblowers) don't have any clue what's in front of them. And how hard it is going to be."
In 2020, Verizon and AT&T Mobility agreed to pay a combined $127 million to settle the FCA lawsuit, which claimed that, over a decade, the two companies overcharged nearly 300 state agencies. Both companies denied liability.
At the time, the $116 million California share of the recovery was the second largest FCA settlement by the state outside of the healthcare industry, according to Wayne T. Lamprey of the whistleblower firm Constantine Cannon, lead counsel for the lawsuit.
Sprint and T-Mobile had previously reached settlements in the California case for $9.6 million combined, according to the San Diego Union-Tribune.
"The conduct alleged by the whistleblower was shocking: that our country's largest wireless carriers made promises to government agencies to get their business but failed to provide the same cost-saving service many Fortune 500 companies receive," Lamprey said at the time of the settlement. "It may be a rounding error to Verizon and AT&T, but this is real money to California and Nevada's schools, local governments, and state agencies, who spent years scraping through their budgets to pay what we now know were over-inflated bills."
Neither Verizon nor AT&T responded to a request for comment.
Smith and his company, OnTheGo Wireless, received $47.7 million as part of the settlement, according to the San Diego Union-Tribune, citing the court order.
Brendan Delaney, the one-time New York City Division of Health Care Access and Improvement software technician, had been blowing the whistle on deadly flaws in medical records software from eClinicalWorks since 2010. One FCA case he filed in 2011 was dropped by the Department of Justice (DOJ) two years later, and he figured that was the end of it. The flaws would not be fixed; more people's lives would be placed at risk for medical errors caused by the software.
"This is an extraordinary risk that [whistleblowers] are taking—it could be career-altering or career-ending."

Sean McKessy, former chief of the SEC's Office of the Whistleblower
But the DOJ revived the case in 2015. Annette Monachelli, a patient at a Vermont clinic, died of brain cancer, in part because of a medical error caused by eClinicalWorks software. Her husband sued eClinicalWorks because its software lost a diagnostic test that might have caught the cancer much sooner.
Federal prosecutors would eventually allege flaws in eClinicalWorks' software caused medication mix-ups and nearly 2,000 lab orders to go missing at Rikers Island. It also misplaced diagnostic imaging orders, like the one Monachelli's Vermont physician had requested.
In 2017, eClinicalWorks paid $155 million to settle claims it misrepresented the capabilities of its software. "The settlement also resolved allegations that ECW paid kickbacks to certain customers in exchange for promoting its product," the DOJ said. Three of the company's founders were found jointly and severally liable for the penalty.
EClinicalWorks did not respond to a request for comment. In 2017, CEO Girish Navani said in a statement the company had addressed the issues that were raised and taken measures to promote compliance and transparency.
Delaney's share of the settlement was $30 million. In addition to the financial penalties, eClinicalWorks entered into a five-year corporate integrity agreement with the DOJ that required it to hire an independent monitor to assess both the quality control systems for its software and its adherence to the federal anti-kickback statute.
The company was required to inform customers of safety-related issues, keep an updated list available of all issues, provide free software patches, and transfer medical records to other companies' software without charging fees.
Aaron Westrick, the research director at Second Chance Body Armor who first blew the whistle in 2001 about defective bulletproof vests made with panels of a woven fiber called Zylon, found a sense of balance in the intervening years. He stayed married, a big accomplishment among whistleblowers, he joked. He continued working as a deputy sheriff and police officer. He earned his doctorate in criminal justice and became a professor at Lake Superior State University in Michigan.
Westrick filed an FCA lawsuit against Second Chance and Toyobo Co., the manufacturer of Zylon, in 2004. Second Chance filed for bankruptcy the same year and was soon dissolved.
In 2018, Toyobo paid $66 million to settle claims it sold defective bulletproof vests to federal, state, local, and tribal law enforcement agencies. As the whistleblower in that case, Westrick received $5.7 million.
Toyobo responded to a request for comment by forwarding a link to its 2018 statement about the settlement, in which the company denied the allegations and did not admit any legal liability.
Richard Davis, the former president of Second Chance, agreed later that year to forfeit $1.2 million that had previously been frozen by the government and pay an additional $125,000 fine. Westrick received $28,750 from the settlement.
The DOJ recovered a total of $132 million in penalties against 18 corporations involved in the manufacturing of the defective vests made with Zylon. A federal lawsuit related to the faulty body armor is still pending against Honeywell International.
All told, Westrick spent 17 years involved in the whistleblowing effort against Second Chance, Toyobo, and other companies.
Andrew Russo, the former concert pianist and political candidate turned investor, provided information to the SEC to stop a Ponzi-like scheme perpetrated by his childhood acquaintance, Greg Gray.
"There are bad actors out there in many professions. Often, those people are bullies or even psychopaths. They use threats and other aggressive tactics to prevent their wrongdoing from coming to light. So, it's the classic schoolyard situation where someone needs to stand up to the bully. In this case, that someone was me."

Andrew Russo
Gray and his investment firm, Archipel Capital, were charged by the SEC in 2015 with fraudulently using money from three investment funds to pay fictitious returns to investors in a different fund. The fraud was estimated to have misappropriated about $5.3 million in investor funds, the SEC said.
Russo and 17 of his fellow investors also sued Gray for defrauding them. For his part, Russo provided the SEC with documents and a timeline and narrative of how he believed the fraud occurred. He included information on some of the other partnerships that, ultimately, did not become part of the agency's action against Archipel and Gray. The case is pending before the SEC.
Asked whether he would blow the whistle again, Russo was sure he would.
"I feel the same now as I felt at the time of contacting the SEC," he said. "There are bad actors out there in many professions. Often, those people are bullies or even psychopaths. They use threats and other aggressive tactics to prevent their wrongdoing from coming to light. So, it's the classic schoolyard situation where someone needs to stand up to the bully. In this case, that someone was me."

Aaron Nicodemus covers regulatory policy and compliance trends for Compliance Week. He previously worked as a reporter for Bloomberg Law and as business editor at the Telegram & Gazette in Worcester, Mass.
View full Profile
CW whistleblower series: 'Witness to Wrongdoing'
1

2

3

4

5

6

Currently reading

Waiting for payout a grueling test of tenacity for whistleblowers

7

8

9

10