The Securities and Exchange Commission (SEC) announced more whistleblower awards to more recipients in fiscal year 2021 (FY2021) than all prior years combined.
The agency, in its 2021 annual report to Congress published Monday, celebrated the award of approximately $564 million to 108 whistleblowers for the period starting Oct. 1, 2020, and ending Sept. 30. In the program's first 10 years in existence (FY2011 through FY2020), it awarded approximately $562 million to 106 individuals.
The previous high-water mark for total payouts was FY2020, when the SEC awarded approximately $175 million to 39 whistleblowers.
"We recognize and applaud the courage and commitment of the hundreds of whistleblowers who submitted valuable information under the SEC's whistleblower program, and we anticipate that the awards made in FY2021 will continue to incentivize others to come forward promptly and report high-quality information regarding possible securities laws violations to the Commission," said Emily Pasquinelli in the report's message from the acting chief of the Office of the Whistleblower.
Nicole Creola Kelly was appointed chief of the Office of the Whistleblower on Nov. 5. Pasquinelli returned to her role as deputy chief.
In all, the SEC has awarded more than $1.1 billion to 214 individuals since the whistleblower program was created in 2011 as part of the Dodd-Frank Act. It has become the gold standard for whistleblower programs, offering tipsters with information about security law violations that leads to a successful settlement action between 10 and 30 percent of the monetary sanctions collected. Whistleblowers' identities remain anonymous throughout the process, including upon reward.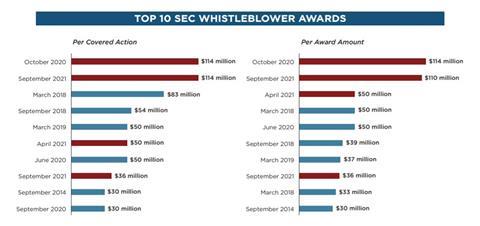 Since the inception of the SEC's whistleblower program, "enforcement matters brought using information from meritorious whistleblowers have resulted in orders for nearly $5 billion in total monetary sanctions, including more than $3.1 billion in disgorgement of ill-gotten gains and interest, of which more than $1.3 billion has been, or is scheduled to be, returned to harmed investors," the report said.
FY2021's record totals were propelled by several factors. First, there were three massive awards: $114 million to one whistleblower in October 2020; a combined $114 million to two whistleblowers in September 2021; and $50 million split between two whistleblowers in April 2021. Prior to the last fiscal year, no SEC whistleblower payout to an individual had ever surpassed $50 million.
Another factor was the agency's emphasis on speeding up the process of paying whistleblowers after the enforcement action is complete. In FY2021, the office issued a record 318 final orders for individual award claims, as well as processed 354 claims to preliminary determination or preliminary summary disposition, the report said.
The program's success in paying whistleblowers is a factor in an exploding number of tips. The agency received more than 12,200 whistleblower tips in FY2021, a 76 percent increase from FY2020. The most common tips regarded manipulation allegations (3,090 tips), followed by corporate disclosures and financials (1,913); offering fraud (1,910); trading and pricing (778); and initial coin offerings and cryptocurrencies (762), a new category added in 2018.
After the United States, whistleblowers from Canada, China, and the United Kingdom provided the most tips to the SEC. Approximately 20 percent of successful whistleblowers in FY2021 hailed from outside the United States, from six continents.
"The SEC's Dodd-Frank Act whistleblower program has revolutionized the detection and enforcement of securities law violations," said Stephen Kohn, whistleblower attorney at Kohn, Kohn & Colapinto and chair of the National Whistleblower Center. "Congress needs to pay attention to this highly effective anti-corruption program and enact similar laws to fight money laundering committed by the big banks; antitrust violations committed by Big Tech; and the widespread consumer frauds often impacting low-income and middle-class families who are taken advantage of by illegal lending practices, redlining, and credit card frauds."
Other agencies have followed the SEC's lead, with the Commodity Futures Trading Commission (CFTC) in October announcing a $200 million payout. The award is believed to be the largest ever made by any federal agency and nearly triggered a financial crisis within the CFTC that took an act of Congress to fix.

Aaron Nicodemus covers regulatory policy and compliance trends for Compliance Week. He previously worked as a reporter for Bloomberg Law and as business editor at the Telegram & Gazette in Worcester, Mass.
View full Profile