Top Stories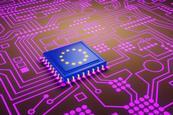 The EU's proposed Cyber Resilience Act primarily puts pressure on tech manufacturers to ensure the cybersecurity of their products, but companies also have a duty of care to ensure they have opted to use the most secure products available.

Barclays PLC and Barclays Bank agreed to pay $361 million to resolve allegations from the SEC the bank failed to implement internal controls to track the sale of $17.7 billion worth of unregistered securities transactions.

The Chinese affiliate of Big Four audit firm Deloitte agreed to pay a $20 million penalty and undertake extensive remedial measures as part of a settlement with the SEC for audit failures that included asking clients to conduct their own audit work.
CW Surveys

Compliance Week's fourth annual "Inside the Mind" survey seeks to discover what makes CCOs and those who toil in the field of compliance tick. Take 10 minutes to share your experiences (anonymously) and be part of our upcoming special report.

This survey seeks to determine what compliance teams are doing to ensure their organization's code of conduct training programs are relevant and up to date with today's evolving compliance landscape.
Partner Content

In today's business environment, benchmarking has become a critical piece of a successful ethics and compliance program—from comparing against the practices of other organizations, identifying gaps, accessing helpful recourses to guide program improvements, and more.
More from Compliance Week

Sterling Bank and Trust agreed to pay a fine of $6 million assessed by the Office of the Comptroller of the Currency for deficiencies in its former residential loan product.

The Prudential Regulation Authority and Financial Conduct Authority ending their six-year investigations into former senior managers at HBOS without enforcement serves as reminder of the United Kingdom's checkered history of bringing executives to book.

Paris-based Crédit Agricole Corporate and Investment Bank will pay a total of approximately $1.1 million to settle charges its subsidiaries violated U.S. sanctions in five sanctioned countries.

Biogen finalized a $900 million settlement concerning alleged kickbacks it paid to doctors to induce them to prescribe the company's drugs and not those of its competitors.