The Financial Reporting Council (FRC) on Tuesday published the results of its latest round of audit inspections, concluding one-third of the reviewed audits conducted by the seven largest firms in the United Kingdom required a notable level of improvement.
The FRC publicly reports the findings of its audit reviews each year. During the 2019/20 inspection period, 88 audits were reviewed across the Big Four firms (Deloitte, EY, KPMG, and PwC), BDO, Grant Thornton UK, and Mazars. Of the audit total, 45 took place at FTSE 350 companies.
This year's inspections focused on going concern and the viability statement, other information in the annual report, long-term contracts, the impairment of assets, and fraud risk assessment, according to the FRC. Priority sectors for inspection included financial services, general retailers, business support services, construction and materials, and retail property.
"We are concerned that firms are still not consistently achieving the necessary level of audit quality," FRC Executive Director of Supervision David Rule said in a press release. "While firms have made some improvements and we have observed instances of good practice, it is clear that further progress is required. The tone from the top at the firms needs to support a culture of challenge and to back auditors making tough decisions."
Inspections were conducted during the period from April 2019 to March 2020 and carried out by the FRC's Audit Quality Review team. Of the 88 total audits reviewed, 59 (67 percent) came back as good or needing little improvement, while 22 (25 percent) needed moderate improvement and seven (8 percent) required significant improvement.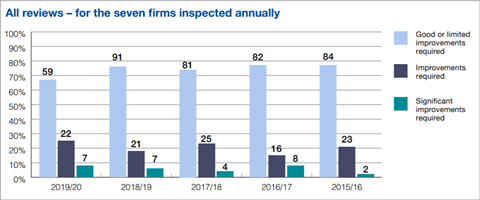 By comparison, 119 audits were reviewed during the 2018/19 inspection period, with 91 (76 percent) considered good or in need of little improvement. This period's rate of 67 percent of audits meeting top standard is the lowest in the last five years.
"Firms are still not consistently achieving the necessary level of audit quality," the FRC said in commentary on its inspection work. "For example, we continue to find improvements needed in the same three audit areas: impairment of goodwill and intangibles; revenue and contracts; and provisions, including loan loss provisions."
Among the Big Four, Deloitte graded best with 13 of its 17 audits reviewed (76 percent) coming back good or needing little improvement. Ten of the audits reviewed were at FTSE 350 companies, with nine meeting the top standard. Only one Deloitte audit reviewed required significant improvement, with the FRC noting weaknesses regarding cash flow forecasts for the impairment of goodwill and other assets as reason for the negative assessment.
At EY, 10 of 14 audits reviewed (71 percent) required no more than limited improvement. Nine were FTSE 350 audits, with seven meeting top standard. One audit needed significant improvement; the FRC noted the need for EY to improve the consideration and challenge of management's impairment assessments in relation to goodwill and other assets; to enhance group audit teams' oversight of component audit teams; and to strengthen the overall culture of challenge within the firm's audit process.
The FRC added 16 audits were originally set for review at EY, with two being ruled out for legal reasons (one being the Thomas Cook audit currently under investigation).
At PwC, 11 of 17 audits reviewed (65 percent) required no more than limited improvement. Eight of 12 FTSE 350 audits met top standard. One audit required significant improvement, with the challenge of management's cash flow forecasts primarily used in impairment reviews cited as a weakness.
Finally, 11 of the 18 KPMG audits reviewed (61 percent) required no more than limited improvement, worst among the Big Four. Only seven of 12 FTSE 350 audits met top standard. None of KPMG's audits reviewed, however, required significant improvement.
KPMG had been placed under "increased scrutiny" during the last inspection cycle, noted the FRC, which commissioned an independent review of the firm's audit practice that covered aspects of leadership and governance, risk management, values, and behaviors.
"We have seen considerable focus on audit quality at the top of the firm, and there have been a number of improvements to the audit practice as a result," the FRC said. "However, our inspection results show that high audit quality is not being achieved consistently." Weaknesses include quality of audit work on banks and building societies and the levels of challenge and professional skepticism at the firm.
Among the three other firms annually inspected, Mazars fared best, with four of its five audits reviewed (80 percent) requiring no more than limited improvement. Five of eight BDO audits reviewed met top standard (62 percent), while Grant Thornton UK had five of nine (55 percent) in the same category.
Regarding the Big Four, the results of the FRC's review largely mirror those shared by the U.S.-based Public Company Accounting Oversight Board, which published the findings from its latest round of inspections last month. In the PCAOB reports, Deloitte had the lowest deficiency rate at 11.5 percent, followed by PwC (25.5 percent), EY (25.9 percent), and KPMG (36.5 percent).
Websites
We are not responsible for the content of external sites

Kyle Brasseur is Editor in Chief of Compliance Week. His background includes expertise in user personalization with ESPN.com.