Corrupt activity bolstered by the coronavirus pandemic features heavily in the findings of Transparency International's 2020 Corruption Perceptions Index (CPI) released Thursday. Even countries that score high on the index were found to have weaknesses in their commitment to transparency and integrity in responding to COVID-19.
The annual report ranks 180 countries and territories by their perceived levels of public-sector corruption, using a scale of zero (highly corrupt) to 100 (very clean). As with previous years, more than two-thirds of countries scored below 50 in the 2020 CPI, with an average score of just 43. Since 2012, 26 countries have improved their CPI scores, including Greece, Myanmar, and Ecuador. Twenty-two have declined, including Lebanon, Malawi, and Bosnia & Herzegovina.
Findings from previous years' reports, however, did not have the impact of the pandemic to account for. "COVID-19 is not just a health and economic crisis. It's a corruption crisis—and one that we're currently failing to manage," Transparency International Chair Delia Ferreira Rubio said in a press release.
The findings that are most revealing to chief compliance officers from an anti-corruption standpoint is the link between a country's investment in healthcare and its anti-corruption efforts, as the pandemic has made strikingly obvious. Specifically, the 2020 CPI reveals countries that performed well "invest more in health care, are better able to provide universal coverage, and are less likely to violate democratic norms or the rule of law when responding to a crisis."
The top countries in the report are Denmark and New Zealand, with scores of 88, followed by Finland, Singapore, Sweden, and Switzerland at 85. The bottom countries are South Sudan and Somalia, with 12 each, followed by Syria (14), Yemen (15), and Venezuela (15).
The United States ranked 25th at 67—its worst score since 2012.
"COVID-19 is not just a health and economic crisis. It's a corruption crisis—and one that we're currently failing to manage."

Delia Ferreira Rubio, Chair, Transparency International
On a regional level, the highest scorers are Western Europe and the European Union with an average of 66. The lowest scoring regions are Sub-Saharan Africa (32) and Eastern Europe and Central Asia (36).
COVID-19 has tested each and every country's "commitment to transparency and integrity in their own public sectors as never before," Transparency International said, with even high-scoring countries revealing their share of corruption challenges, including a lack of transparency in public spending in response to the pandemic. "Measures taken by governments during the pandemic often lacked transparency, restricted civil rights, and served private interests over the public good," the report states.
For example, a database created by the Organized Crime and Corruption Reporting Project (OCCRP) that analyzed public money spending on personal protective equipment—such as ventilators, tests, and medications—at the onset of the pandemic found what the report described as "black holes of information." In collaboration with media partners in 37 countries, the OCCRP collected information from over 37,800 COVID-19 related tenders and contracts worth over €21 billion (U.S. $25.4 billion) from February to October 2020.
The OCCRP data reveals concerning results for several high-scoring European countries in the CPI, including Denmark (ranked first), the Netherlands (sixth), Norway (seventh), and Belgium (17th). None of these countries published details of contracts awarded and even withheld information on prices and the names of companies in some cases, the OCCRP found.
"Belgium, the Netherlands, and Denmark rejected reporters' data requests outright, typically arguing that it was necessary to preserve secrecy so as to not undermine negotiations for the purchase of goods," the OCCRP said. "In response to a freedom-of-information request, Norway provided some details on contracts, such as company names, but would not give price information."
On the flip side, a few countries did stand out in a positive way in the OCCRP's analysis. The most transparent country was Portugal, where roughly 15,000 contracts were obtained. "Despite its relatively small size, it was one of the few European countries to publish all its contracts online, along with an overview of its COVID-19 related purchases," the OCCRP stated in its analysis.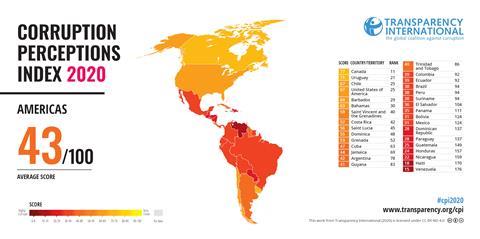 The runner-up, with 12,000 contracts, was Russia—an interesting finding considering the country scored among the poorest in the CPI, with a below-average score of 50 and rank of 129.
The OCCRP did not analyze non-European countries in relation to coronavirus relief spending, but Transparency International noted the Trump administration's lack of transparency regarding the U.S. government stimulus package "raised serious anti-corruption concerns and marked a significant retreat from longstanding democratic norms promoting accountable government. "
Compliance message
Chief compliance officers and chief legal officers should be aware of certain red flags that signal serious gaps in a country's anti-corruption efforts. According to Transparency International, these include countries that lack transparency, oversight, or whose anti-corruption authorities and oversight bodies lack independence to perform their duties.
"The publication of disaggregated data on spending and distribution of resources is particularly relevant in emergency situations to ensure fair and equitable policy responses," Transparency International said. Another red flag is governments that have "drastically relaxed procurement processes," the organization continued, which "provide ample opportunity for corruption and the diversion of public resources."
Enhancing due diligence in countries where these activities are occurring as the pandemic continues will put companies in a better place than those whose anti-corruption compliance programs are not as robust.

Jaclyn Jaeger is a freelance contributor to Compliance Week after working for the company for 15 years. She writes on a wide variety of topics, including ethics and compliance, risk management, legal, enforcement, technology, and more.
View full Profile