It was a quiet 2020 proxy season for investor activists because of the pandemic, but last year still brought with it heightened attention to environmental activist campaigns whose growing scope and influence promise to spill well beyond 2021.
Large institutional investors are increasingly voicing their support of these efforts, forcing companies across all industries to respond accordingly. For senior leadership teams and boards, recent events serve both as a wake-up call and an opportunity to reassess how their environmental initiatives align with long-term shareholder value.
Those looking for a case study need not look further than Engine No. 1, the underdog story of a newly launched activist hedge fund that took on ExxonMobil and won, despite holding just $50 million worth of shares (amounting to a 0.02 percent stake) in an energy behemoth with a $250 billion market cap.
"What we saw with Engine No. 1 is you don't have to have a large stake to have a major impact," says Paul Schulman, managing director in the M&A and Activism Advisory group at shareholder advisory services firm Morrow Sodali.
From the get-go, Engine No. 1's campaign captured the essence of what many of ExxonMobil's largest shareholders have been arguing for years—that the company's failure to evolve with the industry's transition to a lower carbon economy is significantly impairing its financial position to the detriment of its shareholders. One big ask Engine No. 1 has of ExxonMobil is to "implement a strategic plan for sustainable value creation … by fully exploring growth areas, including more significant investment in clean energy, to help the company profitably diversify and ensure it can commit to emission reduction targets … all with the benefit of a board better qualified to consider such opportunities."
To that end, Engine No. 1 further sought to "refresh the board with highly qualified, independent directors who have track records of success in energy and can help the board … position ExxonMobil to successfully evolve with changing industry dynamics." At the company's annual meeting of shareholders on May 26, Engine No. 1 was able to achieve just that.
"Based on estimates by the company's proxy solicitor, shareholders are expected to elect nine ExxonMobil nominees and three Engine No. 1 nominees," ExxonMobil said on June 2 in announcing the preliminary results for the election of its directors. The Engine No. 1 nominees are expected to be Gregory Goff, CEO of Andeavor (formerly Tesoro); Kaisa Hietala, former executive vice president of renewable products at Neste; and Alexander Karsner, former assistant secretary of energy for efficiency and renewable energy at the U.S. Department of Energy.
"This historic vote represents a tipping point for companies unprepared for the global energy transition. While the ExxonMobil board election is the first of a large U.S. company to focus on the global energy transition, it will not be the last."

CalSTRS
Underlying Engine No. 1's success in installing the new board seats was its ability to successfully rally widespread support from many of the largest institutional investors and shareholder advisory firms. For example, in expressing its support for Engine No. 1's nominees, BlackRock, the world's largest asset manager and ExxonMobil's second-largest investor, stated, "We believe that this suite of directors will complement the skills and experience of the remaining incumbent directors, bringing fresh perspectives as well as successful track records of value creation for shareholders."
Vanguard, ExxonMobil's largest shareholder, separately voiced its support. In a post-election update, Vanguard said while it did not favor the nomination of Karsner, it did support Goff and Hietala.
'Tipping point'
"This historic vote represents a tipping point for companies unprepared for the global energy transition," the California State Teachers' Retirement System (CalSTRS) stated in response to the ExxonMobil vote. "While the ExxonMobil board election is the first of a large U.S. company to focus on the global energy transition, it will not be the last."
Already, there is groundswell attention from shareholders around this topic. On the same day as ExxonMobil's annual meeting of shareholders, 61 percent of Chevron shareholders voted in favor of the company cutting emissions from the end-use of its fuels. Earlier in the proxy season, 58 percent of ConocoPhillips shareholders voted in favor of a similar emissions-cutting proposal, as did a majority of Phillips 66 shareholders.
"It is evident that the boards of oil majors do not move on their own initiative. Shareholders have to compel them to set targets and have to hold them accountable for meeting these targets," says Mark van Baal of Follow This, a climate activist investor group that launched the campaigns against ConocoPhillips and Phillips 66.
Say on climate
It's not just Big Oil who is the target of activists and shareholders. New this year is a global campaign spearheaded by billionaire tycoon Sir Christopher Hohn through his British hedge fund, the Children's Investment Fund Foundation. It's pushing toward a lofty goal of getting every public company to adopt "say on climate" in the next three years.
Inspired by "say on pay," the campaign calls on companies to establish a net-zero transition plan and get shareholder feedback in an annual advisory vote. A key priority of the initiative is to integrate the metrics of the Climate Action 100+ benchmark into its proposals. This benchmark is supported by $52 trillion of assets under management and establishes comparable metrics that assess corporate progress toward net-zero 2050 emissions.
"It is evident that the boards of oil majors do not move on their own initiative. Shareholders have to compel them to set targets and have to hold them accountable for meeting these targets."

Mark van Baal, Founder, Follow This
Say on climate has quickly morphed into a global movement with widespread shareholder support in the United States, Canada, Europe, Asia, and Australia. In the United States alone, nonprofit As You Sow announced plans to file resolutions with hundreds of companies unless they voluntarily adopt say on climate. To date, a handful of companies have agreed to do so, including Aena, Unilever, Moody's, Canadian National, Shell, Rio Tinto, and Glencore.
BlackRock CEO Larry Fink has also voiced his support of the initiative, calling on companies to disclose how their business models will be compatible with a net-zero economy.
"There is no company whose business model won't be profoundly affected by the transition to a net-zero economy," Fink wrote in his 2021 letter to CEOs. "As the transition accelerates, companies with a well-articulated long-term strategy, and a clear plan to address the transition to net zero, will distinguish themselves with their stakeholders—with customers, policymakers, employees, and shareholders—by inspiring confidence that they can navigate this global transformation."
Lessons learned
Senior leadership teams and boards would be remiss to not take seriously the broader lessons that emanate from Engine No. 1's historic win over ExxonMobil and say on climate. Whereas climate-focused stakeholders have traditionally focused on transparency, they have now shifted their focus toward wanting to see real, concrete action.
In fact, many shareholder proposals this year targeted companies that already disclose information related to climate risks and/or have in place greenhouse gas (GHG) reduction targets. "In these cases, the requests can often be seen as a commentary on a company's lack of commitment to decarbonization and alignment with recognized science-based transition targets," stated Nuveen, the global investment manager of TIAA, in its 2021 Proxy Season Preview.
Another lesson learned from ExxonMobil: Simply having a climate plan in place is no longer enough to satisfy shareholders who increasingly want to see from senior management and boards clear and meaningful commitment to climate-focused strategies. According to Nuveen, of 126 proposals filed by climate-focused stakeholders during the 2021 proxy season, just 36 percent focused on traditional transparency requests.
The remaining requests focused on GHG reduction targets and strategy (26 percent), followed by lobbying disclosure requests (15 percent) and board oversight of climate and sustainability strategies (11 percent).
Moving forward, prudent senior management and boards should monitor developments on say on climate to stay apprised of current best practices. For example, many investors today are seeking disclosure on whether the company's executive compensation scheme incorporates climate change performance elements, which is considered a governance best practice for reducing climate risk.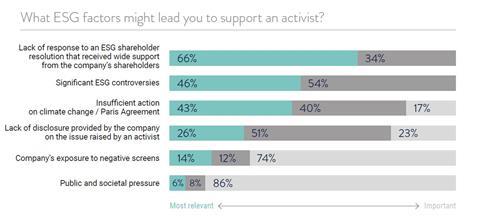 According to Morrow Sodali's 2021 "Institutional Investor Survey," which included the responses of 42 global institutional investors with $29 trillion in assets under management, the top three reasons given for supporting activists were lack of responsiveness to investor support for ESG resolutions (cited by 66 percent of respondents), material ESG controversies (46 percent), and insufficient action on climate change (43 percent).
In responding to an environmental activist campaign directly, the board should have direct dialogue with shareholders to hear their concerns and also use it as an opportunity to share their perspective on how it is executing on the oversight of climate risk and overall climate strategy. According to Morrow Sodali's survey, 94 percent of investors said they prefer to influence boards by engaging with directors, while the second preferred method, cited by 51 percent of respondents, was direct engagement with management.
"Companies should be engaging with their largest shareholders on a regular basis and hearing their concerns," says Josh Black, editor-in-chief of data provider Activist Insight. "Rarely is an activist campaign based on something the board hasn't considered or hasn't heard before."

Jaclyn Jaeger is a freelance contributor to Compliance Week after working for the company for 15 years. She writes on a wide variety of topics, including ethics and compliance, risk management, legal, enforcement, technology, and more.