Some professionals enter the field of compliance, ethics, and corporate social responsibility by way of a happy accident. But not Cédric Dubar. His legal background and deep commitment to building corporate integrity drove him to seek out opportunities in the compliance and ethics space. Once there, he built a career for himself as a leading advocate of business ethics that has continued to this day.
Born in the north of France, Dubar studied law and language in Paris, and moved to Toulouse, in the south of France, after graduation. There he obtained his postgraduate degree in business law. He moved to Pittsburgh, Pa. to live with family for 16 months while he further studied business law before returning to France and beginning his career in 1998, when he joined BNP Paribas bank as in-house counsel specializing in mergers and acquisitions.
Dubar stayed in that position for three years, but along the way became interested in the fields of governance, ethics, and corporate social responsibility. "These corresponded to my vision to how companies should do business, and I really wanted to apply my values to my daily work life," Dubar says.
In 2001, Dubar moved to Lagardère, a multinational media conglomerate in Paris, again as M&A in-house counsel. But he saw that nobody at the company was dealing with what he thought were important corporate social responsibility topics, so he went to the general counsel, who was also his manager. Dubar told him he wanted to take the lead on CSR within Lagardère, which came as a bit of a surprise to his boss. M&A, after all, was the most prestigious position for in-house counsel at the time. Did Dubar really want to give that up for a field that, in the early 2000s, wasn't being talked about at all in France, even within the legal profession?
About Cédric Dubar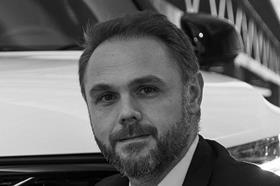 Title: Chief Compliance and Ethics Officer, Volvo Car Corp.
About Volvo: Volvo Cars is a leading manufacturer of premium cars in the ranges of sedan, station wagon, and SUV. (Not to be confused with the heavy truck and construction equipment manufacturer AB Volvo, also based in Gothenburg).
Location: Gothenburg, Sweden
Years of experience: 15+
Areas of expertise: Leading values- and risk-based ethics and compliance programs, white-collar crime, due diligence, internal investigations
Quote: "A good compliance and ethics officer is an expert in his or her field of responsibility, who must be creative, a good communicator, and also curious enough to anticipate any new challenge. Being a subject matter expert is not negotiable. It is a matter of credibility."
Dubar had to work hard to convince the general counsel and other senior management that creating a CSR position was a good idea, but he prevailed. In 2003, Dubar became Lagardère's CSR committee coordinator, which he considers to be the first big win of his career. "Now, compliance and ethics is everywhere, but I launched that program when nobody in France had heard of the topic. Most people were doubtful, but I was convinced, which is why I fought so hard for it," Dubar says. "A few years later, in 2007, the general counsel told me that I was right about ethics and compliance before anyone else and that he was glad I had insisted on taking on the subject."
In 2009, Dubar became the group ethics & compliance officer for Dassault Systèmes, a Paris-area company that develops 3D design, 3D digital mockup, and product lifecycle management software. Dubar would hold that position until 2017, working proactively to build and enhance the company´s compliance programs (before he left, his focus was both the General Data Protection Regulation, and SAPIN II, France's ambitious new anticorruption law).
Also during that time, Dubar became active with Le Cercle D'Ethique des Affaires (French Business Ethics Association). From 2013 to 2017, he was that association's general secretary, working on, among other things, the European Business Ethics Forum, an annual Chatham House event for compliance and ethics professionals, hosted by Le Cercle D'Ethique des Affaires, the Ethics and Compliance Initiative, and the Institute of Business Ethics.
In 2017, however, Dubar left both Dassault Systèmes and Le Cercle D'Ethique des Affaires and moved to Gothenburg, Sweden, to become the chief compliance & ethics officer of Volvo Car Group, a role he currently holds.
"At Volvo Cars, contrary to my previous experience, where there was no compliance program in place, the program had existed for a few years, and all components were in place when I joined a year ago," Dubar explains. "My focus now is to build on that and to move from a classic compliance and ethics program to something more creative, based on regular communications and using new technologies."
The communications campaign Dubar has in mind will be developed over a few years and consist of multiple prongs, the first of which involves a series of hypothetical scenarios involving a cast of four fictitious employees—Victoria from Sweden, Karl from Germany (but born in the United States), Anna from China, and Eric from the United States—who appear in monthly episodes, under various formats (video, post, podcast, etc.), that illustrate several ethics and compliance scenarios taken from real-life case studies. Volvo will be using these episodes to train and keep compliance and ethics top of mind throughout the company.
The second prong involves organizing mandatory integrity talks with managers every six to eight weeks. The idea is to have managers address potential ethical and compliance dilemmas and to discuss with their team members how to approach them.
The third prong involves Volvo Cars´ network of what Dubar calls "compliance and ethics champions," who will provide bi-weekly quotes, Q&As, newsletters, articles, short videos, games, and other content that can drive a companywide, integrity-focused discussion through e-mail, on screen, and in meeting places, such as the company café.
The fourth prong is to use influencers whose stories or interviews about ethics in their work life can spawn a body of material that can create a broad argument for a new ethical business model.
Last, Dubar says that Volvo Cars is using behavioral ethics training to improve the compliance & ethics program. Looking forward, he has started working on adaptive learning with a view to "avoid a certain training fatigue. This kind of e-learning adapts to each individual, focusing on weaknesses as it takes into account what is already known by the individual. This is a very good example of how to use technology."
It's all very ambitious, but for Dubar, that kind of grand thinking is what the compliance & ethics field needs to shift to right now.
"In terms of compliance and ethics challenges, the auto industry is currently undergoing very significant changes with autonomous driving, the shift to electric cars, and new business models," Dubar explains. Apart from laws regarding CO2 emissions and fair competition, Dubar says that one of the biggest compliance issues arising for automakers is "data protection" with increasingly connected vehicles and new services to customers that both involve more processing of personal data.
"We create new services for customers that involve the processing of their personal data," Dubar explains. "We have the GDPR and other data protection regulations to consider, such as the cyber-security law in China, which has provisions almost as strong as the GDPR in various areas. With May 25 approaching, we can expect an increased amount of attention from the media and national data protection authorities, as well as an increased number of customer requests [regarding their personal data]."
On the issue of autonomous vehicles, there is usually an ethical discussion over how to program cars faced with an impossible safety situation and must choose between killing an innocent person or the driver or a passenger. "This is an interesting discussion, but we're not really there yet" as an industry, Dubar says. "Today, the focus is really on the legality, liability, and limitations on using autonomous vehicles. In the EU, several countries have launched national initiatives to support autonomous driving. In the U.S., there are no federal guidelines for the testing of these vehicles or of their certification."
As for new business models, there is a greater shift to flexible/shared mobility and short-term use of vehicles that completely upends traditional models of buying, leasing, and renting. These all come with new challenges in terms of compliance and ethics that also need to be tackled.
"Volvo Cars was created 90 years ago. It's a Swedish company, and responsible business is a fundamental part of the company's heritage,' Dubar says. "The tone from the top is amazing. I've been a chief compliance officer in several companies, and I can tell you that here, it's really amazing. Speaking up is encouraged. Retaliation is down. It is clear, from our president and CEO, that you can really feel the ethical behavior."
But Volvo doesn't exist in a bubble. In recent years, the automotive industry in general, and the European automakers in particular, have faced a number of compliance difficulties, ranging from Volkswagen's infamous Dieselgate emissions cheating scandal to allegations of cartel activity among multiple automakers, and more.
"Culture is the key, and that is where the compliance and ethics office has a role to play. We must make sure that expected behaviors are understood by our people, of course, but also that the speak-up culture is truly embedded in the organization."
With regards to anti-cartel activities, Dubar says, Volvo has been focusing on complying with competition law for the past several years and has been focusing on avoiding information exchanges with its competitors.
With so many challenges before him, Dubar remains excited and optimistic about his current role at Volvo Cars, and about his journey as a compliance and ethics officer. He currently enjoys a wide scope of responsibilities that has him working on something different every day, from competition, corruption, and human rights to trade sanctions, conflicts of interest, and internal investigations.
As a chief ethics and compliance officer, Dubar says he faces two main challenges. The first and most important is the need to anticipate what is coming next and to be ready for it. "Otherwise, I will fail in my role to protect the company," he says. "I have always striven to anticipate in my career. That has been a differentiator for me."
The second big challenge Dubar faces is that time and resources often are limited, so he must exercise good judgment and prioritize. That means taking a risk-based approach, thinking about what is most important for the group, and identifying the right risks on which to focus.
Finally, Dubar sees maintaining his creativity as a third professional challenge. "When I started in compliance and ethics, I was a good negotiator, but not really creative," he says. "But being creative thrills me in this job, especially since we need to be imaginative and find new ways to communicate. Otherwise, employees see compliance and ethics as a burden. I believe creativity and good communication allows us to shift from a normal compliance and ethics role to an influencer role that allows to reach all individuals within the company and support cultural change."
Looking over the ethics and compliance in general, Dubar sees the field becoming more challenging and demanding more of its practitioners. He cites a need to stay abreast of regulatory developments as well as to understand the business. He spends 30-45 minutes each day reading up on industry and compliance developments, and he meets regularly with colleagues within Volvo to better understand their vision and strategy.
"A compliance officer needs to be eager to learn about the compliance and ethics field, but also about the company's biz developments. You need to encompass new business developments into your compliance program. If you don´t do that, you will miss something," Dubar says.
"My wife is a coach and HR consultant. Most of her clients are men and women in their mid-40s, and most want to change jobs to something that will give some meaning to their life. As far as I'm concerned, since I moved to the compliance and ethics field, I have always been satisfied. It is not a restful and easy life, and you have to face a lot of challenges. But that's also what is interesting about it. If you like challenges, you will do well with being a chief ethics and compliance officer."