Initiating your company's commitment to reporting its environmental, social, and governance (ESG) metrics can prove a daunting task. But keep in mind: It's a marathon, not a sprint.
"You don't have to be perfect on Day 1," said Emily Parlapiano, director of ESG programs and reporting at Amneal Pharmaceuticals. "Your suppliers and stakeholders want to see progress."
Parlapiano spoke as part of a panel on developing ESG programs at Compliance Week's virtual ESG Summit on Tuesday. She was joined by Adrian Khouri, global director of ESG at automotive components manufacturer Tenneco, in discussing best practices for businesses broaching the initial phases of ESG reporting and how to prepare for the potential of regulatory disclosure requirements.
If your company is at this stage—perhaps bracing for the climate-related disclosure rule proposal put forward by the Securities and Exchange Commission (SEC) in March—the presenters offered the following roadmap for getting your ESG efforts off the ground.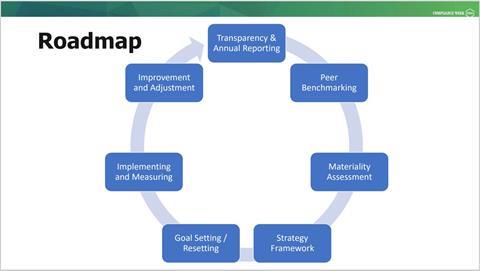 Best practices for each milestone are explored further below.
Transparency and annual reporting: "Start by identifying all the things your company is doing on ESG and build a baseline," said Khouri. "That will give you an indication of how mature your program is today. Most likely you're doing a lot already."
At Tenneco, Khouri said, European customers began pressuring the company regarding its ESG standing in 2016. The business put together its first report not tied to any particular framework and built on its findings year-over-year before ultimately adopting the Global Reporting Initiative (GRI) standard in 2019.
"It got people discussing [ESG] and trying to understand what it was we were trying to do and where to go from there," said Khouri of the company's early efforts.
Parlapiano advised engaging with investors to discuss the areas of ESG most important to them. She also spoke to the benefit of external gap assessments, which Amneal had done before it issued its first report. Determining where your company's strengths and weaknesses lie can help establish early focus areas.
"You're going to have a great starting point, but you have to dig past some of those layers before you can get that first report out the door," she said. "… Where you are on the journey today shapes how you're going to get to where you want to go going forward."
Peer benchmarking: Where are your competitors in their ESG journeys? Have any of them experienced public success or failure you can learn from?
"When we did peer benchmarking specifically in automotive, we were surprised how many of our peers were still in the beginning of their journey," said Khouri. "We thought for sure many would be advanced, if not in the middle. A lot of them were either not reporting at all or just starting."
From this exercise, your company can set realistic expectations of where it wants to be to keep pace with the competitive landscape.
Materiality assessment: "Understanding the materiality drivers for your industry or industries, depending on how your company is structured, is helpful," said Parlapiano. The Sustainability Accounting Standards Board (SASB) offers a materiality map that provides guidance for 77 different industries.
Khouri shared Tenneco used a third party to conduct a materiality assessment in addition to interviewing top leaders and reviewing customer/investor requirements and expectations before mapping out its most significant ESG areas.
"Having something at the bottom doesn't mean it's not important and you stop doing it, but it helps you focus on the top tier," he said. "Those are the items you need to set public goals on."
External materiality assessments also add credibility, Parlapiano noted.
"[ESG] is about the people. This is not about the processes, procedures, or requirements."

Adrian Khouri, Global Director of ESG, Tenneco
Strategy framework: You know what your peers are doing, you know what's important to the company and its investors—now is when you build out your strategy.
"What does ESG mean for us?" said Khouri. "What are we trying to achieve?"
ESG means different things for different companies, noted Parlapiano, but "there's also some fundamental truths about what ESG is and how and who ESG is serving—the stakeholders involved in your business."
Particularly for compliance professionals, serving shareholders is a natural strategic goal to build around, she said.
Goal setting/resetting: During the peer benchmarking stage, you might note some of the milestones your competitors are striving toward. Their goals can help shape your own.
"Do you want to be with the group where you're just managing expectations, or do you want to compete or lead?" said Khouri. "It doesn't happen overnight; you have to go through it step-by-step and build your goals for the long term to move the needle on this."
If you're setting carbon-neutral or net-zero deadlines, be realistic, he added. "Put something out there that is achievable but not too easy," he said.
Implementing and measuring: This is the most important step because "it's not in your hands anymore," said Khouri. "You have to depend on your cross-functional teams … they will be the ones doing the work and implementing the initiatives."
Legal, human resources, operations, and other departments each have a part to play. At Tenneco, Khouri said the company set up a dashboard to track how it was progressing on its key performance indicators on a quarterly basis.
"We didn't wait until the annual report to find out how we did," he said.
Improvement and adjustment: ESG reporting is a cycle, as evidenced by the arrow in the roadmap image. Going through these steps each year will help ensure a business is tailoring its objectives to continue to serve the most important piece of the puzzle.
"This (ESG) is about the people," Khouri said. "This is not about the processes, procedures, or requirements. It's about the people—inspiring the people, collaborating cross-functionally, getting that momentum. That will help you move a lot faster."

Kyle Brasseur is Editor in Chief of Compliance Week. His background includes expertise in user personalization with ESPN.com.