Companies have varied approaches when it comes to who leads the charge on environmental, social, and governance (ESG) matters. Some have hired a sustainability officer to make it their priority, while others scramble to find which department might be best suited to handle the task.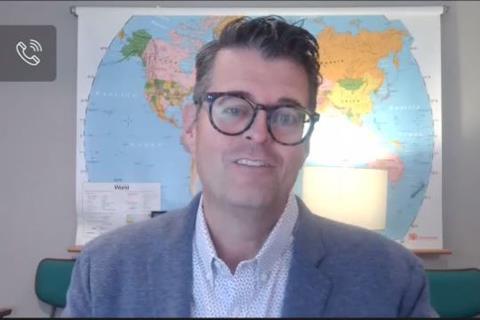 Regardless of situation, one thing all companies should have in common is a compliance presence as part of ESG decision-making, said Jim Massey during a fireside chat toward the conclusion of Compliance Week's "Everything ESG in 2021" virtual event Tuesday.
"If you're in compliance and you're not part of the ESG [initiative] within your organization, step up and lead," said Massey, the new chief sustainability officer at Chinese biopharmaceutical company Zai Lab. "You are one of the most capable leaders, because you've already been a cost leader. You've interacted with all the functions. Help your company get ready."
Massey worked nearly five years as vice president of ESG sustainability, ethics, and compliance at pharmaceutical giant AstraZeneca before switching to consulting other companies on these subjects in June 2020. Named a Top Mind by Compliance Week in 2019, he believes strongly that doing the right thing is at the crux of being both a good sustainability leader and a good person.
Thus, compliance officers are perfectly positioned to get involved on sustainability efforts, even when the company has assigned the task to another department. It might take an aggressive approach, Massey said, one that requires a change in mindset from reactive to proactive.
"Compliance is not a defense—it's an offense," Massey said. "It is an ability to protect not just the company but the ecosystem in which the company is trying to influence and make the world better. That's the shift—we no longer are just worried about protecting the company, because we have stakeholders we have to protect."
Interesting poll results from @complianceweek's #CWESG event (@OneTrust session). While regulators are considering a standardization of ESG metrics to report, it's notable that companies' reporting process varies greatly in terms of where it sits within the org. pic.twitter.com/UlitXilukF

— Dave Lefort (@DaveLefort) September 14, 2021
Among those stakeholders are employees, who are no longer shy to share their feelings when they feel their company isn't living up to their standards. If given the chance, most millennials and Gen Z workers won't back down from testing company leadership on whether the firm is living the values it preaches. Some might even quit if they get a dissatisfactory answer.
With this in mind, Massey stumped for compliance officers to utilize their mediation expertise in order to ensure employees feel involved in the ESG process.
"Employees are critical to a successful ESG program," he said. "I call it employee activation before activism. What I mean by that is you don't want employees to be so frustrated that they have to do a walkout or overtake an annual meeting. In compliance, we talk a lot about creating a speak-up culture: Start leveraging that to have employees share their ideas on how best to collect data."
Asked where ESG was before it became a mainstream topic of discussion, Massey replied, "Same place it always was—in all pockets of the organization." Who better than compliance to connect the dots?
"Every employee has a role in helping us to achieve what we're trying to achieve," he said.

Kyle Brasseur is Editor in Chief of Compliance Week. His background includes expertise in user personalization with ESPN.com.
View full Profile