Compliance should play a meaningful role in a firm's environmental, social, and governance (ESG) initiatives, whether through oversight or assistance, according to our "Inside the Mind of the CCO" survey.
Of the more than 300 compliance professionals to complete the survey, 259 answered specific questions about their firm's ESG initiatives.
Of that group, nearly 3 in 4 (73 percent) said they participated in ESG efforts in some way—either as part of a committee (27 percent), an advisor (24 percent), through primary oversight (13 percent), or as an advocate (9 percent).
Andrea McGrew, CCO and chief legal officer at USA Financial, said as a general philosophy, "Compliance should play a role in most—if not all—of the firm's decisions, because compliance often serves as a company's proverbial conscience. That includes ESG initiatives.
"Each company is on its own ESG journey, with its own goals and its own strategies. ESG cannot be integrated successfully without compliance. Ultimately, the compliance program has to rise to meet those changing and evolving risks and strategies."

Amy Matsuo, ESG and Regulatory Insights Leader, KPMG
"And compliance is well-suited for the task. Compliance teams are already hardwired to make best-interest decisions and to think about the impact corporate decisions have on others, including underserved or underrepresented groups."
Duane Holloway, chief ethics and compliance officer at U.S. Steel Corp., agreed. Compliance already has a large role creating and administering internal policies, procedures, and systems designed to ensure the company fulfills its ethical and legal obligations to its stakeholders while mitigating legal or operational risks, he said. Compliance partners with other divisions that have a role in the governance function—like legal, internal audit, internal controls, and risk—and works with human resources on diversity and inclusion efforts and environmental and sustainability functions on reporting and assessment initiatives.
"Compliance may have expertise that is useful to a company in helping establish robust, auditable metrics and assisting with any disclosure issues," he said.
That's not to say compliance should vault to the front of ESG initiatives at every company, said Amy Matsuo, ESG and regulatory insights leader at KPMG. Still, it should have a role.
"Each company is on its own ESG journey, with its own goals and its own strategies," she said. "ESG cannot be integrated successfully without compliance. Ultimately, the compliance program has to rise to meet those changing and evolving risks and strategies."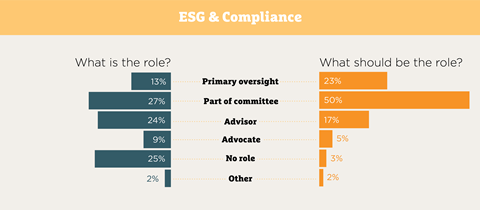 One in 4 survey respondents said they did not have a role in their firm's ESG efforts. A handful responded "other," explaining in comments their firm hasn't launched an ESG initiative or, as one compliance officer at a manufacturer noted, they were told to "step back."
"Sustainability and ESG-related initiatives are a relatively new function in companies and touch various other functions: audit; risk; human resources; strategy; legal; environmental; and safety, just to name a few," said Victoria McKenney, deputy CCO at U.S. Steel. "Because of the various and dispersed responsibilities ESG-related activities entail, it can be difficult to determine who the 'owner' is. A solution is to make sure there's a cross-functional group, including compliance, that has a seat at the table when discussing and implementing ESG initiatives."
McGrew said there remain two schools of thought when it comes to compliance's involvement in ESG efforts. One believes compliance should be involved. The other believes compliance is already overburdened in terms of liability and workload.
"It's also possible their leadership team does not involve compliance in corporate-level decisions. Whatever the reason, at this point I'm not sure there's a right or wrong answer," she said. "But personally, I favor giving compliance a voice and using compliance professionals' expertise and experience to inform the firm's ESG decisions."
The survey found compliance officers largely think their division should play a role in their company's ESG initiatives. Half the respondents said as part of a committee, while nearly a quarter (23 percent) said compliance should have primary oversight. Another 17 percent said as an advisor, and only 3 percent said compliance should not be involved.
"Ownership of ESG is very broad, but that's also why it's important compliance be involved," Matsuo said.
E, S, or G?
When asked which is the most important of the pillars of ESG, respondents generally weighed the three equally, although there were some trends at the industry level.
More than half of financial services providers (banks, insurance companies, investment firms) picked governance.
"I believe that solid and committed governance allows us to define better negotiating policies that protect the environment," wrote one respondent. Another, working for a European insurance company, said Solvency II, an EU insurance regulation, puts governance at the forefront and that "environmental and social matters are not part of Solvency II, so they do not receive the same engagement."
McGrew said corporate governance was the most important ESG pillar at USA Financial.
"That's not to say our firm isn't concerned about environmental and social, but as a financial services firm, our impact is most profoundly felt when it comes to corporate governance: codes of conduct, risk, tax strategies, supply chain management, policy influence, and implementation," she said. "All of these factors not only inform our corporate culture—one that's highly focused on compliance and our impact on investors—but also our investment selections as a money manager."
For the healthcare industry, social and governance were both tops, at 41 percent each.
"Our people are the strength of our company. We hire for retention and the right person in the right seat," said one industry respondent.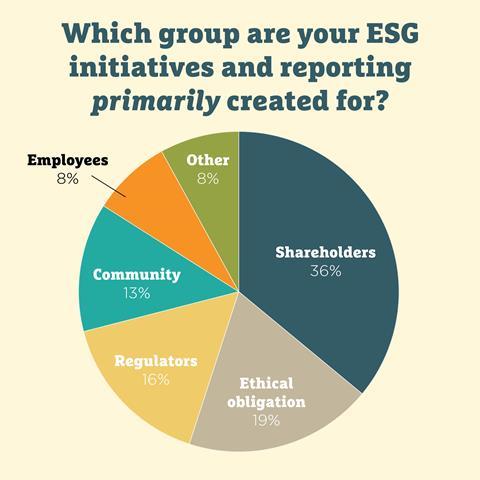 "Sustainability has become a huge interest for our board and our employees," said another. "Governance is key to setting the standards for our social and environmental initiatives," said a third.
Environmental was far and away the top priority for the manufacturing (75 percent) and energy (64 percent) industries, with one compliance professional at an energy firm commenting, "We pay close attention to environmental issues." A compliance officer at a manufacturer said the firm's "strong environmental program means less attention and resources for governance and social."
McKenney at U.S. Steel said all three ESG pillars are important but stressed her firm's environmental-related goals when discussing the issue.
"We are committed to limiting any negative impact on our environment, including the planet at large. We are taking actions to be part of the climate change solution," she said.
ESG as a value
Which group are your ESG initiatives and reporting primarily created for? Survey respondents generally chose shareholders (36 percent). Next was ethical obligation (19 percent), followed by regulators (16 percent), community (13 percent), and employees (8 percent).
By industry, these numbers fluctuated. For financial services, the top response was regulators (27 percent), followed closely by shareholders and ethical obligation (21 percent each). For healthcare, the runaway top choice was ethical obligation at 44 percent; shareholders came second at 22 percent.
Shareholders was the top answer for compliance respondents in manufacturing (63 percent), energy (55 percent), technology (44 percent), and pharmaceuticals (33 percent).
If not compliance, then whom?
Among alternatives to lead ESG efforts, survey respondents most cited sustainability (12 percent), followed by legal (8 percent), an ESG-specific group (6 percent), a committee (6 percent), and human resources (6 percent).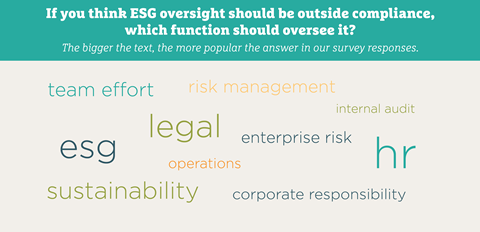 As ESG initiatives gain prominence, compliance officers have an opportunity to elevate the compliance role within their company.
"Both the scope and scale of companies' ESG-related commitments, products, and exposures (including through their third-party relationships) are elevating the importance of assessing compliance risk and bringing ESG forward into all core elements of an effective compliance program," Matsuo wrote for KPMG Advisory. "It is the dramatic speed with which ESG awareness and engagement is occurring, however, that demands CCOs act now, and decisively, to define and shape their role."

Aaron Nicodemus covers regulatory policy and compliance trends for Compliance Week. He previously worked as a reporter for Bloomberg Law and as business editor at the Telegram & Gazette in Worcester, Mass.
Inside the Mind of the CCO: New responsibilities come to fore in 2021
1

2

3

4

5

Currently reading

Compliance must carve out role in company ESG efforts

6

7

8