By September 2008, the sharp decline in home values in many U.S. markets left the housing finance market in crisis. A leading player in that market was, and is, the Federal National Mortgage Association, better known as Fannie Mae.
Deemed too important to let fail, the federal government placed the company into conservatorship, and appointed the Federal Housing Finance Agency (FHFA) as its conservator. It was a wrenching time for the mortgage business, and Fannie Mae was at the heart of efforts to both repair the damage and put the mortgage market on a sound long-term footing.
The years since have seen profound changes at Fannie Mae and the market it serves. Fannie Mae's Compliance and Ethics team helped employees and leaders at the company navigate the change by never losing sight of the constancy of ethics in any high-performing organization. Fannie Mae's chief compliance officer, Nancy Jardini, recognized the need to maintain an ethical culture during a period of rapid transformation of Fannie Mae's business model and focus. Under her leadership, Fannie Mae's compliance programs successfully met head-on the changing, and challenging market conditions that existed during the economic recession. Now that the market is in recovery, Fannie Mae's focus has turned to making the mortgage market more resilient and responsive to changing lender and borrower demands, a focus that would not be possible without a solid foundation in compliance and ethics. The robust and scalable programs Jardini leads have helped ensure Fannie Mae can stay focused on its mission.
How did you get into compliance?
About Nancy Jardini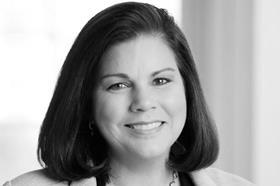 Title: SVP, Chief Compliance and Ethics Officer, Fannie Mae
About Fannie Mae: The Federal National Mortgage Association, better known as Fannie Mae, is a government-sponsored enterprise that provides banks, credit unions, and other mortgage lenders with the funds they need to improve liquidity and stability in the housing market. Together with their partners, they ensure that homeowners, homebuyers, and renters across the country have access to affordable financing opportunities. Fannie Mae has been under the conservatorship of the Federal Housing Finance Agency since 2008.
Years of experience: 22
Areas of expertise: Legal and regulatory compliance, regulatory affairs, ethics and conflicts of interest, internal investigations, privacy, AML, anti-fraud, mortgage fraud, privacy
Quote: "Establishing credibility as a full partner to the business who is both empowered and encouraged to provide guidance and input is far more effective than merely saying yes or no when compliance issues arise."
I entered law school with a broad objective of creating a career where I could make a positive difference to both individuals and organizations. Over the next two decades I cycled through a variety of challenging, interesting, and profoundly meaningful professional roles as a public defender, a federal prosecutor, and a law school professor. I was also privileged to direct a federal law enforcement agency. As chief of the Criminal Investigation Division of the Internal Revenue Service, I worked with the entire enforcement community as well as Congress and experienced first-hand the post 9-11 security and enforcement challenges. In each role, I gained unique perspectives on issues of law, risk, and compliance. I also developed a sense of obligation to the public trust as well as to my colleagues, to the teams I worked with and advised, and to the many stakeholders with an interest in effective compliance and risk oversight.
What compliance circumstances are unique to Fannie Mae?
Fannie Mae has become a vastly different company from when I joined in 2007. During that time, the company was facing the housing market crisis. Lenders were failing. Foreclosure proceedings on over one million properties were beginning. Fannie Mae's regulator dismissed the firm's CEO and board of directors, placed the firm into Conservatorship, and appointed a new CEO. Employee morale was low, and the attrition rate was high. The housing crisis destabilized not only Fannie Mae, but the entire housing finance industry. Because of the resulting explosion in both the legal and regulatory environment, we quickly identified the need for a strong compliance framework from the outset. The framework we've implemented serves as a reliable cornerstone of a robust overall program, and relies on risk assessment, monitoring, testing, and employee education.
The team identified the need for strong, centrally located compliance risk management programs to include the company's privacy, anti-fraud, mortgage fraud, anti-money laundering, ethics, internal investigations, legal, and regulatory compliance programs. Not only were these compliance programs central to the stabilization of our company, but also to support Fannie Mae's mission of creating housing opportunities that are affordable to low-, moderate-, and middle-income Americans.
In times of change or uncertainty the ethical culture of an organization can help mitigate a variety of risks, including the risk that employees will engage in misconduct, and also serves as a calming influence on the overall organization from the executive team to associates. A key component of that is a reliable employee helpline. Contacts into FM Ethics have increased by almost 50 percent since 2008. Employees proactively seek guidance to avoid issues and contacts per 100 employees is well above industry levels, further suggesting that employees are comfortable leveraging the helpline and have confidence in the function.
How do you get buy-in from both management and employees to set the right "tone at the top"?
Trust and transparency is not only important as a tone at the top, but is critical to establish within the DNA of a compliance team. I have a transparent relationship with the audit committee of the board of directors, and Audit Committee Chair Robert Herz, former chair of the Financial Accounting Standards Board. I sit on the management committee of the firm and work side-by-side with the CEO and senior leadership to develop and implement the strategic trajectory of the firm. These relationships have played a key role in allowing me to communicate important compliance messages and raise concerns to the highest level. I've used the support of the board and senior leadership to reinforce the need for greater integration, coordination, and partnerships between the other oversight functions at Fannie Mae such as internal audit and the risk functions—not to mention better integration across the functions within my own organization. This has led to the development of a new, comprehensive report for the company's board of directors and senior management that aggregates and synthesizes all open control issues, including internal audit, compliance, regulatory, and operational risks. We have been able to provide a holistic view of the company's control environment and progress over time. I oversee the production of the report, which highlights the top projects at the company that address the control environment, and provides regular updates on project status through completion.
Not many people work at an organization during such a time of acute crisis. When you look back at Fannie Mae's broader history, is there a particular point you look at with special pride?
In 2009, at the height of the economic crisis, the Treasury Department and the Department of Housing and Urban Development (HUD) reached out to Fannie Mae to help administer Making Home Affordable (MHA), the most ambitious, complex foreclosure prevention program in the history of housing. Over the next 8 years, and continuing even today, our team worked with every imaginable industry stakeholder—from investors to mortgage servicers to financial education professionals—to take nearly 3 million homeowner assistance actions. We helped millions of qualified borrowers stay in their homes through innovative loan modification and forbearance programs that not only lent a hand to distressed American families negatively impacted by the Great Recession but also fundamentally changed the way the mortgage servicing industry does business. For those we couldn't help through loan modification, we worked to provide reasonable incentives to better enable a graceful transition and an amicable resolution for all parties. The role Fannie Mae played in providing meaningful and sustainable relief to hardworking families impressed upon me the critical role Fannie Mae can play not only in the mortgage finance market, but also directly in the lives of America's families.
Today, we continue to develop flexible and affordable lending solutions like HomeReady and HFA Preferred, to help meet the diverse needs of qualified borrowers and help make homeownership sustainable. Our recently launched student loan debt solutions supports our efforts to provide access to credit to multiple generations of current and future homeowners with student debt. Our ability to develop and implement these programs is built in part on a foundation of solid compliance risk management and strong ethical culture.
What are some of the big issues that you see shaping compliance itself, and your role within it?
The pace of dynamic change within financial services compliance has been brisk since the financial crisis. There has been massive regulatory change in the last 10 years. We have evolved as the compliance environment evolved. Dodd-Frank, HERA (Housing and Economic Recovery Act of 2008) and the Consumer Financial Protection Bureau (CFPB) are just a few of the factors that have changed our compliance environment since I joined Fannie Mae. The one constant we know is that standards and laws regarding compliance will change. My role, and my team's role, is to ensure our organization is ready for it so that that Fannie Mae can fulfill its role and its mission.
What words of advice would you give a young compliance professional-to-be?
A key element of the success of a chief compliance officer is assuring the organization that a compliance program is aligned with business goals and that the entire leadership team "walks-the-walk" of a strong compliance culture. This begins by ensuring that all legal and regulatory hurdles are identified and addressed promptly. But it is more far-reaching than that. Good compliance teams build strategic partnerships throughout an organization. Establishing credibility as a full partner who is both empowered and encouraged to provide guidance and input is far more effective than merely saying "no" when compliance issues arise.
The biggest lesson, and something we talk about amongst our team all the time, is understanding how you add value to business transactions. While you're saying that you have to do this certification, or take certain training, or implement additional controls so that we're compliant with a specific law or specific directive from our conservator … we have to demonstrate to them the value it brings. It can't just be "because compliance said so," but "because it is good for your business to model ethical behavior and to do things right." If compliance is viewed as an impediment, or deaf to the goals of the business, then compliance risks being shut off from key decision-making conversations. A lack of transparency is not good for anybody.