Compliance leaders who want to become strategic partners—rather than mere risk mitigation specialists—must focus on three areas. These are:
Being more transparent;
Using data to make decisions; and
Collaborating with colleagues.
This advice was one of many useful takeaways from Compliance Week's inaugural Women in Compliance Summit held in Atlanta on June 27-28. The event, conducted concurrently with CW's Third-Party Risk Management Summit, attracted nearly 300 compliance and risk practitioners for two days dedicated to elevating attendees and addressing some of the unique challenges women face in the profession.
During a session on elevating the role of the compliance officer, I was inspired by Bets Lillo and her journey to corporate boards. She currently sits on the board of software firm River Logic and is on the advisory board of three other companies.
Starting out in progressive jobs in sales, planning, finance, and operations, Lillo gained valuable experience across multiple Fortune 500 domestic and international leadership roles spanning technology, compliance, operations, mergers and acquisitions, and finance. Her career journey is a reminder that gaining a broad skill set is often key to making it to the top.
Other standout discussions from the conference included:
The need to cultivate confidence: Mindset is important to success in work and life. We need to believe in agency—that each of us intrinsically possesses the power to learn, adapt, and execute.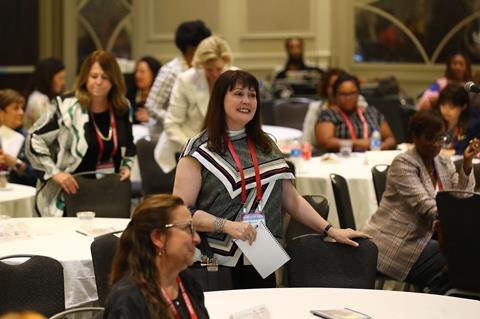 We can't control our destiny, but we can generate opportunities that increase our chances of achieving our goals. I call this radical self-reliance, and I heard this concept emphasized in many sessions.
One such session addressed imposter syndrome, a behavioral health phenomenon described as self-doubt of intellect, skills, or accomplishments among high-achieving individuals.
In my coaching practice, everyone, including C-suite leaders, struggles with confidence. Some self-doubt is healthy—it causes us to reflect on our choices, be open to feedback, and pivot to improve. At its extreme, however, self-doubt can become crippling.
It's important to recognize the difference and adopt strategies to apply as soon as you feel imposter syndrome creeping up on you. As shared by the panel, two key approaches help.
First, psych yourself up. Use logic. What are the facts; e.g., are you a certified expert in this area? Visualize success and normalize your feelings. Smart people regularly doubt themselves.
Second, fight these feelings. Confidence is a choice, and it is our duty to be confident because it allows us to push our ideas and impact forward.
Michelle Davis, founder of Artemis Advisory, said, "Don't subscribe to the 'fake it till you make it' mindset. You aren't faking anything; you are there for a reason. … Instead, reframe intimidating situations as choosing confidence."
The benefit of banishing burnout: Compliance leaders carry a heavy burden, and this can affect our health.
To stave off burnout, design—and stick to—a daily self-care practice. This could be 10 minutes of meditation, playing with your dog for 15 minutes, or going for a walk to clear your head. Whatever it is that brings you peace and clarity, make it a daily ritual, said Katharine Manning, author of "The Empathetic Workplace."
"Speaking up, which is the bedrock of successful employee engagement, is an ethical muscle, which requires training and an environment that nurtures and supports such behavior."

Boon Kim Fam, Senior Director of Compliance and Risk Management, Asia Pacific, PVH Corp.
Watch for warning signs you could be on the verge of stress overload.
"Those can be things like wanting to drop your self-care routine," Manning said. Avoidance or withdrawal can be a sign you need to double down on self-care.
"In this profession, we can sometimes get accustomed to the 'firefighter' mentality without stopping to care for the internal fire within ourselves," said Cricket Snyder, chief compliance officer at the Jefferson County Commission.
Get paid what you're worth: Organizations still pay women and people of color less than white men for the same work, so it is on you to be the architect of your destiny.
While some companies are working to solve this inequity with pay audits, most still don't. I view this as an ethics and integrity issue requiring steady pressure to continue to achieve equality. In the meantime, here are five steps to design your pay strategy:
Play the long game. Your pay strategy starts when you accept the job. In the hiring process, get as much information about your new organization's pay practices as you can, such as job family structure (the hierarchy of a job function, i.e., associate/manager/senior manager/director/vice president); the current staff in each of those roles; the career path for your role (e.g., how long did it take for the last person to get promoted?); their pay philosophy (do they pay 50 percent to market or top of the local market?); and timing of the annual pay budgeting cycle. This will help you get the lay of the land so you can map out the timing and likelihood of pay increases and promotions.
Always be gathering salary data. Sources include recruiters, applying for jobs, salary surveys, and compliance colleagues outside your company.
Know where you stand. What is your reputation and perceived value to the organization? Do you view your performance through the same lens as your boss? Does your boss's boss know and value your work? Managers rarely have sole authority to approve a pay or promotion increase.
Turn to the power dynamics within your organization and empathize with your boss to understand what matters most to them. Then you can better frame your impact/goals as meeting their needs and get the endorsement and support you need. As my colleague Elizabeth Ames, contract attorney in ethics and compliance at Delta Air Lines, shared, using "we" instead of "I" is key. Plan a couple of years out, so you have a strong case. Make it easy for your company to say yes.
Know your relationships are the key to success. Don't overindex on credentials—the higher you go in the organization, the less credentials matter. And build strong relationships with your peers. They are either going to be your bosses or your employees; will they support you?
Be an ally: Women—especially women of color—navigate inequality as part of our lived existence. The fight to prop open the number of doors that remain closed because "she's not a cultural fit" or "I can't put my finger on it" is real.
Progress often moves slower than we would wish. The reality is, like a compliance program, diversity, equity, and inclusion (DEI) is a cultural transformation that will test our patience and be a continuous, evolving journey.
Organizations that wholly accept implicit bias exists and identify quick wins will drive the DEI agenda forward within a culture.
"Speaking up, which is the bedrock of successful employee engagement, is an ethical muscle, which requires training and an environment that nurtures and supports such behavior," shared Boon Kim Fam, senior director of compliance and risk management, Asia Pacific, at clothing company PVH Corp.
Mia Reini, director of corporate compliance and ethics at retailer The Home Depot, offered, "If we are not actively sponsoring another star woman at our company, we should be."
While all genders were explicitly welcome at the conference, I saw only a handful of men in attendance. I hope this increases in the future. As observed by Nick Gallo, co-chief executive of compliance solutions provider Ethico, "Our industry is female dominated, and yet there is a dearth of male allies. We need more, because we are all fighting the same fight."
Congregating is powerful: By far, the overarching value shared by everyone at the conference was simply getting together. Attendees felt energized and inspired by having the opportunity to connect with, celebrate, and encourage women colleagues in ethics and compliance.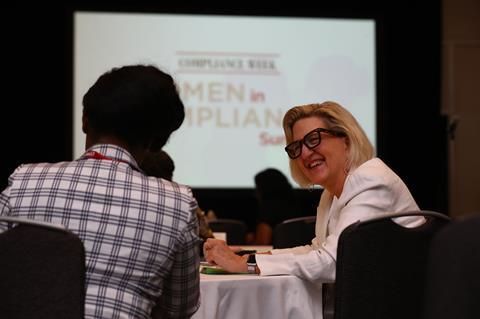 "The camaraderie, affirmation, and collegiality was uplifting in a way that traditional compliance conferences cannot replicate," said Mary Shirley, head of compliance for medical device company Masimo.
The more networking you do, the better. As Ingrid Fredeen, vice president and senior product manager of ethics and compliance training solution NAVEXEngage, shared, "There are so many people out there willing to connect and help others navigate."
For Melanie Sponholz, CCO of Waud Capital Partners Healthcare, the conference highlighted women's ability to appreciate nuance and operate skillfully in gray areas like compliance.
"The wisdom offered by presenters and attendees was powerful in its acknowledgement that one size does not fit all," she said.
Said Hemma Lomax, global head of integrity, governance, risk, and compliance at software-as-a-service company Zendesk, "We are built to do hard things well, together."

A former Fortune 5 executive, Amii Barnard-Bahn is a partner at Kaplan & Walker. She has been recognized by Forbes as one of the world's leading coaches for legal and compliance professionals.
View full Profile