President Joe Biden's nomination of Merrick Garland to be the Attorney General of the United States was confirmed by the Senate on Wednesday.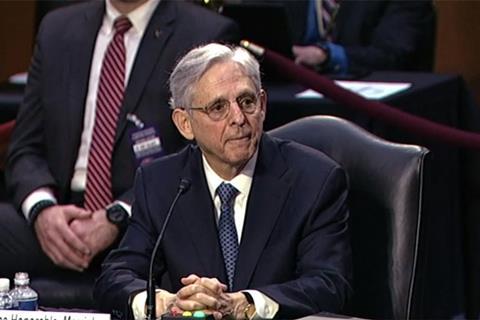 The bipartisan vote for Garland, a federal appeals court judge, was 70-30 and never seriously in doubt despite minor delays.
At his Feb. 22 nomination hearing before the Senate Judiciary Committee, Garland promised to treat the Department of Justice as an independent federal agency. He said confronting domestic terrorism "will be a top priority," including the ongoing investigation into the Jan. 6 attack on the Capital by supporters of former President Donald Trump.
As a federal prosecutor, Garland led the prosecution of two domestic terrorists behind the 1995 bombing of a federal building in Oklahoma City that killed 168 people.
"I believe the role of the Department is to investigate and prosecute acts of violence and other crimes regardless of associated ideology," Garland said at his hearing.
Garland will be faced with decisions regarding a number of political investigations once he is sworn in, which is expected to happen Thursday. One is an investigation into allegations of tax fraud by Hunter Biden, President Joe Biden's son. Another is a special counsel investigation into the origins of how the Russia inquiry, which examined connections between President Trump's campaign and Russian agents, was launched.
At an address to DOJ employees Thursday, Garland promised to "adhere to the norms that have become part of the DNA of every Justice Department employee" since Watergate.
"These norms require that like cases be treated alike; that there not be one rule for Democrats and another for Republicans; one rule for friends and another for foes; one rule for the powerful and another for the powerless; one rule for the rich and another for the poor; or different rules based on one's race or ethnicity," he said.
At his nomination hearing, Garland said he came of age as a federal prosecutor under former Attorney General Ben Civiletti and that "the policies that the Justice Department developed during those years are the foundation for reaffirming the norms that were adopted to help ensure that the Department adheres to the rule of law."
He continued: "Among these are policies that protect the independence of the Department from partisan influence in law enforcement, that strictly regulate communications with the White House, that establish guidelines for FBI domestic operations and foreign intelligence collection, that direct the respectful treatment of the press, that read the Freedom of Information Act generously, that respect the professionalism of Justice Department employees, and that set out the principles of federal prosecution to guide the exercise of prosecutorial discretion."
And he later added: "If confirmed, a critical part of my job will be to protect career employees—prosecutors, lawyers, agents, and all others—from partisan motives or other improper influences."
Garland has served as a federal judge since 1997, when he was nominated to the U.S. Court of Appeals for the District of Columbia by President Bill Clinton. In 2013, he became the chief justice of the D.C. court, a title he held until February 2020. Garland was nominated to be a Supreme Court justice by President Barack Obama in 2016, but the Republican-controlled Senate never agreed to hold a confirmation hearing.

Aaron Nicodemus covers regulatory policy and compliance trends for Compliance Week. He previously worked as a reporter for Bloomberg Law and as business editor at the Telegram & Gazette in Worcester, Mass.
View full Profile