But some dominoes must yet fall before it becomes clear who will lead other regulatory agencies, including the Federal Trade Commission (FTC), Commodity Futures Trading Commission (CFTC), and Office of the Comptroller of the Currency (OCC).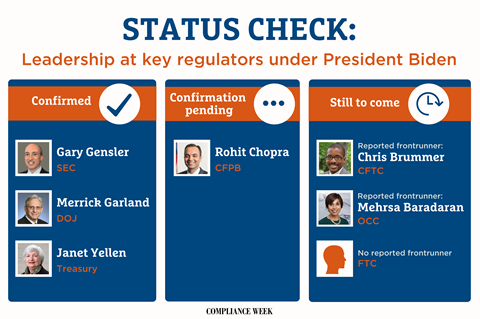 Key to relieving the backlog is Biden's choice for a spot on the FTC: Columbia Law School Associate Professor Lina Khan.
Khan, a noted Big Tech critic, managed to reveal very little at her confirmation hearing Wednesday before the Senate Committee on Commerce, Science, and Transportation, despite probing questions from several Republicans on her stance on reigning in anticompetitive and consumer protection issues with technology companies. She declined to elaborate on whether she feels some social media companies are improperly using their clout to censor points of view they disagree with and said she does not have any conflicts of interest that would prevent her from voting on issues involving Big Tech.
Answering a question from Sen. Ted Cruz (R-Texas), Khan said she favors investigating how some Big Tech companies—Amazon most immediately springs to mind—use their dominance in one area of the market as a springboard to dominate other sectors.
Khan previously served as counsel to a House Judiciary subcommittee handling antitrust issues, where she helped lead a bipartisan review of digital markets. "Pursuing this investigation underscored the important work that enforcers and lawmakers must do to ensure that longstanding laws are keeping pace with new technologies and reflecting current business realities," she told the committee in her opening statement.
Khan's nomination is expected to be opposed by many Republicans, who view her as part of a continuing trend among Biden appointees willing to pursue his administration's political policy objectives through regulation. Gary Gensler (SEC) is seen as a prime example, along with Rohit Chopra, who has been nominated to lead the Consumer Financial Protection Bureau (CFPB).
Chopra's nomination is currently in legislative limbo, most likely until Khan's nomination is addressed.
If Khan is sworn in to fill the vacant commissioner seat at the FTC, Chopra's nomination could move forward. With Khan on board, the FTC would slant 3-2 in favor of Democrats. Chopra, who is currently an FTC commissioner, could then resign to become CFPB director.
The White House would then be tasked with nominating another Democrat to become the permanent chair of the FTC and fill the remainder of Chopra's term at the agency.
Biden has yet to announce his nominations for other key regulatory bodies, including the CFTC and OCC, which is a division of the Treasury.
It has been reported Georgetown Law School Professor Chris Brummer is the leading candidate to be nominated to lead the CFTC, while UC Irvine Professor Mehrsa Baradaran is Biden's likely choice to head up the OCC.

Aaron Nicodemus covers regulatory policy and compliance trends for Compliance Week. He previously worked as a reporter for Bloomberg Law and as business editor at the Telegram & Gazette in Worcester, Mass.
View full Profile