Heath Tarbert, chairman and chief executive of the Commodity Futures Trading Commission (CFTC), will step down from his post early next year.
"Leading the men and women of the CFTC these last 17 months has been an extraordinary privilege but, like all good things, it must come to an end. Today, I am announcing that I intend to resign my position as Chairman early next year," he said in a statement released Thursday.
It's been the highlight of my career leading the CFTC over the last 17 months as Chairman. It's a special place because of its people—they made our historic accomplishments possible. I'm grateful to my fellow Commissioners and the staff for their dedication to our unique mission. pic.twitter.com/yyz0stvZae

— Heath Tarbert (@ChairmanHeath) December 10, 2020
The move will allow President-elect Joe Biden to name Tarbert's replacement as chairman. Tarbert told Reuters he expects to remain at the CFTC as one of the agency's five commissioners in order to help ensure a "smooth transition" and enable him to assess his next move. His term runs through April 2024.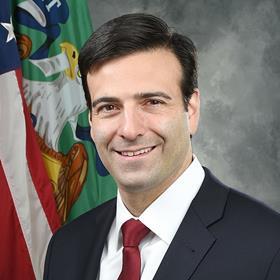 In his statement, Tarbert said he was proud of the agency's accomplishments during his tenure, included setting numerous enforcement records, part of $1.3 billion in fines the CFTC issued in 2020; promoting responsible FinTech innovation; declaring Ether a commodity; and enhancing the agency's diversity "with more women and people of color serving in senior leadership roles than ever before," he said.
Tarbert's announcement comes less than a month after his counterpart at the Securities and Exchange Commission, Jay Clayton, said he will leave his post by the end of the year.
Under Tarbert's tenure, the CFTC issued its largest ever fine, a $920 million penalty against JPMorgan Chase in September that highlighted the agency's increased emphasis and use of data analytics to pursue investigations. The investigation itself, however, had been going on for several years and involved illegal conduct that stretched back to 2008.
The CFTC launched several initiatives under Tarbert, notably its first-ever action involving foreign corruption. Earlier this month, the CFTC levied an additional $28.7 million in penalties against the U.S. affiliate of Vitol, a global energy and commodity trading company, on top of a $135 million criminal fine from the Department of Justice against the company. The CFTC penalized Vitol for the effects of its bribes on the markets, which gave the company "unlawful competitive advantages in trading physical oil products and related derivatives to the detriment of its counterparties."
The CFTC also offered helpful guidance that alerted companies on how they could reduce potential fines by cooperating with investigations and guidance on what the agency is looking for when it evaluates compliance programs.
The CFTC achieved some of these advancements during a global pandemic that upended not only the markets they monitor but the regulator itself.
"A majority of our work has taken place in the midst of COVID-19—a global pandemic that is testing the strength of our markets and our ability to adapt," Tarbert said. "Amid historic volatility, the CFTC has provided a steady hand and watchful eye while our markets act as shock absorbers. There is no doubt in my mind this has been the CFTC's 'finest hour' during our celebrated 45-year history."

Aaron Nicodemus covers regulatory policy and compliance trends for Compliance Week. He previously worked as a reporter for Bloomberg Law and as business editor at the Telegram & Gazette in Worcester, Mass.