The commissioners of the Commodity Futures Trading Commission (CFTC) on Thursday unanimously elected Democrat Rostin Behnam to serve as the agency's acting chairman.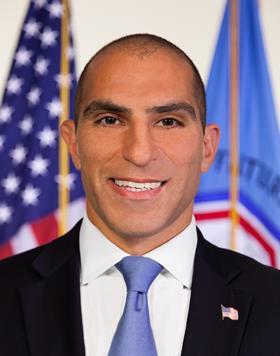 "I want to express gratitude to President Biden for the opportunity to serve in this capacity," Behnam said in a press release.
The move comes amid a wave of acting appointments at U.S. regulators while Biden's picks to lead each agency await Senate confirmation. The newly inaugurated president has yet to announce a nomination to head the CFTC; Reuters reported Thursday that Georgetown University academic Chris Brummer is a leading candidate.
During his commissioner tenure, Behnam has been outspoken on placing more controls on automated trading in the commodities market, particularly in light of the fact crude oil prices dropped into the negative in April 2020 due to pandemic-related disruptions and the so-called "Flash Crash" of 2010.
"In establishing new rules for automated trading, I would have liked the Commission to have taken a more fulsome look at both the events of April 20, the COVID-19 pandemic more broadly, and the potential impacts of climate change on our automated markets," he wrote in a December dissent on electronic trading risk principles.
Behnam replaces former Chairman Heath Tarbert, who had held the position since July 2019. Tarbert announced he was stepping down as chairman in December but said he will remain on as a commissioner. His term expires April 2024.
"It is bittersweet to step down from a role that I have enjoyed so much, but it is important to clear the way for President Biden's selection of a permanent chair. The peaceful transfer of power is a hallmark of the American system of self-government, and I am proud of our efforts to uphold that tradition here at the CFTC," Tarbert said in a press release.
Despite the shakeup, Republicans remain in the majority at the CFTC. Behnam and fellow Commissioner Dan Berkovitz are Democrats, while Commissioners Tarbert, Brian Quintenz, and Dawn DeBerry Stump are Republicans.
That should soon change. Quintenz's term expired in April 2020, and he announced at that time he would leave the Commission on Oct. 31, 2020. Instead, he has remained on past that date while he awaits the appointment of his successor. Biden, who as president appoints all CFTC commissioners, will name a Democrat to replace him.
While Behnam's term expires in June, Biden will likely reappoint him to the Commission. Stump's term expires in April 2022, and Berkovitz's ends in April 2023.

Aaron Nicodemus covers regulatory policy and compliance trends for Compliance Week. He previously worked as a reporter for Bloomberg Law and as business editor at the Telegram & Gazette in Worcester, Mass.
View full Profile