There were few surprises Tuesday during the Senate confirmation hearing for President Joe Biden's nominations to lead the Securities and Exchange Commission (SEC) and Consumer Financial Protection Bureau (CFPB). Biden's nominees mostly validated what most observers already knew.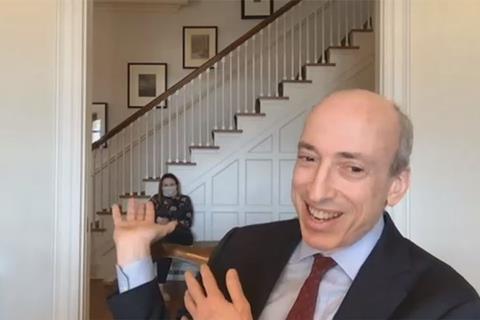 Gary Gensler, tapped to lead the SEC, told the Senate Committee on Banking, Housing, and Urban Affairs that, if his nomination is confirmed, he favors launching a rulemaking process on climate change disclosures for publicly traded companies.
"Increasingly, investors want to see climate risk disclosures," said Gensler, answering a question posed by Committee Chairman Sherrod Brown (D-Ohio). Gensler said he would consider launching a rulemaking process to clarify how companies should disclose climate change risks. But, responding to several different senators on the question, he repeatedly asserted those disclosures must meet the legal standard of materiality.
Gensler, who served as chairman of the Commodity Futures Trading Commission from 2009-14 and is currently a professor at the Massachusetts Institute of Technology, expanded on his stance on climate-related disclosures later in the hearing, which was held virtually.
"These disclosures can be pro-issuer and pro-investor," he said. In her question, Sen. Cynthia Lummis (R-Wyo.) maintained such disclosures could place energy companies in her state at a competitive disadvantage. Gensler politely disagreed, saying, "It could be pro-energy to make those disclosures."
He took a similar stance when pressed about corporate disclosures related to diversity and political donations. Many investors, he said, may reasonably want to know how diverse a corporation's board and C-suite are and the amount and direction of its political donations as they decide whether to invest in that corporation.
Gensler received bipartisan praise for his experience and expertise during the three-hour confirmation hearing. The committee will likely recommend his nomination to the full Senate next week, and his nomination will likely be confirmed in a bipartisan vote.
"Under Gary Gensler's leadership, there is hope for the SEC to finally actualize its mandate to send a clear market signal across every sector of the economy that understanding and mitigating climate risk is crucial to the financial sustainability of our country," says Mindy Lubber, CEO and president of the sustainability nonprofit organization Ceres. "We hope the Senate moves swiftly for confirmation."
Rohit Chopra, Biden's nominee as CFPB director, said if he's confirmed, the agency will return to its previous practice of ordering firms to pay restitution to defrauded customers. The CFPB under the Trump administration regularly issued findings with minimal fines and no restitution to defrauded customers.
"When victims of fraud and misconduct were not made whole, it hurts every other business that's doing the right thing and playing by the rules," said Chopra, currently a commissioner at the Federal Trade Commission (FTC). "Economically, it doesn't make sense that if you rip someone off, you don't have to pay them back."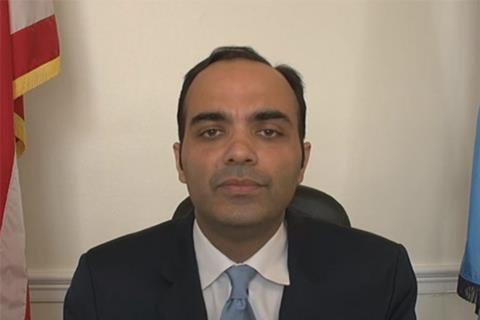 The fate of Chopra's nomination is less clear. Several Republican senators were critical of the CFPB's structure, saying it is not accountable to Congress, and lambasted the agency's actions under President Barack Obama, when Chopra worked there as deputy director and student loan ombudsman. One powerful Republican, Sen. Pat Toomey of Pennsylvania, said he believed some CFPB enforcement actions during that time constituted an overreach of the agency's power.
But Chopra defended the CFPB, saying its role is to advocate for the consumer, and that not aggressively regulating aspects of the mortgage-backed securities market led to the recession of 2008-09.
"The cost of inaction is high," he said, warning the country faces "an avalanche of defaults" when the federal mortgage forbearance and foreclosure moratorium, set in place to counteract the economic devastation caused by the COVID-19 pandemic, eventually expire.
"On the whole, the confirmation hearing broke little, if any, new ground. Commissioner Chopra reiterated his view—which he has set forth in numerous FTC concurrences and dissents—that enforcement actions should include monetary redress for consumers," says Ori Lev, former deputy enforcement director at the CFPB and current partner at law firm Mayer Brown. "But there was little substantive discussion of what that means in any particular context, and on the whole, there was less reference to Mr. Chopra's written record at the FTC than might have been expected."
Chopra's "emphasis on the need for regulators to provide a check on large companies that may misuse their market power is a stark reminder that larger financial institutions will be under heavy scrutiny and would do well to conduct their own compliance reviews and adjustments now to mitigate liability risks," says Quyen Truong, a partner at Stroock & Stroock & Lavan and former assistant director of the CFPB. She says areas Chopra indicated during the hearing could see heightened enforcement include mortgages, student loans, and the protection of vulnerable groups through fair lending and service member relief requirements.
Gensler on cryptocurrency, GameStop market volatility
Gensler said the SEC under his guidance will examine whether cryptocurrency needs tighter regulation.
"As technology and the markets change and evolve, it is important for the SEC to provide guidance and clarity," he said. "Investor protection—making sure the market is free of fraud and manipulation—that's the greater challenge, frankly."
Matt Kulkin and Stacie Hartman, co-chairs of Steptoe & Johnson's Financial Services Group, believe up until now, the SEC has offered little clear guidance on cryptocurrency, other than launching enforcement actions against specific cryptocurrencies. In December 2020, the SEC filed a lawsuit claiming the XRP offering by Ripple Labs should have been registered as a security. Gensler is on record agreeing with the SEC that XRP is a security; he also has publicly said he believes the cryptocurrency to be offered by a group including Facebook later this year—Diem (formerly Libra)—is also a security.
While it is preferable for the SEC to issue a comprehensive regulatory framework for cryptocurrency, doing so will take time, Hartman said. The industry's concern is that, until that happens, they may suffer through regulation by enforcement.
When asked about what the SEC should do to address volatility in the market caused by retail investors, short sellers, and others regarding stocks like GameStop, Gensler called the issue "as old as the markets themselves."
He did indicate that if confirmed to lead the SEC, he will ask the agency staff to examine the business model of FinTech innovators like Robinhood, whose app he said may encourage novice investors to take on risky bets in the market. He may also ask staff to examine payment for order flow, in which companies like Robinhood are paid by broker-dealers based on the volume of securities trades they deliver.

Aaron Nicodemus covers regulatory policy and compliance trends for Compliance Week. He previously worked as a reporter for Bloomberg Law and as business editor at the Telegram & Gazette in Worcester, Mass.
View full Profile