The Senate on Wednesday confirmed the nomination of Gary Gensler to be chairman of the Securities and Exchange Commission (SEC).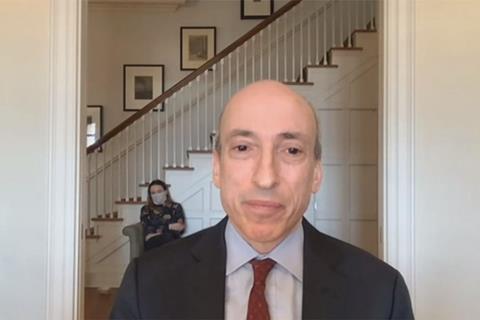 Gensler, a longtime Goldman Sachs executive who led the Commodity Futures Trading Commission (CFTC) from 2009-14, is viewed as an aggressive regulator expected to apply President Joe Biden's political agenda to the rules that govern securities and investments.
Wednesday's long-awaited vote by the Senate to confirm Gensler's nomination was 53-45 and included support from several Republicans.
"A warm congratulations to Gary Gensler on his Senate confirmation to become Chair of the SEC," the agency's four other commissioners said in a joint statement. "He will be joining a dedicated staff that works tirelessly day in and day out on behalf of investors and our markets. We welcome him back to public service and look forward to working together to execute our vital mission."
It is important to note the vote only confirms Gensler to fill former Chair Jay Clayton's term, which expires in June. The Senate will take up confirming Gensler to a five-year term through 2026 at a later date.
Sen. Pat Toomey (R-Penn.) renewed his objections to Gensler's nomination on the Senate floor during debate Tuesday.
"There are some who want to see the SEC push the bounds of its authority to advance a particular liberal, social, cultural agenda," he said, adding the CFTC under Gensler exceeded its authority on several occasions.
Toomey said Gensler may use the SEC to further Biden's political agenda on climate change, political spending disclosures, and racial diversity on corporate boards.
"This is not the appropriate vehicle to address any of these issues," he said.
Sen. Sherrod Brown (D-Ohio) defended Gensler and his record, saying under Gensler's leadership the SEC "can protect people's hard-earned savings, keep our markets stable, and make them fairer. That will let us create an economy where everyone can participate."
As for enforcement, Brown said, "Mr. Gensler has shown he will take on bad actors—no matter how big and powerful they are—and hold them accountable."
SEC observers expect the agency under Gensler will more aggressively target wrongdoing on Wall Street and within large financial institutions. For example, Gensler will likely redouble efforts to find and punish insider trading violations and attempts to muzzle whistleblowers.
"With the likely enhanced rulemaking and enforcement activity in a Gensler SEC, I think the compliance function will become more complex—and with that complexity comes higher cost," said Harris Kay, managing partner of the Chicago office for financial services law firm Murphy & McGonigle. "Compliance has always been a critical function, and under Gensler the importance of a robust compliance infrastructure will become even more front and center."
Bill McGovern, a lawyer with the firm Kobre & Kim and a former SEC branch chief, said Gensler has a chance to be a "historic" leader at the agency.
"He has an interesting mix of experiences," McGovern said, noting Gensler's time as a trader and banker at Goldman Sachs, as leader of the CFTC, and as an academic who studied FinTech issues like cryptocurrencies and the emerging uses of artificial intelligence in financial markets.
While at the CFTC, Gensler shook up the banking world with his work on exposing manipulation of the London Interbank Offered Rate (LIBOR) by some of the market's biggest players, showing "a willingness to ask questions other people had not been willing to ask," McGovern said.
"I think having somebody with his background is a win for the market," he said.
Congress will press Gensler to address the market volatility that occurred during the "meme stocks" craze as well as provide clarity on which digital currencies should actually be classified as securities and which should not.
The Internal Revenue Service generally views cryptocurrencies as property, while the CFTC views them as commodities. Kay expects the SEC under Gensler to take a firmer stance on cryptocurrencies, including potentially regulating them as securities, and clarify regulations currently stuck in muddy waters.
"I expect we will get clarity on crypto under Gensler, for better or for worse," he said.
But Gensler's top priority, once he settles into his new role, appears to be telling public companies how to disclose climate change-related risks.
Acting SEC Chair Allison Herren Lee has been busy priming the pump for him on this score, naming a climate change czar and assembling a task force within the agency. The Division of Examinations in its 2021 examination priorities said it would focus particular attention on climate change and environmental, social, and governance (ESG) issues in the coming year.
All this activity has happened before Gensler arrives to tilt the five-member Commission in favor of Democrats.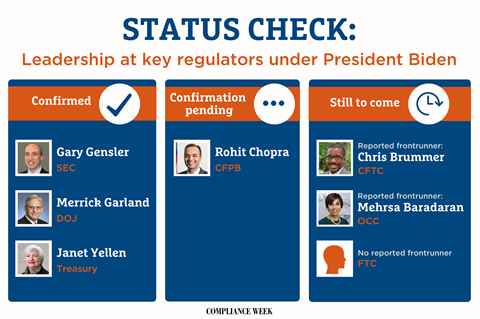 Lee has also unveiled a formal three-month comment period on potential elements of a climate change disclosure regime, "with an eye toward facilitating the disclosure of consistent, comparable, and reliable information on climate change," she said.
SEC watchers from the law firm Gibson Dunn noted in a blog post that Lee's move bypassed "the traditional process of seeking input and comments on new regulatory approaches through a 'concept release,' instead calling for comments on 15 significant aspects of a possible comprehensive climate-related disclosure regime for public companies."
Rulemaking on climate change disclosure is the inevitable conclusion of the comment period. Mandatory disclosure of climate change-related risk appears to be the SEC's goal. Another rulemaking on ESG disclosure is likely to follow.
Other ESG-related issues on which a Gensler-led SEC will focus include measuring diversity in the corporate boardroom and pulling back the veil on corporate political donations. Whether these initiatives follow the path the agency is taking on climate change—moving from recommendations to mandates—remains to be seen.

Aaron Nicodemus covers regulatory policy and compliance trends for Compliance Week. He previously worked as a reporter for Bloomberg Law and as business editor at the Telegram & Gazette in Worcester, Mass.
View full Profile