From assessing myriad risks to keeping pace with global, ever-evolving regulatory changes to fostering and maintaining an ethical culture—it's safe to say ethics and compliance officers don't just have their plates full, they're overflowing. And that's not to mention the added responsibility of keeping the board of directors happy.
For ethics and compliance officers wondering how their peers are keeping up with it all, Compliance Week and ethics and compliance software firm Convercent jointly conducted a benchmark survey to gauge not only companies' top ethics and compliance program goals for the year, but also which key metrics they report to the board and what kinds of compliance technology investments they're making.
One key finding from the survey of 106 ethics and compliance leaders is that, aside from "assessing and communicating risk"—which was cited as the top priority for 2018—the second-highest priority mentioned was "modernizing compliance through automation and process improvement," signaling that ethics and compliance departments increasingly are starting to invest in technology solutions that support a data-driven compliance function.
"It seems that there is a lot of support from senior-level leadership, but the struggle to measure ethics still exists."

Angus Robertson, EVP of Marketing, Convercent
"Right now, I think we're still in a pretty nascent stage," says Angus Robertson, executive vice president of marketing at Convercent. "But we're starting to see changes."
Many ethics and compliance leaders today realize the benefits of investing in an ethics and compliance management tool. When asked about their technology investment priorities, for example, the top reasons cited by respondents for turning to technology solutions were to "reduce manual processes;" "track key risk or key performance indicators," and "demonstrate ethics and compliance program values." Other reasons provided included to "increase employee engagement;" "identify gaps between values and organization behavior;" and "improve board reporting."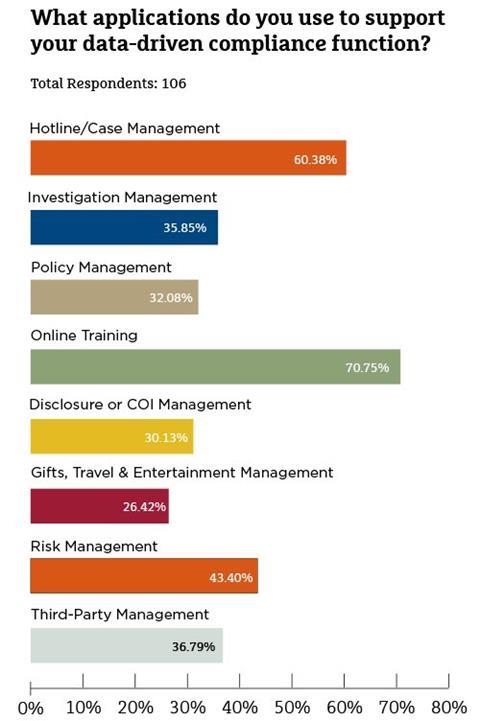 Respondents to the Convercent survey further cited a variety of technology applications that they use to support their data-driven compliance functions:
"A lot of ethics and compliance programs still have pretty disconnected applications," Robertson says. Having a data-driven ethics and compliance program supported by a comprehensive ethics and compliance technology solution helps drive collaboration between business functions.
In fact, 24 percent of respondents in the Convercent survey cited "insufficient collaboration with other departments" as one of their biggest challenges to building an ethical culture enterprise-wide. Yet, when asked which department is most beneficial to work with, most respondents cited "all of the above"—human resources, audit, legal, finance, procurement, and marketing.
What is your top ethics and compliance program goal in 2018?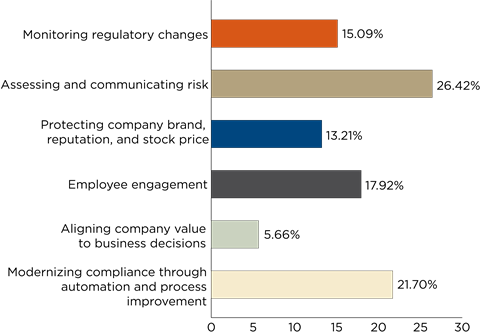 Source: Convercent
"Lack of data and technology to surface issues or risk" was cited as another top challenge toward building an ethical culture enterprise-wide. The message there is that the more data that can be integrated into one centralized database, the easier and more efficient it is for the business to collectively unearth where risks or ethics violations may lurk.
LRN's 2018 Ethics and Compliance Program Effectiveness Report complements these findings. That report similarly found that high-performing compliance programs are far more likely to use data analytics to analyze patterns of misconduct, or identify red flags proactively, than their low-performing peers. The LRN survey also showed that high-performing programs enlist all relevant departments when conducting root-cause analyses.
"That's where data and technology and visualization can play role," Robertson says. Convercent's Insight solution, for example, enables ethics and compliance officers to dig into the root causes of misconduct—such as abuse of company resources, fraud, and harassment—by understanding behavioral and environmental influences that potentially contributed to misconduct, factors like the company's communication style and cultural influences.
Board involvement
The results of the Convercent study further reinforce that ethics matters, especially due to the #MeToo movement, are gaining importance in the executive suite, as well as in the boardroom. When queried about which key metrics they prefer in their reports to their board of directors, respondents cited "risk assessment and alerts" as the top metric, followed by "organizational ethical health," and "hotline and investigation statistics." Other responses included, "whatever the board expresses an interest in at the time," and "policy violations."
What prevents you from building an ethical culture enterprise-wide?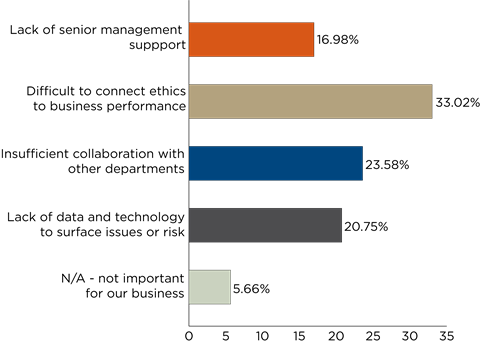 Source: Convercent
"It seems that there is a lot of support from senior-level leadership, but the struggle to measure ethics still exists," Robertson says. Many ethics and compliance leaders still find it difficult to connect ethics to business performance, according to the Convercent survey.
In many companies, senior-level support for ethics initiatives is there. In the Convercent survey, 52 percent of respondents said their CEO "strongly believes in ethics and makes it an important part of our culture," and 16 percent said their CEO "understands the correlation between ethics and business performance."
Other companies, however, indicated that senior leadership is far less focused on ethics, with 20 percent responding that their CEO is "primarily focused on compliance and avoiding regulatory risk," and 12 percent said that "business performance trumps ethics."

Jaclyn Jaeger is a freelance contributor to Compliance Week after working for the company for 15 years. She writes on a wide variety of topics, including ethics and compliance, risk management, legal, enforcement, technology, and more.
View full Profile