Projected costs for financial crime compliance among financial services companies worldwide reached nearly $214 billion last year, according to LexisNexis Risk Solutions.
The Global True Cost of Compliance 2020 report found the biggest increases in compliance costs came in Western Europe, particularly Germany, and in the United States.
Global costs were estimated at $180.9 billion in 2019. The $213.9 billion figure in compliance spending in 2020 represents an 18 percent increase.
The report surveyed 1,015 financial crime compliance decision makers at financial institutions around the world, including banks as well as investment, asset management, and insurance firms. These decision makers reported they oversee financial crime compliance processes such as sanctions monitoring, know your customer (KYC) remediation, anti-money laundering, and transaction monitoring.
The bulk of financial crime compliance spending—$150.6 billion—studied in the survey occurred in the Western European countries of the United Kingdom, France, Germany, the Netherlands, Italy, the Baltic states, Poland, the Czech Republic, and Hungary. The United States and Canada ranked next, at $42 billion.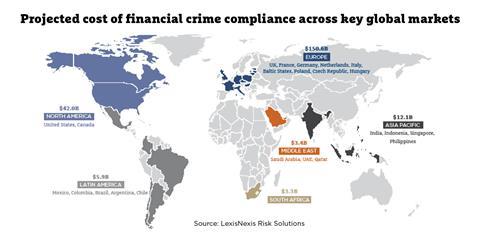 Financial crime compliance spending in the United States increased by 33 percent in 2020, compared to the previous year's survey results. Spending also spiked considerably in Canada (33 percent), Italy (27 percent), the Netherlands (22 percent), Germany (20 percent), and France (18 percent).
Total spending increase was highest in Germany ($9.6 billion more in 2020) and the United States ($8.8 billion).
Some countries—Chile (61 percent), the Philippines (44 percent) and South Africa (43 percent)—saw huge spikes in compliance costs, but overall costs stayed relatively low. Double-digit increases in compliance spending occurred in every country surveyed.
Compliance spending in other regions trailed far behind North America and Western Europe. In Asia Pacific, companies spent $12.1 billion, followed by Latin America ($5.9 billion), the Middle East ($3.4 billion), and South Africa ($3.3 billion).
A handful of countries with highly regulated financial systems, including China, Japan, Australia, New Zealand, Spain, Sweden, and Denmark, were not examined in the study. A LexisNexis Risk Solutions spokesman said the survey selected "a sample of countries from each region based on where its business is focused, while trying to ensure the larger financial centers and/or those with high financial crime risks are represented."
While there was a consensus among respondents that costs are rising across all markets studied, they were not in agreement about the factors driving compliance costs. Customer risk profiling, sanctions screening, regulatory reporting, identifying politically exposed persons (PEPs), KYC for account onboarding, and efficient alerts resolution were all similarly ranked by respondents as key challenges, the survey found.
The pandemic played a role in driving up compliance costs, but its effects were uneven across regions and company sizes. Mid- to large-sized U.S. financial services providers were much more likely to see a dramatic spike in compliance costs partially because of the pandemic, respondents said. Some pandemic-driven costs stemmed from increased alert volumes and suspicious transactions, inefficiencies with alert resolution and due diligence, more manual work, and limitations with proper risk profiling/sanctions screening/PEP identification, the survey said.
In the United States and Canada, the top challenge with financial crime compliance was sanctions screening (65 percent), while in Western Europe, it was customer risk profiling (53 percent). In the Asia Pacific region, which included India, Indonesia, Singapore, and the Philippines, the major challenge was KYC (58 percent).
The survey said U.S. companies are also bracing for new regulatory scrutiny particularly focusing on risk profiling, sanctions screening, and PEP identification and onboarding. Preparing for that scrutiny meant ramping up compliance departments to meet the challenge.
In Europe, regulators are rolling out money laundering directives on cryptocurrency, money mules, and trafficking. Financial services firms are facing profiling and identification challenges as they attempt to satisfy new regulatory directives.
According to Leslie Bailey, vice president, financial crime compliance for LexisNexis Risk Solutions, the survey results indicate companies should employ "a multi-layered solution approach to financial crime compliance" in order to "facilitate a more cost-effective, efficient compliance approach, as well as one that benefits the larger organization."
"Financial institutions should investigate both the physical and digital identity attributes of their customers, leveraging data analytics to assess risks and behaviors in real time," she said.

Aaron Nicodemus covers regulatory policy and compliance trends for Compliance Week. He previously worked as a reporter for Bloomberg Law and as business editor at the Telegram & Gazette in Worcester, Mass.
View full Profile