Few would argue against the belief privacy is a right. But might it also be a bargaining chip?
According to a recent retail privacy survey from Deloitte, it appears many deem it as such. Deloitte's findings, published in its 2019 "Consumer Privacy in Retail" survey, place nearly three-fourths (71 percent) of consumers as being willing to share their personal data with retailers in exchange for better pricing, special discounts, or exclusive offers. That number is more stunning when considering only 5 percent of the 2,000 respondents to the survey list retailers among the top three businesses they trust with their personal data.
"While some retailers have moved the bar on data privacy, there is still a lot of work to do," Rod Sides, vice chairman and U.S. leader of retail, wholesale, and distribution at Deloitte Consulting, said in a release accompanying the survey. "The retail industry should advocate for a consumer privacy standard putting consumer centricity at the core and trust as the guide. Transparency with consumers about what you collect and how you use it can go a long way in developing trust."
The fact most respondents are willing to relinquish their personal data as part of a quid pro quo with an industry a small margin actually trust might serve as a strong indicator as to how consumers view the privacy landscape in general. Nearly half (47 percent) of survey respondents feel they have little to no control of their data.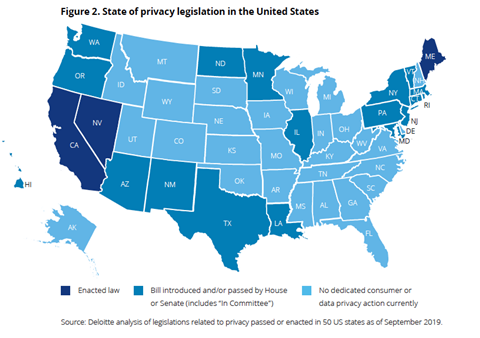 Deloitte's survey also polled 201 retail executives to illustrate a disconnect in the industry. While majorities of consumer respondents feel their data is being used for targeted marketing (more than 67 percent) and/or being sold to third parties or outside vendors (55 percent), the retail executives indicate the top three uses of data are for increasing operational efficiencies, improving product selection, and enhancing in-store services or experiences.
The survey adds 63 percent of consumers feel retailers are the ones most responsible for ensuring privacy, more so than the government (50 percent); technology partners (27 percent); or the actual, individual consumers themselves (27 percent).
Those results bear similarity to a recent survey commissioned by financial services giant Mastercard that found just 26 percent of nearly 2,500 respondents feel companies are doing a good enough job handling individuals' data.
"With increased scrutiny on consumer and data privacy, there is a call to action to define a new standard that works for consumers and retailers," said Rob Goldberg, cyber risk leader, retail, wholesale and distribution at Deloitte. "Future leaders in data privacy should adopt guiding principles that align across the entire organization as an essential part of their strategy, culture, and operations."
Websites
We are not responsible for the content of external sites

Kyle Brasseur is Editor in Chief of Compliance Week. His background includes expertise in user personalization with ESPN.com.
View full Profile