Compliance Week is introducing a series of new training courses. These offer practitioners the chance to enhance their expertise in key compliance areas while earning CLE and CPE credits.
Live virtual trainings provide attendees an instructor-led, immersive, and interactive experience on a single compliance topic.
On-demand learning modules are self-directed, allowing users 24/7 access to go at their own pace. On-demand courses are included with a Compliance Week corporate membership.
Trainings courses address topics including cybersecurity, ESG, money laundering, sanctions, customer due diligence, and more.
Click on any of the training modules for more information on rates for single members and nonmembers. Additional training opportunities and topics will be added in the future.
For questions regarding the potential to earn CLE or CPE credits, contact Donna O'Neill at donna.oneill@complianceweek.com.
Live Virtual Training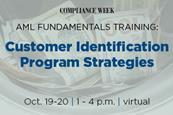 This two-day, six-hour workshop will cover the processes used by criminals to hide the proceeds of their misconduct and the role various institutions play in detecting and eradicating the activity before it creates significant legal, financial, and reputational costs.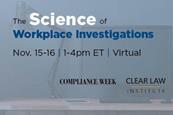 In this two-day seminar from former U.S. Department of Justice Attorney Michael Johnson, you will learn about the hundreds of research studies that scientists have conducted to best interview witnesses and assess credibility.
On-Demand Training

Take this self-directed, interactive immersive study of a fictional cyber event based on real-life scenarios to deepen your understanding of the importance of crisis management planning and put you in the shoes of a compliance leader during a ransomware attack.

Take this self-directed, interactive course to deepen your understanding of the increasing importance of environmental, social, and corporate governance initiatives and how ESG planning processes can help manage risks and lead to better reporting outcomes.

Take this self-directed, interactive course to deepen your understanding of cybersecurity risks and learn about the latest regulations to keep your organization compliant and prepared for today's dangerous cyber environment.