The experience of Xavier Andre Justo—the former Swiss banker turned whistleblower in one of the most notorious financial scandals of the past decade—shows those who speak up about bribery and corruption are often the only victims of the supposed "victimless crimes" they report.
Justo had been one of the directors of oil company PetroSaudi's London office. In 2009, the company engaged in a multi-billion-dollar joint venture with Malaysia's newly setup sovereign wealth fund, 1Malaysia Development Berhad (1MDB), whose aim was to fund infrastructure projects to drive the country's economic growth.
Following a dispute with PetroSaudi's co-founder Tarek Obaid, Justo left the company in 2011—taking with him to his home in Thailand a server full of emails and other sensitive financial documents as an "insurance policy."
However, Justo had no knowledge of the significance of the information he actually possessed—a treasure trove of documents that showed obvious evidence of financial fraud and the laundering of at least $4.5 billion in what the U.S. Department of Justice (DOJ) called the "largest kleptocracy case to date."
Yet, the criminal activity—as well as its scale—only came to light in 2014 when Justo was approached by a Malaysian newspaper, The Edge, and British investigative journalist Clare Rewcastle Brown to hand over documents to support suspicions of large-scale money laundering and embezzlement. He duly disclosed more than 227,000 Petro Saudi emails—unveiling one of the biggest corruption cases in recorded history and in the process implicating the Malaysia's Prime Minister Najib Razak.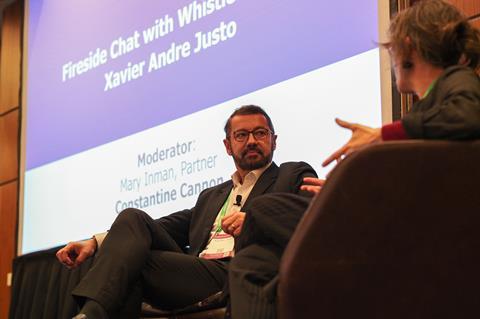 Justo was subsequently arrested in Thailand on charges of blackmail for attempting to gain $2 million for the return of the server in exchange for salary owed. Threatened with the prospect of spending 10 years in jail, he was coerced into signing a confession and given a six-year prison term. This sentence was later cut to 18 months because of an amnesty celebrating the accession of the country's new king. He was released in December 2016. He still faces prosecution in Switzerland, however.
In July 2020, Razak was sentenced to 12 years in jail for corruption, money laundering, and criminal breach of trust after embezzling nearly $10 million from the fund. Along with Justo, he is only the second person to go to jail over the scandal.
"No executives, no bankers, and no criminals have been sent to prison—just a whistleblower and the former prime minister. What does that tell you?" Justo told attendees as part of a fireside chat at Compliance Week Europe in Edinburgh, Scotland, in late October.
Like many whistleblowers, Justo has paid a heavy price for shining light on an employer's shady dealings.
"I haven't been able to get work since. I've been to interviews, and the people say how great it is that I did the right thing and how brave I was, but no one wants me in their company. I'm seen as a liability," he said.
"I'm branded a whistleblower. I don't see myself as a whistleblower: I just tried to do something good, and I paid the price and I'm still paying the price."
"No executives, no bankers, and no criminals have been sent to prison—just a whistleblower and the former prime minister. What does that tell you?"

1MDB whistleblower Xavier Andre Justo
Justo believes "nothing prepares you for the toll this can take on your career and family life."
"It was hard for my wife to live through all of this, and I have a young son who is going to find stories on the internet that I was a criminal and that I went to jail. I don't want him to see any of this but what can you do?" he said.
Despite the fallout, Justo told attendees he would blow the whistle again if faced with similar circumstances—but only if provided with legal protection and legal advice.
"You have to seek the advice of professionals, competent people, because there are many risks. If I had used specialized people, I would not have gone to jail," he said, referencing The Signals Network, a U.S-based NGO that supports whistleblowers.
Session moderator Mary Inman, partner at law firm Constantine Cannon and head of its international whistleblower practice, told attendees "we are now in the 'golden age' of whistleblowing" because there is greater legal protection and support for those who speak up, such as the European Union's Whistleblower Directive.
Inman said other positive developments include plans by the U.K. government to set up an Office of the Whistleblower, along the lines of the Dutch Whistleblowers Authority, to provide employees with free advice about how to report concerns of possible wrongdoing.

Neil Hodge is a freelance business journalist and photographer based in Nottingham, United Kingdom. He writes on insurance and risk management, corporate governance, internal audit, compliance, and legal issues.