The Elizabeth Holmes trial included new revelations of what happened at Theranos, including the role of Adam Rosendorff as a key whistleblower. John Carreyrou, whose reporting exposed the blood-testing company as a fraud, discussed the vital part Rosendorff and his other colleagues that came forward played during a fireside chat at Compliance Week's National Conference on Wednesday.
Carreyrou, a two-time Pulitzer Prize winner and author of the book "Bad Blood," explained the importance of Rosendorff, who had been the lab director at Theranos for almost two years, as a source from the start of his investigative reporting.
"He was perfectly placed to know whether there were shenanigans going on there or not," Carreyrou said. "When I first got him on the phone, he was incredibly stressed, nervous, and anxious because he had left the company about six weeks prior, and the company was coming after him."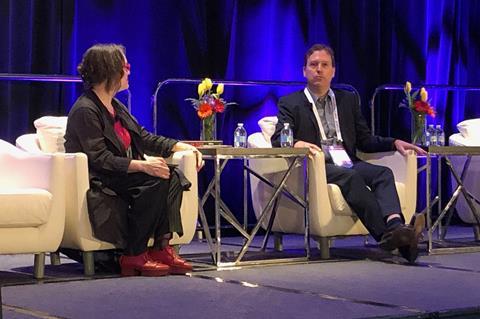 Carreyrou said Rosendorff had already signed a nondisclosure agreement with Theranos before his departure but forwarded himself emails and other work documents for protection. The company, which tracked communications, knew he did this and began applying pressure that was fresh when the two first connected.
"That was the beginning of a monthslong process where we got to know each other. And he gave me more and more details," Carreyrou said. "From that foundation, I then reached out to other sources, also anonymous, and corroborated what he had to say. But he was my first and most important primary source, and he's arguably the person without whom none of this would have come to light."
Carreyrou used the pseudonym Alan Beam to refer to Rosendorff in his book.
"He's (Rosendorff) arguably hero No. 1 in this and the story," the author said, also acknowledging the contributions of Erika Cheung and Tyler Shultz as whistleblowers.
When asked what can be done to make whistleblowers' lives easier, Carreyrou told how Rosendorff's concerns went unheeded by Theranos's regulatory counsel.
"One interesting anecdote in relation to (Rosendorff) is that shortly before he quit the company and started talking to me, he went to the offices of one of the lawyers at Theranos, the regulatory counsel, and sat down on the couch in the lawyer's office," Carreyrou said. "Before he said anything, he asked the guy, 'Whose (interest) do you represent, the company's or the employee's?'"
When the regulatory counsel responded to Rosendorff that their first allegiance was to the company, Rosendorff quit within days, Carreyrou said.
Carreyrou said he isn't sure of the best way to instill a good speak-up culture, arguing because Theranos was essentially controlled by just two people who were "perpetrating a crime together and who were corrupt," it made it nearly impossible for someone on the inside to thwart its eventual downfall.
"Is it an anonymous tip system, either via phone or email, or is it a person, one of the compliance team people, that a person can go to? I'm skeptical of that," Carreyrou said. "She (Holmes) had 99.7 percent of the voting rights. Sunny (Ramesh Balwani) was her enforcer. I don't think there was really any viable method internally for a whistleblower to be heard at that company. But I think it's different than being publicly traded Fortune 500 companies."

Jeff Dale is the Digital Editor of Compliance Week. He previously worked as a copy editor with the Boston Herald and Patriot Ledger in Quincy, Mass., and is a former city editor of The Hour Publishing Co. in Norwalk, Conn.
View full Profile