Any company that wants to get real about meeting diversity, equity, and inclusion (DEI) goals should be willing to go on the record. That is what Best Buy decided in 2020 when it set its five-year plan to expand representation of Black, Indigenous, and people of color (BIPOC) and women employees throughout the company, create parity in retention rates, and invest in the futures of underserved youths.
Two years into its DEI action plan, Best Buy leaders attended Compliance Week's National Conference in Washington, D.C. to discuss—in a refreshingly blunt manner—the retailer's learnings. General Counsel and Chief Risk Officer Todd Hartman and Senior Director of Global Compliance and Ethics Bill Underwood shared examples of cringeworthy mistakes by leaders, angry blowback from employees, and how their teams navigated delicate and nuanced challenges.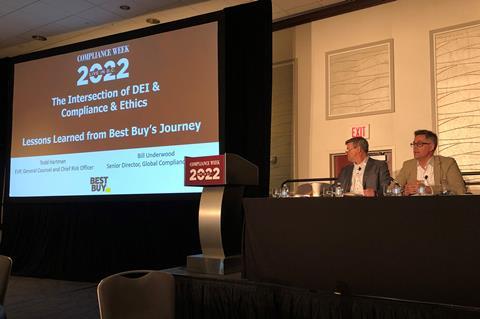 "We're here today to talk about C&E (compliance and ethics) and legal's role in recognizing and defusing the tensions that exist between individuals' beliefs and what our company stands for,'' Underwood prefaced.
Like many companies, Best Buy's DEI mission became turbo-charged by the death of George Floyd in police custody in May 2020 . Uniquely, Floyd's murder occurred blocks from Best Buy's corporate campus in Minneapolis. Lootings occurred at Best Buy stores across the nation, but the retailer did not lose sight of the heinous antecedent.
"Our employees were hurting. People everywhere were hurting, but this was our backyard, a short distance away. So, it was an absolute learning experience," Underwood said.
Best Buy did not make a vague promise to do better and then allow it to wilt. The company's Chief Executive Corie Barry did make a bold statement to that effect in June 2020, but she did not stop there. The company spent six months devising SMART goals (specific, measurable, achievable, relevant, and time-bound) to ensure accountability and announced its commitments in December 2020, setting a deadline of 2025.
"Part of the reason companies don't make commitments is because people will want to track and see how they're doing on them," Hartman said, "but we felt being able to do that was a critical consideration going in."
Legal challenges, whistleblower hotline, social media
One of Best Buy's commitments is to fill one out of three new nonhourly corporate positions with BIPOC—a noble objective on one hand, a legal minefield on the other.
"The fact is civil rights laws don't allow you to consider race in hiring, so we have to be very clear that's not what's happening," Hartman said.
"Part of the reason companies don't make (DEI) commitments is because people will want to track and see how they're doing on them, but we felt being able to do that was a critical consideration going in."

Todd Hartman, General Counsel and Chief Risk Officer, Best Buy
Thus, at the outset of defining diversity goals, it's important to consult with the employment law team on the objectives, Hartman said. Once consistency with the law is confirmed, it's equally important company leaders be trained on communicating the difference between filling quotas (bad) and creating a fair employment process that enables a fully inclusive work environment (good).
Nevertheless, the message doesn't always land well with employees.
"Let's face it," Hartman said, "Ninety percent of the things that come into the Open & Honest Ethics hotline … are just concerned about reverse discrimination."
Underwood oversees the 24-hour anonymous hotline, where employees can speak up candidly without fear of repercussion, often with ideas that can be seen as contrary to the company's DEI policies.
"Upon receipt of these reports, the first question is: Does it contain an actionable allegation? … If the facts, if taken as true, would represent a violation of policy, we would treat it in one way. But in many instances, it is just an example of the reporter simply providing feedback," Underwood said.
Underwood's team makes a judgment call as to whether to forward any anonymous report to relevant leaders.
"Is there something constructive in here to share with the leader, or am I just simply sharing hate and anger?" Underwood explained. He admitted some reports "do not deserve to see the light of day, but some of them do." In the latter scenario, the learnings emerge when the reporter feels heard and the leader gets a line of sight into the impact of their words or behavior.
Best Buy also revised its social media policy in January 2021. No longer did posts have to relate to Best Buy to be potentially flagged; they needed only have an impact on the company, its employees, customers, or even its vendors.
"This was a big change. … It's not just about writing something; it's 'liking' something or retweeting something—media, pictures, memes, or videos—discriminatory or harassing on the basis of race or any other status," Underwood said.
"It was easy in the past to just say, 'Hey, that's your off-the-clock life, and we aren't concerned at all.' But when we've got a flood of employees saying, 'I will not work for this person because of what they're doing on social media,' or 'I will not work with this person because they threatened violent action against people of my background and race,' then we can't ignore it," Hartman added.

Aly McDevitt is Data & Research Journalist at Compliance Week. She has a background in education and college consulting. Prior to teaching, she was an editor/author at Thomson Reuters.