The Securities and Exchange Commission on Wednesday announced its first whistleblower awards of the new year in connection with two separate enforcement actions.
In the first action, the SEC awarded a whistleblower more than $277,000 for "significant information" in alerting SEC staff to an ongoing fraudulent scheme. The second award is for $45,000 to a harmed investor that helped the SEC recover assets later returned to victims.
While the awards are relatively small in size, they are the first steps to the SEC rebounding from a dip in whistleblower performance in fiscal year 2019. For the first time since the program's inception in 2011, the SEC failed to improve upon its number of whistleblower tips fielded, though that can be attributed to a lack of resources associated with last year's government shutdown.
In total, the SEC awarded approximately $60 million in whistleblower awards to eight individuals in FY2019. That pales in comparison to the more than $168 million awarded to 13 individuals in FY2018.
In both awards, the SEC praised the value of the assistance received. "The information provided saved the SEC time and resources in conducting the investigations and assisted the SEC in returning money to harmed investors," Jane Norberg, chief of the SEC's Office of the Whistleblower, said in a news release.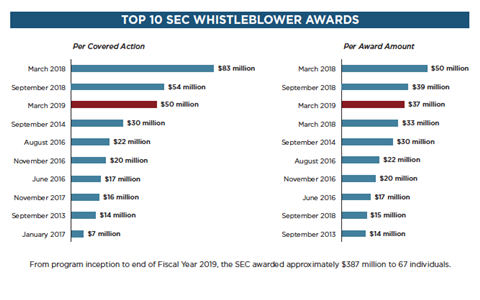 The recipient of the larger award's information "bear[ed] a close nexus to the charges brought by the Commission, as well as by the [United States Attorney's Office]," the SEC explained.
The SEC has awarded approximately $387 million to 72 individuals since issuing its first whistleblower award in 2012. Awards can range from 10 percent to 30 percent of the money collected when the penalties exceed $1 million; all award payments are made through an investor protection fund established by Congress and financed by monetary sanctions paid to the SEC by securities law violators.
The SEC neither identifies whistleblowers, nor discloses information that could reveal a whistleblower's identity.
Websites
We are not responsible for the content of external sites

Kyle Brasseur is Editor in Chief of Compliance Week. His background includes expertise in user personalization with ESPN.com.
View full Profile