Ensuring employees feel valued and appreciated has always been an important part of maintaining a healthy workplace culture, but people's priorities today are conceptually different from what they were pre-COVID. In the battle for top talent, winning companies are those taking the time to listen.
What workers desire most can vary significantly by industry, role and seniority level, leading many companies to adjust their incentive programs accordingly. In industries wrestling with supply chain bottlenecks and workplace shortages where competition to fill vacant roles is fierce, "cash is typically king," says Tom McMullen, senior client partner at management consulting firm Korn Ferry.
This situation has prompted a surge in salaries in the retail; restaurant; and hospitality industries, with many companies offering more than double the $7.25 federal minimum hourly wage. Fast-food chains McDonald's and Chipotle, retailer Under Armour, and e-commerce giant Amazon are just a few examples of companies that recently announced significant increases in their hourly wages.
A rising number of companies in these industries are also turning to employee referral programs and sign-on bonuses to attract new hires. Chipotle, for example, in May introduced for the first time a $200 employee referral bonus for its restaurant employees and a $750 referral bonus for general managers.
Also in May, Amazon announced it's now offering $1,000 sign-on bonuses at some of its locations.
Beyond wages and bonuses, some companies are offering to pay employees' college tuition. On July 27, Walmart announced it will invest nearly $1 billion over the next five years in career-driven training and development. "This means approximately 1.5 million part-time and full-time Walmart and Sam's Club associates in the U.S. can earn college degrees or learn trade skills without the burden of education debt," the company stated.
Target announced a similar initiative taking effect this fall for all its U.S.-based employees. "With our new debt-free education assistance benefit, our more than 340,000 full-time and part-time team members at stores, distribution centers, and headquarters locations will have access to free undergraduate and associates degrees, certificates, bootcamp programs, textbooks, and course fees," the company said.
Mental health and wellness benefits are also now commonplace. This includes free access to mental health apps, personalized assistance from healthcare experts, flexible fitness reimbursement options, Peloton memberships, and more.
Companies that can afford to do so are even getting creative in the perks they're doling out. Jefferies Financial Group, for example, offered all its analysts and associates the option to choose between a Peloton bike, a MIRROR home workout system, or an Apple package (complete with an Apple Watch, iPad, and AirPods).
"[T]hese gifts are a sign of our deep appreciation for your dedication, sacrifice, and contribution to our success in the face of challenging circumstances," Jefferies CEO Rich Handler and President Brian Friedman wrote in an employee memo, posted to Instagram.
Professional and management roles
In discussions with senior-level position candidates, conversations around flexible hours, hybrid work models, remote working, and professional and leadership development are taking shape and can serve as a competitive advantage in attracting and retaining top talent. While still rare, four-day workweeks are also gaining steam among companies, like Unilever New Zealand.
Senior leaders might enjoy far less flexibility to work remotely, however. "Typically, mid-level compliance team members working from home is not a problem," says John Gilmore, co-founder and managing partner of executive search firm BarkerGilmore. The same cannot be said for chief compliance officers and deputy chief compliance officers, he says.
"As a member of the senior leadership team, CEOs want those people around them," says Gilmore.
The problem is, many people don't want to go back to commuting to the office five or six days a week. Times have changed to such an extent that Gilmore says he has had to adjust his executive recruitment interviewing techniques after 30 years in the business.
"I have to be very candid and upfront and say, 'Listen, I need someone who can move … and be there in-person on a daily basis. This is not a remote role.' Normally, I would not be so forward," he says. "Pre-2020, people just made the assumption you had to pack and move and be in the office."
According to a Robert Half survey of more than 2,800 senior managers in the United States, 71 percent of respondents said they will require their teams to be on-site full time once COVID-19-related restrictions completely lift.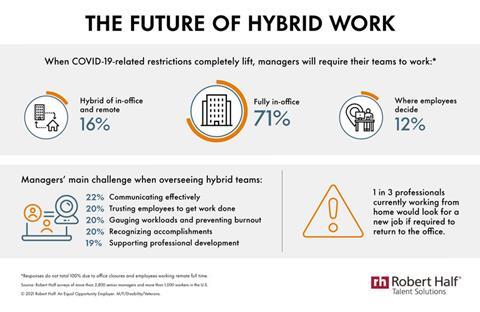 In certain industries, working remotely comes at a price, as many companies grapple with how to pay employees based where the cost of living is significantly lower.
"It doesn't make sense to pay someone New York City wages when they live in rural Iowa," says John Dooney, an HR advisor with the Society for Human Resource Management.
The technology sector is especially grappling with this issue, as the San Francisco Bay Area pays some of the highest salaries in the country. Facebook, Google, Microsoft, and VMware are among those cutting the pay of employees who move to lower-cost areas of the country. Social media platform Reddit decided not to jump on this bandwagon.
All companies, regardless of size, also are having to think more competitively about leadership and professional development. The biggest reason why mid-level professional and management employees tend to leave a company is lack of career development, and so it's more important than ever for managers to make the time to sit down with employees one-on-one and get to know their career aspirations. "A lot of times that does not happen," McMullen says.
At smaller companies, McMullen says, department heads might have to think more creatively about how to move talent around the organization or even create new roles to better utilize worker skill sets.
Determining the right values
Figuring out what workers want shouldn't be a guessing game. If companies are going to make changes, they need to be driven by employee values over the perceptions senior leaders or the HR department have or other industry standards, executive recruitment experts say.
"Relatively few organizations actually bother with asking employees what they value most and least," McMullen says. This is a lost opportunity, because such an exercise can actually result in cost savings for the company. "More often than not, an organization can remove benefits that might be somewhat costly but just aren't valued and then add benefits that have a high perceived value with relatively low cost. It's a win-win," he says.
An employee outreach survey is one simple way to identify common themes. This input can be achieved, for example, by including a list of benefits and perks in the survey, giving employees the opportunity to rank which ones resonate most with them. By today's standards, some of those options might include carryover vacation time, childcare assistance programs, flexible hours, a take-your-pet-to-work policy, and more.
"In this environment, nothing is off the table," says Tim Hird, executive vice president of enterprise optimization at global talent solutions firm Robert Half. "I have seen a lot of companies make fundamental changes to their perks and benefits and workplace structures on the back of feedback they have received through those surveys."
Before COVID-19, people didn't have as many demands and challenges in and outside of work as they do now. "The pandemic has forced people to make not only career changes, but also lifestyle changes," Hird says. Moving forward, the companies to thrive will be the ones that quickly adapt to that reality and recognize the kind of care and attention their employees need right now.

Jaclyn Jaeger is a freelance contributor to Compliance Week after working for the company for 15 years. She writes on a wide variety of topics, including ethics and compliance, risk management, legal, enforcement, technology, and more.
View full Profile