Chief compliance officers and chief ethics and compliance officers have come out the other end of the Covid-19 pandemic being more compensated for their work than before, according to the latest edition of Compliance Week's "Inside the Mind of the CCO" survey.
The online poll, now in its fourth year, received 254 total responses from compliance practitioners across the spectrum of their careers. For the purposes of analyzing salary data, only CCOs and CECOs were filtered in, a group representing 33 percent of the survey's total respondents.
This year, chief compliance practitioners averaged a $335,000 yearly salary—the highest total in our survey's history. The average last year was $321,000. This year's responses saw our "Seasoned CCOs" contingent more educated and experienced than last year, a potential contributing factor to the pay increase.
Variations in data aside, it is also fair to say the landscape for high-quality compliance chiefs in 2022 was more competitive than before. The pandemic has further proved the value of the position, and the so-called "Great Resignation" of the last two years has caused businesses to reconsider how they compensate and retain their top employees. This trend likely proved a boon for CCOs and CECOs whose stock might have never been higher than after their work navigating Covid-19.
Despite economic uncertainty on the way in the form of a potential recession, no CCOs or CECOs that took our survey felt their jobs would "definitely" be in jeopardy.
"[I]t's unlikely anyone would want the optics of letting go of their CCO," said one CECO from the technology industry whose answer summed up the general attitude among respondents.
Here are five other notable data trends to emerge from our survey: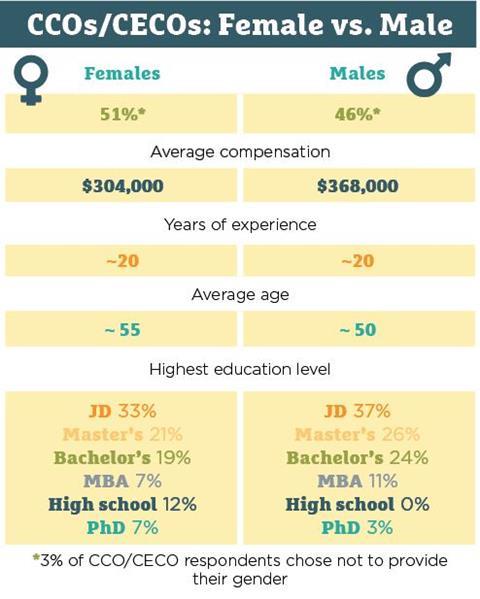 Gender pay gap closes—yet persists: For the third straight year, female CCOs/CECOs were paid less than their male counterparts, according to our survey. Women in the position earned $304,000 on average, compared to $368,000 for men. The difference was more stark last year: $272,000 for women compared to $382,000 for men.
While one might think the closing gap represents progress, our historical survey data says otherwise. In our 2020 poll, female CCOs/CECOs earned $303,000 on average, compared to $365,000 for men. This year's numbers are strikingly similar, indicating the profession has actually made little way in equitably recognizing the work of each gender.
Research from compensation software and data firm PayScale released in early 2022 mirrors this notion, as year-over-year improvement in closing the gender pay gap each year since 2015 largely stagnated from 2019-21. The firm's report cited the economic turmoil of the pandemic and its disproportionate impact on women of color as contributing to the lack of further progress.
Securities leads the way: More than 41 percent of the overall respondents to our survey represented the healthcare (17 percent), banking (13 percent), and securities (11 percent) industries. Among CCOs/CECOs, securities was the most popular sector (18 percent), followed by healthcare (14 percent) and banking (11 percent).
The seniority of our respondents in the securities space was reflected in average salary totals, as compliance chiefs in the industry earned $381,000 on average. By comparison, banking CCOs/CECOs earned $308,000 on average, while healthcare came in at $283,000 on average.
Experience sweet spot?: It stands to reason the more experience in compliance one has, the more they are worth. Not according to our survey, though.
CCOs/CECOs to indicate more than 20 years in a compliance role earned $344,000 on average, compared to a $370,000 average for those with 11-20 years of experience.
The average age of CCOs/CECOs to respond to our survey dropped from last year, more closely aligning with the 45-49 age range than any of the ranges 50-plus. A continuing trend in this direction could suggest a change in the makeup typically associated with the compliance chief role.
Impact of education: Consistent with previous years, the more educated the CCO/CECO, the greater their compensation.
Those with JDs earned $464,000 on average, compared to $278,000 for respondents with their Master's degree and $243,000 for those with Bachelor's degrees.
Respondents with JDs were more likely to work for large companies with more than 10,000 employees and average between 11-20 years of compliance experience.
An interesting statistic occurred among our "Compliance Newbies" profile, which featured all respondents to the survey with less than five years of compliance experience. Of this cohort, the amount with JDs (24 percent) was nearly equal to the amount whose highest education level stopped at high school or getting their GED (21 percent). The data suggests a lower barrier of entry for the compliance profession than in previous years.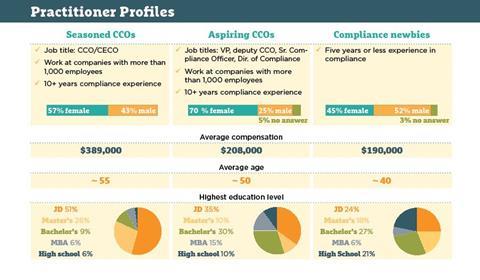 Large company vs. small: Among CCO/CECO respondents, an equal total—40 percent—worked for companies with less than 1,000 employees vs. companies with more than 10,000 workers, creating a perfect opportunity to compare compensation differences based on business size.
Unsurprisingly, CCOs/CECOs at businesses with more than 10,000 employees earned significantly more—$420,000—than the $280,000 average for those at companies with less than 1,000 workers. It pays to oversee more people.

Kyle Brasseur is Editor in Chief of Compliance Week. His background includes expertise in user personalization with ESPN.com.
Inside the Mind of the CCO, Year 4
1

2

3

4

5

Currently reading

CCO/CECO salary data: Five noteworthy trends

6

7