Last week wasn't a great one for high-profile leaders in the business world.
KPMG UK Chairman Bill Michael was forced to resign after his motivational speech to employees went off the rails (and public) when he told staff to "stop moaning" about the impact of the COVID-19 pandemic and lampooned unconscious bias as "complete crap."
Meanwhile, Bank of England Governor Andrew Bailey found himself in a heated argument with Members of Parliament over a "misunderstanding" that he had tried to have his name removed from a critical report published in December that found him personally responsible for the cultural failings at the Financial Conduct Authority (where he was CEO at the time) which contributed to its inability to spot major frauds, such as the collapse of London Capital & Finance in 2019. He denied the charge, only for the report author—former Court of Appeal Judge Dame Elizabeth Gloster—to contradict him, show her evidence, and question the reliability of his account.
It is not the first time chief executives have found themselves guilty of not toeing the line they expect everyone below them to follow—and nor will it be the last.
In 2018, Barclays Bank CEO Jes Staley was fined £642,430 by U.K. financial regulators and hit with a £500,000 cut from his bonus for attempting to unmask a whistleblower who questioned why his friend had been given a plum job as head of the bank's financial institutions group in New York.
U.K. CEOs are not the only ones to fall short, of course. In January, Leon Black, the billionaire boss of Apollo Global Management, one of the world's biggest private equity firms, stood down after he admitted paying $158 million to convicted sex offender Jeffrey Epstein—money which effectively bankrolled the pedophile's lifestyle, according to the New York Times.
For decades the mantra of "tone from the top" has been regurgitated in regulators' codes of practice and company reports as a way of emphasizing how seriously chief executives should take the impact of their leadership on corporate conduct.
"As the figurehead of an organization, it is natural to look at the example the CEO sets. If the CEO does not feel the rules apply to him/her, then there's an obvious problem."

Scarlett Brown, Corporate Governance Lead, Chartered Institute of Personnel and Development
Ask anyone what a CEO's principal role is, however, and the answer will be: to implement strategy and maximize shareholder returns. "The reality is quite simple. Corporate performance is judged on share price, market share, and shareholder returns. Everything else is secondary," says one business expert.
Compliance, ethics, and good business conduct will usually come lower down the list of priorities—and possibly a lot further down given the financial pressures that many companies are enduring as a result of the economic slowdown caused by the pandemic.
One white-collar crime lawyer says law firms are expecting a "boomtime" in regulatory and fraud cases in the coming 12 months as evidence emerges that not all companies have been performing as well as their accounts and balance sheets suggest.
"When times get tough, companies take bigger risks, and breaking the law is just one of them," she says. "The lack of direct regulatory oversight, physical auditing, and monitoring is bound to have tempted more than a few companies to dump compliance and go for broke, and there is a strong likelihood executives will have either suspected that kind of behavior or have tacitly encouraged it, particularly in organizations that have high-risk appetites and aggressive strategies."
Experts widely believe the buck for corporate behavior stops with the CEO, and that she/he needs to exemplify the highest standards possible for others in the organization to follow.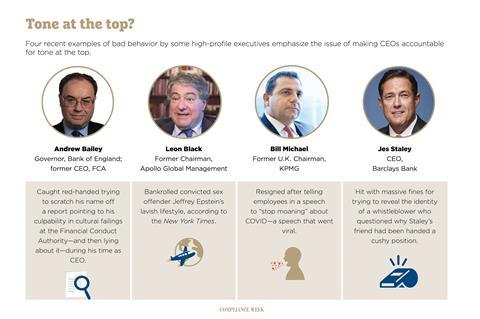 "As the figurehead of an organization, it is natural to look at the example the CEO sets," says Scarlett Brown, corporate governance lead at the Chartered Institute of Personnel and Development, the U.K.'s professional body for HR. "If the CEO does not feel the rules apply to him/her, then there's an obvious problem."
Ian Peters, director at the Institute of Business Ethics, a U.K.-based organization that champions ethical conduct, says the CEO's role in setting the corporate culture is "vital."
"If organizations want staff and third parties that contract with them to behave in a certain way and uphold particular values, the CEO has to champion and demonstrate those same values," he says. "If not, why should anyone else bother?"
Peters says part of the problem is that few are actually prepared to challenge CEOs when their conduct goes awry. In particular, he says, boards may not have been as active as they should have been in holding CEOs to account for breaching the organization's own ethical code. "Boards appoint CEOs, and they have the power to get rid of them. If boards ignore poor ethical leadership from the CEO or turn a 'blind eye' to behaviors that would not be tolerated at any other level of the organization, then they are failing in their duty," he says.
While Barclays did not turn a "blind eye" to Staley's conduct, there is a strong argument to suggest the board's response gave out a mixed message. Based on the bank's own internal investigation, the board found Staley's efforts were an "honest" mistake because the bank's whistleblowing policy at the time only provided protection to employees—not people outside the organization. According to that logic, the CEO was technically correct: It was just unfortunate his efforts trampled over what everyone else in the world perceived as standard whistleblower protection practices.
To improve accountability, Peters says companies need to ensure heads of internal audit and chief compliance officers have direct lines to the CEO and the board to raise concerns, typically through the audit or risk committee.
"Internal audit and compliance are the two key in-house functions that are both independent and that already have a role in presenting challenge in the boardroom," says Peters. "They are in a unique position to raise concerns about a weak 'tone from the top' and its potential impact on the organization, and they should be given greater access at board-level at which to do so."

Neil Hodge is a freelance business journalist and photographer based in Nottingham, United Kingdom. He writes on insurance and risk management, corporate governance, internal audit, compliance, and legal issues.
View full Profile