Carnival has been sailing some rough seas over the past several months. Even before the coronavirus pandemic hit, the cruise line company was in the eye of a storm of a different kind—regulatory probation following a chronic history of environmental violations.
In April 2017, the Department of Justice ordered Princess Cruises, owned by Carnival, to pay a record $40 million penalty for deliberate vessel pollution for illegally dumping overboard oil-contaminated waste and falsifying official logs to conceal the discharges. Princess and all related Carnival cruise ship companies trading in the United States were further required to implement an environmental compliance plan, including independent audits by an outside company and oversight by a court-appointed compliance monitor for a probation period of five years.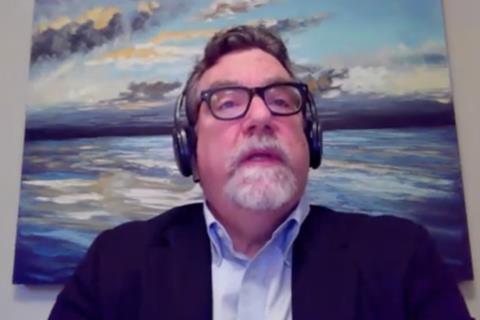 In August 2019, Carnival hired Peter Anderson to serve in the newly created role of chief ethics and compliance officer (CECO) to help drive a culture of compliance and integrity. Then the coronavirus pandemic hit, which found Carnival making headlines again following an outbreak on two of its ships—Diamond Princess in Japan and Crown Princess in California—leaving passengers and crews quarantined at sea for weeks.
At Compliance Week's virtual conference Tuesday, Compliance Week Editor in Chief Dave Lefort chatted with Anderson to discuss how he and Carnival were working to overcome what Anderson called "two different storms," the unique challenges he has faced in the past few months, how he is reshaping the company's ethics and compliance program under a corporate monitor, and the lessons learned from all of these experiences.
"The first storm was getting through the term of the monitorship and strengthening the ethics and compliance program," Anderson said. "But six to seven months later, we had another storm arise, which was completely unforeseen and with even more dramatic impact." He was talking, of course, about the pandemic.
Pre-pandemic, Carnival had been making progress with its compliance efforts while under probation, but it didn't yet have a centralized compliance program among its nine different brands, Anderson explained. So, pivoting from a decentralized compliance program to a centralized ethics and compliance program was a key priority off the bat in helping to right the ship at Carnival.
"Ethics and compliance come together in the mantra of doing the right things in the right ways and for the right reasons," Anderson said. Compliance is not just about following rules, it's also about doing the right thing in the way you treat each other, with respect, he said.
"'Doing it in the right way' essentially is about listening," he added. "We're listening more to the ships, to the brands, and also to the other departments."
COVID-19 impact
While the coronavirus pandemic has nearly capsized the entire cruise industry, Carnival is in an especially unique situation. "It's one thing to go from one storm—which was the risk of having a judge bar us from entering the U.S. ports if we didn't shore up our ethics and compliance programs—it's another thing when the virus virtually does the same thing, but worldwide," Anderson said. "It was a wake-up call."
All corporate crises have many different facets from a compliance standpoint. "For this one, it was financial, health, compliance, HR, and operations," Anderson said. It's a situation that has highlighted how critical it is to have all leaders, including ethics and compliance, at the table. At Carnival, in his role as CECO, Anderson is a member of the leadership team, involved in strategic and financial planning, and has direct access to the board committees.
"The key for us during the initial response [to the pandemic] was coordination," he said. The leadership team met two times a day, sometimes for two or three hours, evaluating information in real-time. Having open communication and coordination between the departments and between the brands helped Carnival better respond to the pandemic, he said.
The key is to not stick to a playbook when something major erupts. "No one anticipated the breadth and scope of this particular crisis," Anderson said. In the early stages, it was blocking and tackling as events unfolded. In Diamond Princess' situation, in which 3,700 passengers were quarantined aboard the ship, the focus at that time was to "figure out how to address that particular crisis," he said.
Just three weeks later, on Carnival's Grand Princess, another 3,500 passengers were quarantined. That's when things really switched into high gear. "Our immediate response was we seized global guest operations, which was unprecedented," he said.
"The first storm was getting through the term of the monitorship and strengthening the ethics and compliance program. But six to seven months later, we had another storm arise, which was completely unforeseen and with even more dramatic impact."

Peter Anderson, Chief Ethics and Compliance Officer, Carnival Corp.
The next significant challenge to overcome was figuring out how to disembark all passengers and crew members while also having to comply with various government regulations. "That was logistically a remarkable leadership exercise throughout the company," Anderson said. Some countries were willing to open their ports, some were not. "Trying to take crews to one location and then having to adjust—that nimbleness is critical," he said.
In total, Carnival had 105,000 crew members that it needed to get back to their homes, some by boat, because of the logistical nightmare of airports and commercial travel, Anderson said. That process is still ongoing. Anderson said there are about 55,000 crew members remaining that the company hopes to get home by mid-June.
The pandemic has also made working under a monitor uniquely challenging as well, at a time when Carnival is not operating any of its ships. Because the auditors and the monitor team cannot come onto the ships right now, it raises the question of whether monitoring can be done remotely. "Can you do monitoring with cameras? It's not ideal, but it's a way to keep making progress, even though the circumstances are very different," Anderson said.
Another challenge for compliance: wrestling through new health protocols. "We had a health protocol for prior health outbreaks, but this was something unusual, and we had to think about it with fresh eyes and respond," Anderson said.
Both storms—the regulatory enforcement storm and the coronavirus pandemic—as different as they are share some very important ethics and compliance themes, and those themes, Anderson said, are the importance of values and corporate culture; the engagement of leadership and the tone you're setting from the top; keeping that open communication, making sure ethics and compliance has the stature that it needs; monitoring ongoing crisis and regulatory requirements; and adjusting risk management measures accordingly.
Anderson ended on one of his favorite quotes, spoken by Franklin D. Roosevelt: "A smooth sea never made a skilled sailor." For Carnival, this isn't a time to sit idle and wait. "We have to think through, how do we use this time from a compliance standpoint to build up our investigative program even more? To build our environmental priorities based on past non-compliance? How do we learn during this period, so that when we reenter the market, we're stronger, smarter, better prepared?"

Jaclyn Jaeger is a freelance contributor to Compliance Week after working for the company for 15 years. She writes on a wide variety of topics, including ethics and compliance, risk management, legal, enforcement, technology, and more.
View full Profile
CW2020 wrap-up: Tips for CCOs on leading in a crisis
1

2

3

Currently reading

Carnival CECO trying to right the ship amid 'two storms'

4

5