With the arrival of a new chief executive officer at Flex came a directive for Chief Ethics and Compliance Officer Andy Powell: generate a positive, values-based ethical culture to support the company's bottom line.
About Andy Powell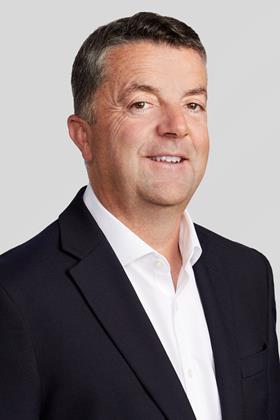 Andy Powell is senior vice president and deputy general counsel, chief ethics and compliance officer at Flex. He leads the company's global ethics and compliance, litigation, labor and employment, legal operations, and government relations.
Before joining Flex in 2017, Powell was lead counsel of global M&A and investments at Lenovo. He also served as general counsel for the company's cloud and software business, supporting compliance and data privacy. Before Lenovo, he served as vice president and assistant general counsel at Cricket Wireless.
Powell, who also serves as senior vice president and deputy general counsel, got to work with his team. The result was a data-driven scorecard to make it easier to monitor and improve compliance and ethics.
Flex, a provider of technology, supply chain, and manufacturing solutions to build products that are sold under other brand names, is the biggest company you've never heard of, said Powell. He discussed the impact of the scorecard on monitoring 170,000 employees across 30 countries, the overall role of ethics and compliance at Flex, and how he sees the profession evolving as part of a Q&A with Compliance Week.
Powell was named one of five finalists for CCO/CECO of the Year at CW's 2022 Excellence in Compliance Awards.
Q. Tell us a little about Flex and what it does.
A. Flex is a $26 billion diversified manufacturing and supply chain solutions company that makes everything from vacuum cleaners, coffee machines, and autonomous car modules to diabetes equipment, industrial machinery, and cloud data centers. Although we aren't a household name, we make a diverse set of products you can find in every home and business across the globe. At the end of the day, our goal is to be the most trusted and ethical technology, supply chain, and manufacturing solutions partner in the world.
Q. How is the role of the compliance officer changing?
A. We've reached an inflection point in the legal and compliance profession. Historically, these departments operated in siloes and were reactive, not proactive. They focused on policy setting, training, and policing. Now, the focus is shifting to encompass a broader scope of responsibilities, and compliance leaders must act more like data scientists, integrating closely with the business to identify data patterns and analyze them to make decisions that improve operations.
Across industries, we're seeing legal and compliance teams becoming increasingly involved in governance, sustainability, diversity, equity, and inclusion. It's safe to say today's compliance officer needs to be adaptive, innovative, and highly aligned with cross-functional teams.
Q. What spurred you to improve how the company monitors and enforces ethics and compliance?
A. Revathi Advaithi joined Flex as CEO in 2019 and immediately set the tone for our company's vision of the future. As a leader, she is incredibly compassionate and hyper-focused on inclusion, sustainability, and doing the right thing. Revathi and the rest of the leadership team issued our department a directive: We needed to generate a positive, values-based ethical culture that supports Flex's bottom line.
We've always done an excellent job monitoring and enforcing compliance, but that was the genesis for change. The challenge? We have 170,000 employees in 30 countries. And these employees sit at more than 100 sites, which makes it tough for my team to monitor each location. An even greater challenge is the fact ethics can be vague and hard to quantify at times. We needed to figure out how to map our strategy to align with Flex's culture and bottom line—fast.
We quickly realized to succeed, we needed to normalize ethics and compliance at every level of the company. The prioritization of ethics and compliance needed to be embedded into every manager's job, and then we had to use data and advanced technology to help us manage the sheer scale of the project. That's how the Flex integrated scorecard was born.
Q. What is the integrated scorecard you created? How does it drive savings in legal and compliance costs and create better business outcomes for the company?
A. The scorecard is a data-driven way to make it easier to monitor and improve compliance and ethics. To start, we brought together a cross-functional group of compliance, legal, internal audit, and human resource leaders. Each team brings a level of expertise and data to the table that can help us collectively improve the culture of our organization.
Next, we identified the data points from each department that would help measure and improve compliance and ethics. We landed on cultural surveys, hotline reporting, compliance reports, and a few other sources. We then used APIs and plug-ins to develop a single automated dashboard that pulls this information from HR software, dashboarding systems, hotline platforms, and survey models.
It's important to note we already collected all this information. The system just unifies the data sets and aggregates the information to identify hot spots and problem areas, creating a scorecard for each factory site. After we rolled it out, it enabled us to provide 'scores' to site leadership and empower them to develop action plans that address potential issues before they become a problem for Flex and its employees. In fact, it's the first thing Revathi asks for when she visits each site.
Overall, the data has helped our team identify transgressions, unethical conduct, and compliance lapses across regions and sectors, making Flex a better place to work for our employees. It flags hotspots and, in some instances, we've been able to narrow these challenges to specific production lines in factories. The goal is to catch potential issues before they negatively impact our culture, and it's been incredibly successful. Happier, safer employees are more productive workers, and that's good news for our customers too. By getting ahead of problems, we've also saved significant money by eliminating outside counsel fees, investigative costs, and financial penalties.
Q. How do you think data, technology, and artificial intelligence should be used in compliance and ethics?
A. These technologies need to be at the center of everything compliance officers do. With an ever-expanding to-do list and new initiatives to support, these tools are critical for making informed decisions faster. We can collect the information at our disposal and use advanced technology like machine learning, artificial intelligence, and analytics to synthesize the data and identify trends. By eliminating the more time-consuming work and reducing human error, compliance and ethics officers can focus on making the best possible decision for the organization backed by data.
Q. How are environmental, social, and governance (ESG) strategies changing compliance and ethics?
A. Compliance teams are increasingly being asked to support ESG initiatives, and in many cases, play a key role in an organization's sustainability strategy programs. Stakeholders, including investors, customers, and employees, are taking a closer look at how the brands they support perform against environmental and social issues.
These initiatives are designed to measure and eliminate risks related to climate change, employee safety matters, corruption, and other top-of-mind issues. But it's not just risks inside the four walls of a business; leaders must consider issues outside their organization, such as human rights in the supply chain. With these complex considerations on board, it's becoming essential for compliance leaders to have a seat at the table for all critical business dealings and ESG activities.
When it comes to ethics, ignorance is not an excuse. Careful vetting of partners, employees, and business processes is paramount.

Aaron Nicodemus covers regulatory policy and compliance trends for Compliance Week. He previously worked as a reporter for Bloomberg Law and as business editor at the Telegram & Gazette in Worcester, Mass.