Wells Fargo CEO Charlie Scharf, who has led the scandal-plagued megabank for four months, was upfront about the bank's failure to stem abuses in its banking, lending, and auto insurance divisions when he testified at a Congressional hearing Tuesday.
Scharf called the bank's behavior "deeply disturbing conduct that is utterly unacceptable," in testimony before the House Financial Services Committee. "Simply said, we had a flawed business model in how the company was managed. Our structure was problematic, and the company's leadership failed its stakeholders."
The Department of Justice and Securities and Exchange Commission levied $3 billion in fines against Wells Fargo & Co. and a subsidiary in February, which were in addition to a $575 million resolution the bank agreed in a 50-state settlement in 2018.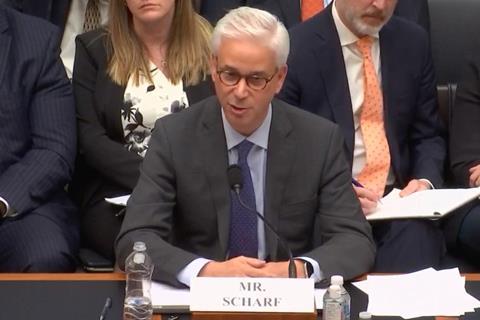 Legislators said they hoped Scharf would be more forthcoming than his predecessors, including previous CEO Timothy Sloan, whom House Financial Services chair Rep. Maxine Waters (D-Calif.) accused of providing "inaccurate and misleading testimony to this committee," a claim she later Tuesday elevated to the Department of Justice.
U.S. Rep. Patrick McHenry (R-N.C.) also criticized the bank's past behavior but called the hearing "politically motivated." Wells Fargo has implemented a corrective action plan, he said, "and we will hold him accountable to executing that plan."
Scharf told the committee Wells Fargo has installed a revamped leadership structure that is more accountable and transparent, a move the company announced via press release in February. The new structure also removes risk management assessment from individual business line leaders, instead placing it into the hands of independent risk managers. Scharf said this change will help eliminate a serious management flaw that existed at Wells Fargo before he was hired and brings the bank's organizational structure more in line with similarly sized banks.
And he noted the changes at Wells Fargo don't begin and end with him. The bank has hired eight senior managers from outside the company since he was hired in September 2019, with several more planned in the coming months, he said.
Two Wells Fargo board members—chairwoman Elizabeth "Betsy" Duke and member James Quigley—resigned Monday, just two days before they were scheduled to testify before the committee.
Scharf promised legislators that the work of responding to regulators "will come before everything else, even if it harms profits."
Wells Fargo had come under fire for the way its sales employees were compensated, because they were encouraged by managers and incentivized with bonuses to create new customer accounts—and were not punished when the accounts were not authorized by customers.
Scharf said Wells Fargo has changed the way sales employees are compensated, rewarding them for improving the customer experience—measured through third party mystery shopping and customer surveys—rather than creating new accounts.
"Anything related to those sales goals, which drove that kind of behavior—and the management processes that went along with it—are no longer there," he said.
But Scharf, who most recently served as CEO of Bank of New York Mellon, mostly punted when legislators pressed him for other details on the company's response to regulators and legislators—particularly on the conclusions of a Congressional report that blasted Wells Fargo management, its board of directors, and federal regulators.
When asked if his bank would hit an April 30 deadline for responding to a 2018 consent decree from federal regulators, Scharf said he "couldn't answer that today." Legislators noted the bank has consistently missed deadlines and requested extensions.
When asked when $10 million worth of fraudulent fees and charges would be returned to customers, Scharf said, "We're in the process of reviewing everything we can."
When asked if he thought Wells Fargo was "too big to manage," he said no, but declined to elaborate. Asked if he thought someone from Wells Fargo ought to go to jail, Scharf said that decision lies with the Department of Justice. He deflected questions unrelated to the regulatory issues, like divesting from gun manufacturers or investing more in minority-owned banks.
U.S. Rep. Bill Huizenga (R-Mich.) asked for an update on the status of the consent orders dating back to 2016, because federal regulators have accepted Wells Fargo's responses thus far. Scharf appeared ready for the question.
"I personally am deeply involved in all of our control-related work, including all of the consent orders," he said. Chief Operating Officer Scott Powell, who was hired in December and is leading the company's risk management, is focusing nearly all his attention on the consent orders, Scharf said.
Asked U.S. Rep. David Scott (D-Ga.), who noted he is a Wells Fargo customer, "Can people trust Wells Fargo after all this?"
"People can trust Wells Fargo to do the right thing, yes," Scharf responded.

Aaron Nicodemus covers regulatory policy and compliance trends for Compliance Week. He previously worked as a reporter for Bloomberg Law and as business editor at the Telegram & Gazette in Worcester, Mass.