Kenneth Polite Jr. thinks highly of chief compliance officers. The assistant attorney general and head of the Department of Justice's (DOJ) Criminal Division, a former CCO himself, has counted his time in the role as the most challenging among the high-level titles on his résumé.
So, if it seems the DOJ has compliance officers in its crosshairs with some of its controversial policy changes this year, that's because it does. Not as a way to punish these individuals but to elevate their standing within their organization. New priorities, including CCO certifications at the end of corporate resolutions and an overhaul to how the agency aims to fight corporate crime, are, in the DOJ's view, empowering to the profession, which must rise to the occasion.
"I know and trust compliance personnel," said Polite in a September speech. "I appreciate the challenges they often face. For too long, they have complained that compliance doesn't have the same voice in corporate decision-making. These certifications and other resources are empowering you to demand that voice."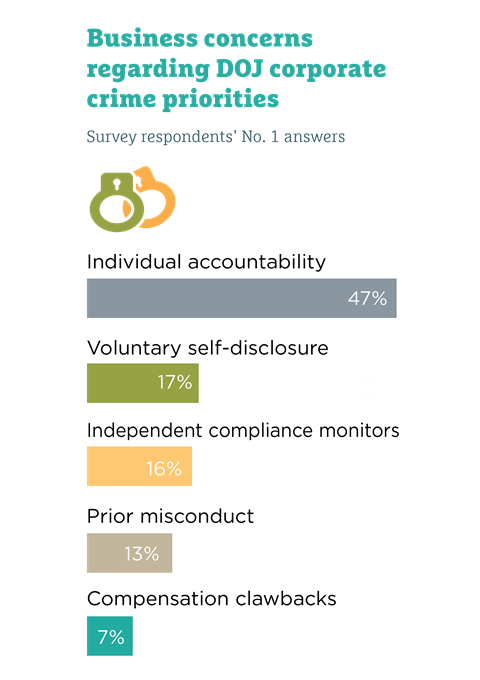 Yet, 41 percent of respondents in Compliance Week's annual "Inside the Mind of the CCO" survey said they don't believe the DOJ's CCO certification requirement to be a positive development for the profession. The poll, garnering 254 total responses in its fourth year, found many practitioners think the change places too much pressure on compliance officers already overburdened by the demands of the job and continuing challenges with resource support.
One respondent called the certification requirement a "scare tactic." Another said the DOJ is "clueless" as to the day-to-day functions of the role.
Regarding the DOJ's corporate crime priorities, put forward in September and referred to as the "Monaco Memo," survey respondents indicated their organizations are most concerned by the agency's enhanced focus on individual accountability, followed by voluntary self-disclosure and independent compliance monitors.
Entering a new year already contending with economic anxiety, what's clear is the DOJ will be looking to compliance officers to maintain order. The job very well might become more difficult, and the risks will grow, but the agency expects these individuals to be resilient and weather the storm.
Put simply, the DOJ is throwing down the gauntlet on compliance.
"You cannot shy away from this role," said Polite. "You cannot run away from the responsibility. My call is that you embrace it, knowing full well that stronger, more empowered compliance voices are exactly what we need."

Kyle Brasseur is Editor in Chief of Compliance Week. His background includes expertise in user personalization with ESPN.com.
Inside the Mind of the CCO, Year 4
1

2

Currently reading

DOJ calling out compliance with 2022 policy shifts

3

4

5

6

7