Ten weeks remain before Compliance Week National 2023 kicks off May 15 at the JW Marriott in Washington, D.C. Our annual premier conference enters its 18th year of providing a safe space for compliance, ethics, risk, legal, and audit professionals to learn and benchmark best practices together.
Last year's conference was our first in-person since 2019, and the energy both speakers and attendees brought throughout the three-day event still resonates with me today. The way the 2023 agenda is shaping up has me confident that momentum will carry over into yet another can't-miss showcase of the compliance profession and the innovative ideas practitioners from different industries and backgrounds bring to the table.
Some high-profile speakers are still to be announced, but from where things stand now, here are 10 things I'm looking forward to at this year's event:
1. Remarks from the regulators
Compliance Week's National Conference is known for leveraging its D.C. locale to provide attendees viewpoints from the regulators most relevant to the current compliance conversation.
Last year's event featured a dynamic keynote from Assistant Attorney General Kenneth Polite Jr. on the Department of Justice's (DOJ) efforts to empower chief compliance officers before Allison Herren Lee and Hester Peirce of the Securities and Exchange Commission (SEC) engaged in a wide-ranging discussion regarding the agency's priorities at the time. Lawrence Scheinert of the Treasury Department's Office of Foreign Assets Control also spoke as part of a panel discussion on sanctions.
Stay tuned for updates on this year's agenda.
2. Deep dive on data analytics
The DOJ will be in focus as part of a Day 3 session exploring the use of data analytics to improve compliance. Panelists will speak to an area the agency has paid increasing attention toward since revising its "Evaluation of Corporate Compliance Programs" guidance in 2020.
The discussion will be moderated by Vince Walden, chief executive officer of Kona AI. Kona is one of multiple participants in a research project, Integrity Distributed, that is seeking to develop anti-corruption detection technology that includes academic, technological, and corporate partners.
The analytics conversation will continue later on Day 3 when two practitioners from Warner Bros. Discovery share how the media giant leveraged data collaboration to transform its audit and compliance functions.
Check out the full agenda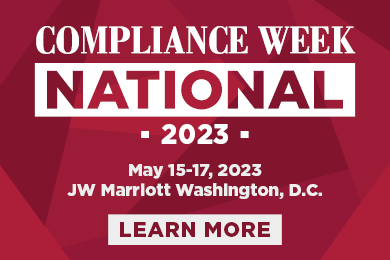 Back for its 18th year, Compliance Week's National Conference brings compliance, ethics, risk, legal, and audit professionals together face-to-face to benchmark best practices and gain the latest tactics and strategies to enhance their compliance programs.
Register
3. Executive leadership think tank - Year 2
Back for a second year is our Day 1 think tank that brings together a group of high-level compliance executives to discuss the challenges and opportunities presented by the industry's emerging risk areas.
The closed-door, invitation-only session allows participants to candidly share their viewpoints on matters including transparency, whistleblowing, corporate culture, and more. A CW reporter in the room is able to document the conversation without attribution, enabling our readers to glean insights from the informative discussion.
This year's think tank is set to tackle topics including the compliance officer's role as a business leader in a post-pandemic world.
4. Learning how to become 'superhuman'
I'm a Marvel fan, so my definition of "superhuman" might be a tad unrealistic.
Still, there's a lot to be earned from determining how to bring forward your best you. Day 1 of the conference will close with an informative keynote presentation on the science of productivity and performance by Dr. Sahar Yousef, a cognitive neuroscientist and lecturer at the Haas School of Business.
Yousef's training and consulting firm teaches busy professionals how to get their most important work done in less time with less stress. That's something we all need. Her presentation, along with our Day 3 closing keynote on mindful leadership, should be a big draw for attendees looking to improve on a personal level.
5. Bernie Madoff revisited
We all know the story of Bernie Madoff, but few know it as well as Jim Campbell, author of the 2021 book, "Madoff Talks: Uncovering the Untold Story Behind the Most Notorious Ponzi Scheme in History."
Campbell will kick off Day 2 of the conference with a look back on Madoff's fraud focused on the other key players involved and the role active bystandership played in allowing the scheme to continue. He'll discuss how to avoid similar misdeeds occurring within your organization and provide advice for mitigating the risks associated with financial crime.
The 2023 Netflix documentary series "Madoff: The Monster of Wall Street" was based in part on Campbell's book.
6. Lessons from a compliance whistleblower
Last year's Day 3 fireside chat featured John Carreyrou, author of the book "Bad Blood," lauding the role of whistleblowers in uncovering the fraud of Elizabeth Holmes and Theranos. This year, attendees will hear firsthand from a whistleblower.
Ted Siedle, a former director of compliance, received whistleblower awards from both the SEC and Commodity Futures Trading Commission for exposing alleged conflict-of-interest disclosure failures at JPMorgan Chase that resulted in the bank agreeing to pay $367 million in total settlements in 2015. He'll examine the whistleblower's mindset and share his personal experiences in discovering wrongdoing as a compliance professional.
7. Female compliance leaders share experiences
The women in compliance brunch at our 2022 event was such a big hit that the room it was held in reached capacity. The positive reception inspired us to coordinate a two-day Women in Compliance Summit this June in Atlanta.
The brunch is back to begin Day 1 in D.C. and is set to feature high-level female compliance professionals representing the Defense Logistics Agency, Activision Blizzard, and Freddie Mac. The panelists will share stories of how women's support of each other impacted their professional development journey and offer insights into building two-way mentor/mentee relationships.
All genders are welcome to attend the brunch, though we expect seats to fill quickly once again.
8. Networking, networking, networking
What's a compliance conference without the opportunity to make new connections?
Our agenda features nearly a dozen designated timeslots for attendee networking opportunities. Chat with old friends, forge a new relationship, or track me down to talk any and all things compliance news. The best part of being back at live events is undoubtedly the ability to interact face-to-face once more.
9. Timely hiring workshop
With all the twists and turns the job market has seen in the past year, companies are seeking any advantages they can get in the recruitment and retention space.
That's why the Day 1 workshop on hiring compliance professionals caught my eye. Senior practitioners from Panasonic and T-Mobile will lead a three-hour discussion on assessing compliance program skill needs, interviewing best practices, and managing global time zones for international recruits.
Alternative workshops during the same time slot will cover the intersection of environmental, social, and governance (ESG) and compliance and third-party risk management best practices.
10. You had me at 'Star Wars'
I'm a sucker for a good session title, and the Day 3 case study promising to make "Star Wars," "Jurassic Park," and "Top Gun" relevant to ethics and compliance training sounds right up my alley.
Executives from Bridgestone will discuss how they reframed their compliance program pillar from "training and communication" to "learning and engagement." They'll share their experiences on how creative, effective, and engaging learning can help enhance an ethics and compliance program.
After all, getting employees on the same page with the rules is key to staying out of the danger zone.

Kyle Brasseur is Editor in Chief of Compliance Week. His background includes expertise in user personalization with ESPN.com.
View full Profile