Compliance Week 2022 marked our 17th national conference, and yet the stakes had never been higher.
Back in person in Washington, D.C. for the first time since 2019—and at a new venue in the JW Marriott Hotel—the event carried the added weight of representing our return from shifting virtual during the Covid-19 pandemic. Extra precautions were taken, and protocols evolved to match changing local guidance in order to offer the safest environment possible for guests.
The payoff was nearly 450 compliance, risk, and legal professionals on hand for three days (May 16-18) of learning; networking; and in many cases, reuniting with old friends not seen since the start of the pandemic. To be able to provide such a forum feels like nothing less than success, and credit is due to Compliance Week staff, the conference organizers at our sister company FRA, and each of the attendees for doing their part to contribute to that environment.
So much stood out to me over the course of the event, but here are 10 points in particular that resonated.
1. New world, familiar feeling
When I attended my first Compliance Week National Conference in 2019, I remember being taken aback by how approachable everyone was. The best part of covering the compliance profession is how willing practitioners are to share their experiences and exchange best practices for the benefit of their peers and those newer to the job.
Though so much has changed in the last three years, it was comforting to see this aspect of the compliance conference experience did not. The breakout sessions and panel discussions I sat in on were informative and candid, with speakers more than willing to field questions from the audience with personal anecdotes or their own lessons learned from mistakes.
Though those interactions are still possible in a virtual setting, they aren't nearly as seamless compared to being in person. To say that's been missed would be an understatement.
2. Kenneth Polite Jr. is the Criminal Division head compliance officers deserve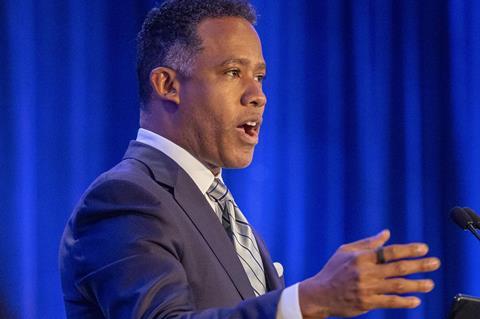 Less than a minute into his keynote address, the assistant attorney general made a comment that pricked up the ears of every compliance officer in attendance.
"I've served as a prosecutor, I've served as a defense attorney … and, uniquely, I've also served as a chief compliance officer for a Fortune 500 company," Polite said, acknowledging his time in the role at electric power company Entergy from 2017-18. "I can tell you the detection and prevention of criminal conduct has been a constant across all three of those roles. But I also recognize that perhaps the most challenging of those roles was as a compliance officer."
What followed was a more than 20-minute speech with CCO empowerment at its core. Among the highlights, Polite noted how the Department of Justice is considering CCOs be required to certify their company's compliance program is reasonably designed and implemented to help detect and prevent violations of the law at the end of the term of an agreement with the agency.
"This announcement related to this additional certification is not intended to be punitive; it is a new tool in your arsenal to help combat those challenges," he said. "It's the type of resource compliance officials, including myself, have wanted for some time because it makes clear you should have and must have appropriate stature in corporate decision-making."
3. Ambitious SEC just getting started
Two months removed from game-changing rule proposals regarding cybersecurity incident reporting and climate-related disclosures, the Securities and Exchange Commission (SEC) isn't resting on its laurels.
Commissioners Hester Peirce and Allison Herren Lee each shared areas they believe the agency should be prioritizing rulemaking in as part of a joint discussion moderated by Ken Joseph, a former SEC supervisor who is now a managing director at Kroll. Peirce noted transfer agent rules, cryptocurrency regulation, advancing the shift to electronic filing requirements, and fixed income market structure as areas top of mind to her, while Lee acknowledged transfer agents and digital assets before adding to her list finalizing a climate rule and exploring the balance between public and private markets.
The thoughts expressed by Lee, a Democrat, and Peirce, a Republican, didn't always align, but the conversation was respectful throughout. Credit to the commissioners for agreeing to speak together and offering attendees a glimpse at how differing viewpoints are navigated by agency leadership.
4. Balance who gets your best you
The first keynote of the conference was a necessary message, as Caren Kenney, chief executive officer and founder of Evolve Leadership, reminded attendees of the importance of taking care of themselves as much as looking after their businesses.
"Your roles are more critical than ever," Kenney said. "… You have all this work to do—what often happens is when we get asked to do more and take on more, we neglect ourselves in the process of it. We push our well-being aside. We push our personal lives aside. But there's no time more important than focusing on yourselves as human beings. If you're going to be taking on these additional challenges, you have to start with yourself. That's what we tend to neglect."
As part of her address, Kenney explored the notion of energy investment—who or what in your life gets your best energy. For many compliance officers, work is the answer, but then they return home to significant others or kids that expect their A game. Reconciling the two is key to maintaining a healthy work-life balance.
5. Shine a spotlight on modern slavery
"Vulnerability exists in a lot of different places light isn't shining on now," said Matthew Friedman, CEO of the Mekong Club in Hong Kong and an expert on international human trafficking. Friedman shared vivid detail on the scourge of modern slavery as part of a virtual fireside chat moderated by Forrest Deegan, vice president of ethics and compliance for Victoria's Secret.
"What we're talking about are people losing their freedom," Friedman said. "… Collectively, the world has the potential to be able to address this, but in order for them to address this, they have to understand it."
Friedman, who called into the conference at 4:15 a.m. his time, described how leadership must be informed for businesses to properly address modern slavery in their supply chains.
"Once the light goes on it, then the questions get asked," he said. "That's why companies have to be really proactive."
6. Safe space promotes stirring compliance discussion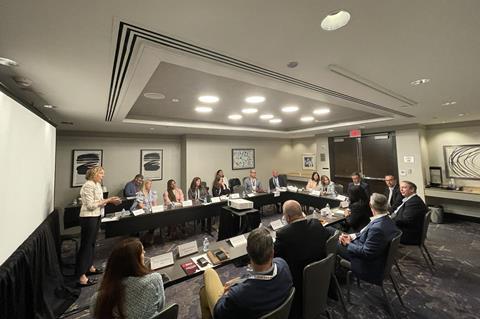 A new feature at this year's event was an invitation-only compliance executive think tank, where a room of nearly 20 high-profile practitioners in the space gathered to discuss the current state of the industry.
The executives felt free to debate the issues because Compliance Week agreed not to directly attribute their stories, tips, and advice to them or the companies they work for. The result was a candid exploration of topics including corporate culture, diversity and inclusion, use of data, and more.
Participants I spoke with after the session shared how engaging the conversation was as a result of the unique forum. Not only did they get something out of it, but we appreciate their insights shared and look forward to their knowledge enhancing our coverage for the benefit of the entire compliance community.
7. Leadership panel explores evolution of compliance
A day after the think tank, several of the participants took part in a leadership panel available to all attendees. Noted early was the difference in the panelists' titles as an indication of how compliance takes form at an organization:
Mary Shirley, head of culture of integrity and compliance education, Fresenius Medical Care
Pilar Caballero, chief compliance officer and chief privacy officer, Ryder
Catherine Razzano, head of legal compliance, TikTok
Charles Schwager, chief compliance and ethics officer, Waste Management
"The one size does not fit all is something I don't think is going to change in the future," said Schwager. "Everyone needs to appreciate what their scope of responsibility is and what their mandate is. It all has to be tailored to the business."
Highlights from the wide-ranging discussion included the speakers offering their take on what's most important to do their varied jobs. Razzano stressed relationships—"Whether they know it or not, they need me and I need them," she said—Caballero discussed the value of understanding your available resources, and Schwager emphasized the need to align compliance with the goals of the business.
8. Whistleblowers the heroes of Theranos story
In the aftermath of the Elizabeth Holmes trial, we now know the role lab director Adam Rosendorff played in exposing Theranos as a fraud.
Rosendorff revealed himself as a key source to John Carreyrou, the Wall Street Journal investigative reporter who blew the lid off the scandal at the blood-testing company in 2015. Carreyrou, speaking with Mary Inman of whistleblower law firm Constantine Cannon as part of a fireside chat, noted how he referred to Rosendorff as Alan Beam in his book "Bad Blood," a pseudonym meant to conceal the former employee's identity to that point.
"He's (Rosendorff) arguably hero No. 1 in this and the story," Carreyrou said, also acknowledging the contributions of Erika Cheung and Tyler Shultz as whistleblowers.
The Theranos story highlights the importance of fostering speak-up culture at an organization—especially when the media is willing to give employees who feel wronged a public platform.
9. TPRM remains a hot topic
Heading into the conference, the panel alone for a session on the pros and cons of various third-party risk management models was enough to have me excited. Senior compliance officials from Delta Air Lines, FedEx, Victoria's Secret, and ADM led a rousing conversation on how to align the multiple elements of the business involved in overseeing vendors.
"For each of my risk area leaders, I ask them what are the questions that the answer will change whether or not we do business with these folks," said Deegan of Victoria's Secret. "If we're just asking questions to catalogue information, that's not going to cut it for that holistic, integrated approach to risk for the company. We need to understand the things that will change the decision for us."
Looking forward to continuing the discussion at our TPRM Summit in Chicago from June 13-14.
10. Favorite words overheard
As a fly on the wall in many sessions, one of the responses I enjoy hearing most from audience members is, "I never thought of it that way."
Someone said it in the first workshop I attended on navigating the global regulatory environment, and I heard it again as the education portion of the event shifted to full throttle on Day 2. Those words get to the core of what a compliance conference should strive to do: champion new approaches to the familiar topics all practitioners face in their businesses.
Thank you to the speakers who helped Compliance Week 2022 hit that mark. We hope to see even more of you back in Washington, D.C. next year.

Kyle Brasseur is Editor in Chief of Compliance Week. His background includes expertise in user personalization with ESPN.com.
View full Profile